Detroit Lions Mock Draft: How Lions Can Acquire Dream Targets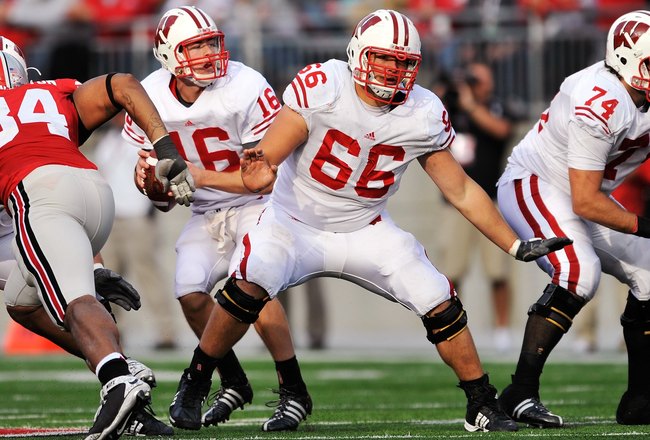 Jamie Sabau/Getty Images
Now that the NFL season is officially over, the NFL offseason can officially begin.
That means you're not allowed to object to mock drafts anymore. Or at least that I don't have to listen.
But not to worry, I'm here to help fill the two-month void between now and the draft. During that time, we will jump down one another's throats about the viability of Jeff Backus for another season, the severity of the level of need at cornerback and whether to re-sign or replace Cliff Avril, among other things.
Not here, though. Not now. Because this isn't a true mock draft, so you can't knock me for bad picks.
Instead, this is a list of some of the Lions' most desired targets in the draft and scenarios that would get them to Detroit at the right time for the right draft price.
Some of them will seem silly, and some almost certainly won't come to pass. In fact, since most of these picks will be first and second-rounders, they physically can't all happen. Knowing the Lions, none of them will; they'll go completely off the wall and leave us all wondering what happened.
But hey, wondering about that is what the next two months is for, right?
Peter Konz, C, Wisconsin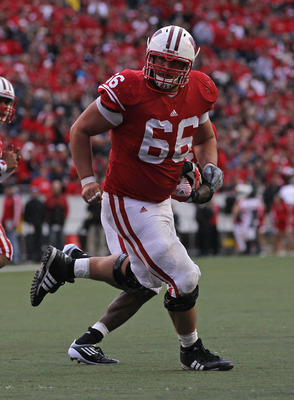 Jonathan Daniel/Getty Images
Dream Round: First
Will Fall to the Lions if: He gets through the teams around the early 20s and nobody reaches.
The Bears and Titans seem the most likely candidates to go for a center early. They pick 19th and 20th, respectively, which is prime position to start plucking the top tier of interior linemen off the board.
More importantly, the Bears and Titans are both dealing with the recent loss of their longtime All-Pro centers (Olin Kruetz for the Bears, Kevin Mawae for the Titans), and both have star running backs whose offensive lines did them no favors in 2011.
Ultimately, center is one of those positions that you either need or you don't. The Lions need one (if not this year, then soon after). Most other teams don't, or at least have bigger, more immediate needs.
Nightmare Scenario: Konz has a bit of an injury history, which is what keeps him from being one of those supposed "can't-miss" prospects.
The worst-case scenario is that the Lions get their future star at center and he can't stay on the field. Lions fans complain about the offensive line, but they take the line's health for granted because Jeff Backus and Dominic Raiola have been rock solid for over a decade.
With Konz, you can't be too sure.
Stephon Gilmore, CB, South Carolina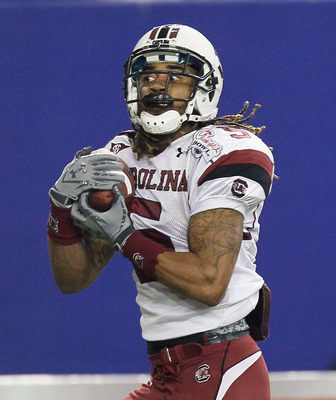 Kevin C. Cox/Getty Images
Dream Round: Second
Will Fall to the Lions if: He gets lost in the shuffle of cornerbacks in the draft this year.
Gilmore is one of many cornerbacks considered a first or second-round pick. But who goes where, and to what team? That's just going to be confusing.
Gilmore is considered one of the best of the bunch and looks like a late first or early second-round pick, but the combine will probably mess with that. Gilmore could move up; he could move down. He could surpass Janoris Jenkins, and the Dallas Cowboys could take Jenkins anyway.
This is just the way draft season works. A team will take a guy they think fits their particular mold before the guy who sits higher on the draft board. In addition, GIlmore is more a solid all-around corner than a physical specimen.
His lack of elite speed will turn a lot of teams off, especially those looking at him in the first round.
Nightmare Scenario: I have a personal hunch that there will be an early run on cornerbacks in the draft this year, in response to a year in which the passing game looked effortless and unstoppable for most everyone. As a result, I don't know about the likelihood of Gilmore being available at the Lions' second-round pick.
But I was sure Prince Amukamara wouldn't fall to 13 last year, and he fell to the Giants at 19, so these things absolutely happen.
Cordy Glenn, G/T, Georgia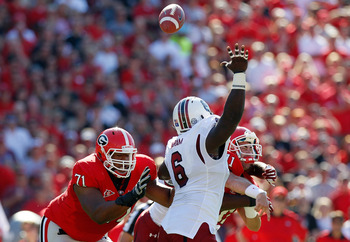 Kevin C. Cox/Getty Images
Dream Round: Second, more likely with a trade down from the first
Will Fall to the Lions if: He unleashes his inner Andre Smith at the combine.
In case you didn't notice, Cordy Glenn is a gigantic, hulking mass of a human being. That will serve him exceedingly well in his football career, provided he keeps it in check.
Remember, there was a time when Smith was considered the best overall prospect in the 2009 NFL draft.
And then, he ran the 40-yard dash with his shirt off, and we all bleached our eyes, filled with regret.
Smith weighed about 325 pounds. Glenn weighs around 350. The question is, how is all that weight spread out? Is it muscle, or is it gut?
Right now, Glenn looks like a first-round pick, coming off a very strong Senior Bowl performance. If the draft happened tomorrow, the Lions might not even have a shot at him. But if he wrecks his stock at the combine (and he could, given that you wouldn't expect him to excel in tasks biased toward speed and agility), the Lions could make a strong run at him.
Nightmare Scenario: If Glenn performs poorly at the combine, it's a double-edged sword. Yeah, it will drop his stock to make him available to the Lions, but at that point, you have to wonder if his issues are serious enough to drop him down the Lions' draft board, too.
The way I see it, Glenn is either going to be an All-Pro-caliber mauler on the offensive line, or he's going to eat himself out of the league. The last guy who came out of college with Glenn's size was Aaron Gibson, who went on to become the NFL's first 400-pound player and a huge first-round bust.
I'm not saying that's going to happen to Glenn, and I hope it doesn't, regardless of who his future team is. But when you're talking about a guy who weighs 350 pounds in college, it is always a concern.
Brandon Boykin, CB, Georgia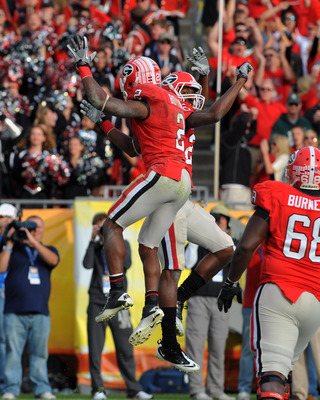 Al Messerschmidt/Getty Images
Dream Round: Third
Will Fall to the Lions if: His lack of size and jamming skills scare teams off.
Brandon Boykin is what you might call a "system" cornerback.
He can't jam receivers, and he's not great in zone coverage. But put him in space, in man coverage, and he'll stick to a receiver like gum in his hair.
As a result, he'll get passed over by a lot of teams looking for a big or versatile corner, but he could fit the Lions scheme just fine. The Lions play a lot of man coverage, and the pass rush generated by the front four takes a lot of pressure off the corners.
Boykin could thrive in a situation where all he has to do is hang back and play loose man coverage, and the Lions could use a guy who can stay with his receiver downfield.
Nightmare Scenario: Actually, Boykin's weaknesses could be badly exposed in the Lions defense.
Because the pass rush gets there quickly, teams often counter with quick outs and slants. To neutralize that, corners need to be able to play effective press coverage and tackle well. Boykin does neither.
Granted, Boykin does just about everything else exceptionally well. His ball skills are coming along nicely, and he understands the corner position better than most players his age. He's also likely to run a sub-4.4 time in the 40, which factors heavily into his abilities as a kick returner (a hidden, but very real need for the Lions this year).
Mike Adams, OT, Ohio State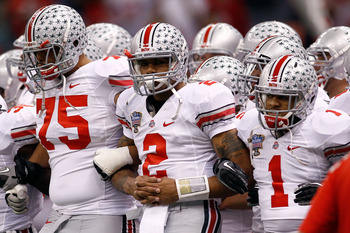 Chris Graythen/Getty Images
Dream Round: First
Will Fall to the Lions if: The Lions get lucky.
Mike Adams (he's the big one on the left with no more room for helmet stickers) was considered a strong tackle prospect coming into the draft season, but after a Senior Bowl in which he handled the best of the South's pass rushers without breaking a sweat, his stock is streaking up the boards.
A month ago, Adams might have been a reach for the Lions at 23. Now, he's an incredible value and increasingly unlikely to fall out of the top 15.
Perhaps more importantly, Adams doesn't have any particular physical flaws that will show up at the combine.
At this point, the Lions may have to count on the rest of the field just going a different direction. Adams is unlikely to fall to the Lions on his own merits, so it will just be a matter of teams passing him up.
Luckily, the middle of the first round has a lot of teams unlikely to spend a high pick on an offensive tackle. The Titans, Browns and Cowboys each have fixtures at left tackle already, while the Bengals and Bears have recent high draft picks that are still growing into the position.
Nightmare Scenario: Simple. The worst-case scenario is that Adams doesn't fall. If he does, it'll be tough for the Lions to pass him up. He would almost certainly represent both the best player available and a solution to one of the greatest needs.
Luke Kuechly, LB, Boston College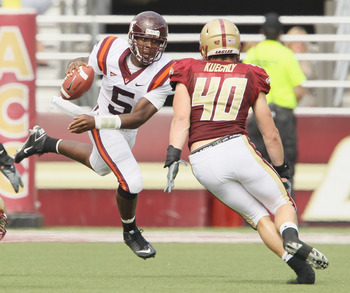 Elsa/Getty Images
Dream Round: First
Will Fall to the Lions if: Teams pass him up for his average athleticism.
Luke Kuechly has the kinds of instincts and knowledge you see about every 10 years. But he has the kind of athletic skills you see every year and yawn about.
That's not to say that he's slow or weak, mind you. He is pretty middle-of-the-pack as linebackers go.
Problem is, he's considered a top-15 pick, and "average" is the last word you want associated with a top-15 pick.
Of course, Kuechly makes up for that on the field by always being in the right place at the right time (and being a solid open-field tackler), but that won't show up at the combine.
Because the draft takes place so long after the college football season, and because of all the re-analysis that happens after the season (Shrine Game, Senior Bowl, Combine, Pro Days, private workouts), it's easy to lose track of how good a guy was as a player and start analyzing him all over again as a raw athlete.
That's a mistake with Kuechly. He's not going to look as good in workouts as he does on the field, but that's because the combine doesn't really measure brain power, which is Kuechly's strongest point.
Nightmare Scenario: To be fair, concerns about athleticism are legitimate, especially high in the draft. Athleticism helps to make up for mistakes, which rookies will make no matter how solid their understanding of their position.
Kuechly understanding the game at the college level does not mean he understands the game at the professional level. The fact that he's a student of the game now means he can and likely will learn the game at the professional level, but pro offenses are practically built to take advantage of the defense's natural instincts.
I have little doubt that Kuechly will learn quickly and be a very good linebacker at the next level. But because he's not particularly rangy or quick, he will need to be a lot closer to perfect in his fundamentals.
Kuechly is fundamentally sound, so maybe this is just a circular argument and a non-issue. But when you're talking about a first-round player already having to make up for weaknesses, it's buyer beware.
Quinton Coples, DE, North Carolina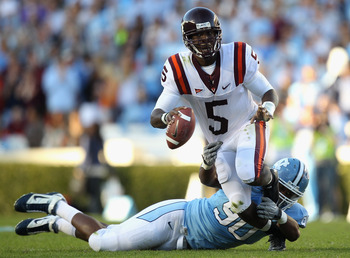 Streeter Lecka/Getty Images
Dream Round: First
Will Fall to the Lions if: All hell breaks loose, basically.
Quinton Coples is unlikely to fall outside the top 10, and defensive end is a premium position that sees a lot more reaching up than sliding down draft boards.
Coples has rare size for a 4-3 defensive end (6' 6", 285 pounds) and shows solid (though not polished) technique as a tackler and shedding blocks. The only knock on Couples is that while he has great size and power, his speed and agility are not that of an elite pass rusher.
And a team looking to draft a defensive end in the top 10 is usually looking for an elite pass rusher.
But what Couples lacks in pass-rush ability, he makes up for in upside, size and ability in just about every other area. And I have a feeling he'll get his share of sacks if he were to join the Lions defensive line.
Nightmare Scenario: There isn't one here when you consider that this is a crazy pipe dream of a scenario. If Coples goes in the top 10, then everything will be as it should be.
If the Lions get him and he busts, then hey, who could have seen that coming? You get a top 10 pick at 23, you have to take it, especially if you're going on a value-based drafting system.
Keep Reading

Detroit Lions: Like this team?