4 Reasons Why Boise State's Kellen Moore Has No Shot as an NFL QB
Otto Kitsinger III/Getty Images
There's no doubt that Boise State QB Kellen Moore had a very impressive career on the blue turf, with his multiple victories over top-25 opposition, more than 14,000 career passing yards and 142 touchdown passes compared to a mere 28 interceptions.
Moore was known for his quick release and unteachable accuracy, which were the staples of his game that Bronco fans loved so much. Unfortunately for Moore, there is a vast difference between the level of competition at the college level and the level of competition at the pro level. There are certain aspects revolving around him that will prevent him from excelling at the NFL level.
Here are four reasons why Kellen Moore will never make it as a quarterback in the NFL.
Stature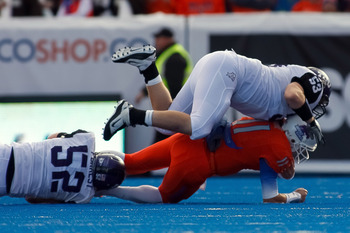 Otto Kitsinger III/Getty Images
If you haven't noticed, Kellen Moore isn't the biggest quarterback to ever play college football.
The former Boise QB stands barely 6' and weighs not even 200 lbs. With this type of stature, Moore would be highly prone to injury.
For a potential at playing quarterback in the NFL, Moore (at 191 lbs.) would have to put on at least 30 lbs. at the minimum. With such small size, defensive players like Jared Allen, Justin Tuck and Julius Peppers would annihilate someone of Moore's stature.
To put it more simply, Moore just doesn't have the cushion to break the many falls he would have as an NFL quarterback.
This by no means takes away from the skill Moore possesses, it's just easier to get by with when you're playing teams from the Mountain West versus teams like the Chicago Bears or Pittsburgh Steelers (aka, teams with great defenses).
Simply put, this factor alone would prevent Moore from playing in the NFL.
Lack of Arm Strength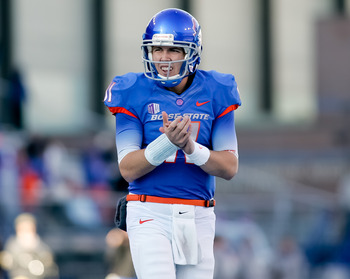 Otto Kitsinger III/Getty Images
Kellen Moore has the ability to lay you a dime in stride, and that's really the best quality of a quarterback—his accuracy.
Although Moore's accuracy is pristine, his arm strength needs some work badly.
Moore never flashed that strong, Brett Favre-like arm at Boise State because he never really had it; it was all about accuracy with him, and that's all he needed playing against the caliber of teams in his conference.
The NFL is a much different story, though, and arm strength is held at a very high regard. When you are going against the best athletes in the world, accuracy isn't enough, you must be able to place the ball accurately and very quickly because of the speed of the game in the NFL.
It's not that Moore has a noodle of an arm, it's just his current arm strength is going to be too weak for NFL competition.
Level of Competition at Boise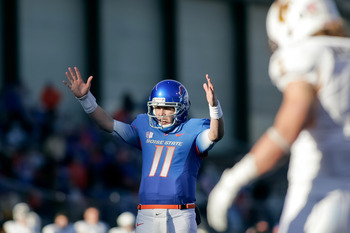 Otto Kitsinger III/Getty Images
Let's face it, besides an early season game against a top-25 opponent, Kellen Moore never played against a very fierce level of competition.
One of my biggest knocks on Boise State has always been its non-challenging playing field. Not that the Broncos have control over that playing in the WAC/MWC, but come on, they have never had to gear up for an SEC gauntlet-type schedule.
That is also my knock on Kellen Moore and what several, if not all, NFL teams will have on him: whom he played against in college.
The speed of the game turns from about a 5 to a 10 from college to pro. It certainly helps if you play in the SEC, Big Ten or Big 12, but Moore did not. When Moore goes against an NFL defense, it would be a shock to his system because instead of playing against New Mexico, he's playing against the Steelers.
Why do you think Moore has never actually won the Heisman Trophy? Why do you think Boise State has never been invited to play in the BCS National Championship Game? It is because it doesn't exactly have to work hard to find success.
This doesn't mean Moore isn't a good quarterback, but how would he have fared facing SEC-style competition every week during his college career?
Where did two of the top quarterback prospects (Andrew Luck, Robert Griffin III) play college football ? The Pac-12 and Big 12. Power conferences.
Which leads me to my next reason...
Depth of 2012 QB Class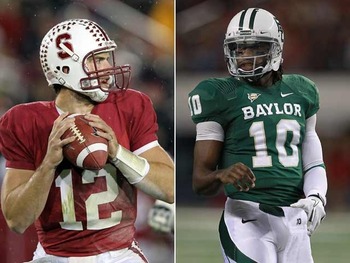 There is a thick depth of quarterbacks that are going to go long before Kellen Moore in the draft.
Disregarding Moore's stature, or lack thereof, and his level of competition at the college level, there are plenty more very talented quarterbacks in the 2012 NFL draft—quarterbacks that have good, physical stature, that played in power conferences and proved their abilities against legitimate competition.
Do names like Andrew Luck, Robert Griffin III, Nick Foles, Brandon Weeden, Ryan Lindley (who played in same conference as Moore, but stature is on his side), Kirk Cousins, Ryan Tannehill ring a bell? They should, because these quarterbacks will be chosen long before Kellen Moore, going on to assume Moore even gets drafted.
The smallest quarterback in that entire list is Kirk Cousins at 6'3" and 210 lbs. That's three inches taller than Kellen Moore and 20 pounds heavier, and Cousins is looking at likely the third or fourth round to be selected.
The biggest downfall for Moore is just his size, and it's not even so much the 6'0" because Drew Brees is around that height, it's his small stature that teams are not going to be drawn to. You cannot be only 190 lbs. and play quarterback in the NFL. It's just not happening.
Keep Reading