Super Bowl Predictions 2012: Why Deion Branch Will Be Key for Patriots Offense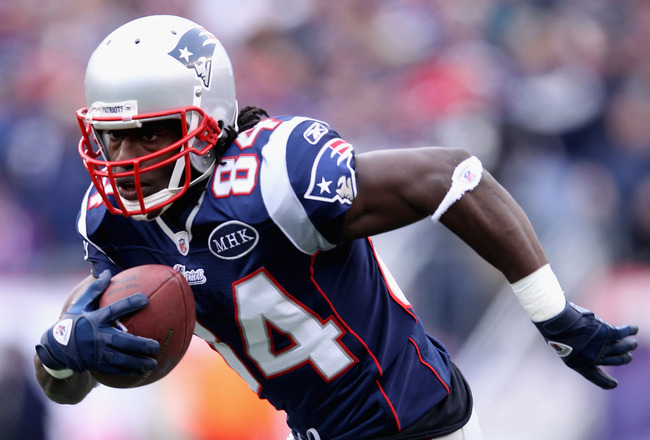 Branch's big game will secure a Patriots' win
Elsa/Getty Images
The New England Patriots will do their best today to make sure that they do not repeat their performance in their last Super Bowl, Super Bowl XLII.
At the same time, Patriot wide receiver Deion Branch will be doing his best to replicate his performance in his last Super Bowl—Super Bowl XXXIX—a performance that earned him the MVP award.
Almost six years ago, Branch couldn't be covered by the vaunted Philadelphia Eagles defense. He ended the game with 11 receptions for 133 yards. Branch became the fourth receiver in NFL history to put up 100 yards in consecutive Super Bowls, joining John Stallworth, Jerry Rice and Antonio Freeman.
This is how another record-setting performance by Branch will lead to the Patriots' fourth Super Bowl Title.
Replace Rob Gronkowski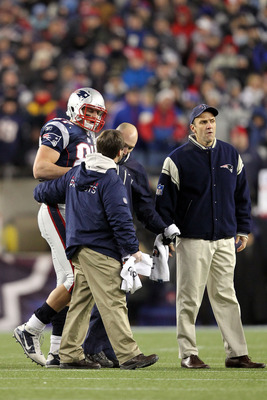 Gronkowski will be a decoy if he's even able to play
Jim Rogash/Getty Images
This is a big and tall order. Branch cannot block like tight end Rob Gronkowsi, and he certainly doesn't create the mismatches that Gronkowski does.
So what do Branch and Gronkowski share? Quarterback Tom Brady's trust. The Patriots have never lost a Super Bowl that Branch started and, again, Branch has had 21 receptions for 276 yards in the last two Super Bowls.
The New York Giants team defense is ranked 29th against the pass. They have a monster defensive line that can wreak havoc, but the secondary is suspect.
Experience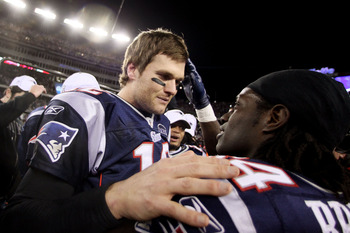 Branch has Brady's trust and knowledge of the Patriots' offense
Elsa/Getty Images
The Giants have three defensive backs on injured reserve and a few more that are banged up.
The G-men are forced to play some defensive backs that are not their first choice for the Super Bowl.
Branch is a 10-year veteran who has played in two Super Bowls already. Branch will be leaned on to use his NFL and postseason experience to his advantage.
He absolutely must penalize a secondary that is battered, inexperienced and has not been challenged thus far.
Fountain of Youth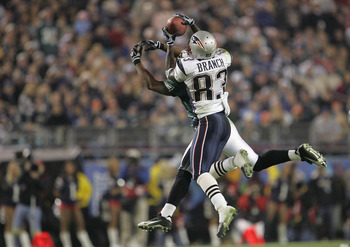 Can Branch summon the skill-set that allowed him 276 yards in two Super Bowls?
Jeff Gross/Getty Images
He's lost a step over the years and relies much more on his knowledge of the Patriots offense. However, if he can summon a game's worth of speed and elusiveness, then he can be a true game changer.
Branch is listed as probable with a knee injury, but, if the Patriots are to be successful, they will need Branch at his best to dominate the Giants passing defense.
Branch can expect the Giants to focus on wide receiver Wes Welker and tight end Aaron Hernandez. The Giants may even slide some coverage over the decoy Gronkowski.
Branch should have the better matchup all game long. Branch will have to play like it's the early 2000's when he was Brady's favorite receiver in the Super Bowl.
Expectations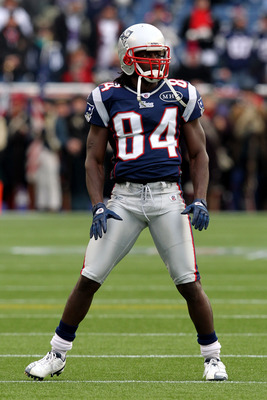 Branch is ready for another record setting Super Bowl game
Jim Rogash/Getty Images
Branch will be the Patriots' leading receiver today. He will torch the 29th-ranked defense for over 125 yards and set up the Patriots offense for easy pushes into the end zone.
He doesn't have the speed to lose his defender and get into the end zone, but he will fool his defenders all day long and force the Giants to recognize him. When he does this, Brady will make the Giants defense pay by finding the open man.
Brady will absolutely need to be the MVP for the Patriots to win, but it will be his old friend and previous Super Bowl MVP that will pave the way for the Patriots offense.
Keep Reading

New England Patriots: Like this team?