Aaron Rodgers NFL MVP 2011: Don't Be Shocked If Packers QB Whiffs on Award
February 3, 2012

Jamie Squire/Getty Images
Conventional wisdom would suggest that Aaron Rodgers will take be named the 2011 NFL MVP at the inaugural NFL Honors on Saturday. He was the best player on the league's best regular-season team, the 15-1 Green Bay Packers.
Heck, Rodgers' numbers—4,643 yards, 45 touchdowns, six interceptions, 68.3 percent completions, a QB rating of 122.5—were good enough to make him the best player on just about any team. In what was deemed the Year of the Quarterback, Rodgers played the position to near perfection on a team that needed him to, due to a rash of injuries and a staggering regression by its defense.
Oh, and he came in as the prohibitive favorite to earn the affections of the Associated Press after carrying the Packers to victory in Super Bowl XLV, for which he garnered MVP honors.
That being said, if A-Rod doesn't earn his first-career MVP, the shortfall will not come as a total surprise nor as anything close to a complete dropping of the ball by the select football writers who decide such things.
Because, in a season marked by spectacular passing, Rodgers was far from alone among those who excelled under center.
Drew Brees stole much of Rodgers' thunder down the stretch of the 2011 season, when he sought and shattered Dan Marino's single-season record for passing yardage, a mark that had stood for 27 years. The fact that Brees etched himself into the annals of league history for a New Orleans Saints squad that was involved in meaningful games, playing for a division crown and playoff seeding until the very end, only added to his appeal as a potential MVP.
But the real dark horse in the race may be the most visible quarterback of all, the one with three Super Bowl titles and two NFL MVPs already on his resume.
Need another hint? His name starts with "T" and ends with "om Brady."
As great as Rodgers was in compensating for the deficiencies of the Packers' defense, Brady was nearly as effective, if not more so, in leading the New England Patriots to yet another AFC East title and a No. 1 seed, despite playing opposite one of the worst defenses in NFL history.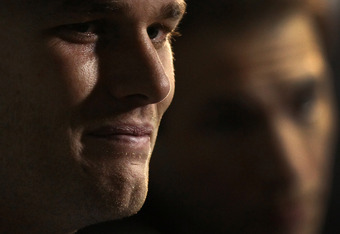 Win McNamee/Getty Images
Let's not forget, either, that Brady, like Brees, broke Marino's record, albeit after Brees did and with fewer yards in the end than Brees.
That's not to say that Brady should win another MVP or that Brees should edge Rodgers for the award. 
Rather, it's important to keep in mind that the race for the NFL MVP was not and has never been about just one man, but instead about three.
And, as such, it won't exactly be a travesty if Rodgers doesn't emerge victorious.