Miami Dolphins, Dan Marino; What Kind of Numbers Would Dan Post in Today's NFL?
February 3, 2012

Thos Robinson/Getty Images
While the countdown to the Super Bowl XLVI will soon go from days to hours, the legendary Dan Marino still laments on not having his Super Bowl ring, as commented on recently on the Joe Rose radio show, WQAM-560:
"It doesn't bother me as much, but there's no doubt that that's the one thing in my life and in sports, just feeling what that would be like. There's no doubt that there's sometimes I think about that, even today. When I'm watching the Super Bowl, that's going to be coming into my mind for sure. That's just part of life, man. I never had that feeling, and that's the feeling you want to have as a player as you've worked your whole life."
Marino's comments come at a poignant time, this being the year that his phenomenal 1984 season was finally outdone.
For nearly three decades NFL passers chased Marino's total yardage output, and in the quarterback friendly era of 2011, Drew Brees finally surpassed the icon by nearly 300 yards.Incidentally, Maruib's touchdown record from that same 1984 season was also surpassed by one of this year's Super Bowl combatants, Tom Brady, just a few years back. Cut another slice of humble pie for Dan, why don't you!
These days, taking comments like Marino said on Roses' show to heart, one has to wonder if he has delved so deep into the humble pie that he may never cut another commercial for Nutrisystem ever again!
Can Marino take some solace in the fact that today's game is just more wide open then ever before?
That the rules on pass interference and quarterback protection have changed so much that his record being broken was inevitable? Perhaps. Marino is his own man, and he will choose to feel about things the way he will.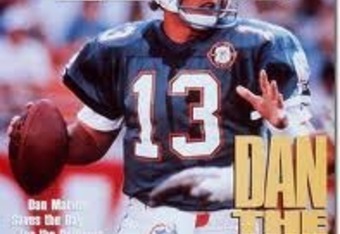 Besides, when the question is what type of numbers a young Marino could amass in today's game, one can only guess on the answer. The same could be said about trying to figure how Brees might have done in 1984.
I mean, that's true, isn't it? That one could only guess? Well actually no, it's not true—I was playing around with the numbers from each era separate from each other, and considered first how the leaders performed over and above the AVERAGE of all the passers of that era.
In other words taking ALL the passer's statistics and adding them up and then dividing them by the number of passers, one comes up with the average statistics. For the sake of simplicity I looked at only total passing yards and touchdowns of the top 28 quarterbacks from both years, and calculated for the years 1984 and 2011, the two relevant years of our focus.
THE AVERAGE NUMBERS
| | | |
| --- | --- | --- |
|   | PASSING YARDS | TOUCHDOWNS |
| 1984 | 2839 | 18 |
| 2011 | 3528 | 22 |
Now here is how the two main quarterbacks from our focus did compared to these averages.
| | | |
| --- | --- | --- |
|   | PASSING YARDS | TOUCHDOWNS |
| DAN MARINO 1984 | 5084 [+2245] | 48 [+30] |
| DREW BREES 2011 | 5476 [+1948] | 46 [+24] |
When first glancing at the numbers, it is interesting to see—by what margin both these leaders surpassed the averages of their respective days.
What's even more interesting is to take these margins and attach them to each other's separate era, and to imagine how these players might have fared at a different time:
| | | |
| --- | --- | --- |
|   | PASSING YARDS | TOUCHDOWNS |
| DAN MARINO 2011 | 5773 | 52 |
| DREW BREES 1984 | 4782 | 42 |
If you take the margin over the average and add it on to the average of the other year, the results are quite illuminating.
A WORD ABOUT THIS STUDY
I wanted to take the time to make a necessary point here. In case you did not know, this type of reevaluation is NOT meant to be perfect, or the final say.
There are many reasons to why the study is imperfect. For one, obviously, it was easier to soar above the averages in a year where Dan, in a way, set the standard for the offensive age that would eventually manifest itself.
By the time Drew Brees was putting up his numbers, teams and offenses across the board were "catching up" [literally] to the modern game. Of course, one can also construe those comments and give Marino more credit [instead of less,] for becoming somewhat of an inventor of the modern game.
And so the debate continues. This article is not meant to be the final say in the argument, but another perspective and a useful angle to take when comparing two quarterbacks of different era's.
Super Bowl memories, as amazing as they are, will eventually fade over time. Marino can take some solace in his passing statistics that produced memories that will last nearly as long.
Relax Dan, in the land of the Quarterback statistics, you will always be the Lord Of The Rings!