2012 NFL Draft: 5 Prospects Who Can Help Fix the Oakland Raiders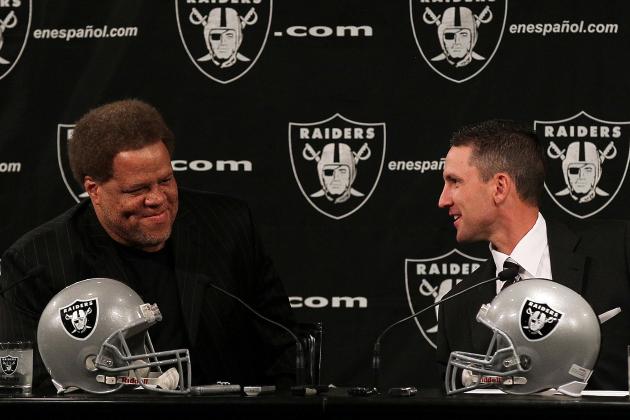 Justin Sullivan/Getty Images

In the 2012 NFL draft, the Oakland Raiders will be looking for fixes. They will be looking for players who will help make this team a playoff and championship contender.
In their first draft together, Reggie McKenzie, Dennis Allen and the rest of the Oakland draft team must obtain players who will improve the faults of this Raiders team.
However, they must do it without having a selection in the first two rounds.
With that being the case, there is little room for error for the silver and black. A miss on one player could leave the team less complete than it needs to be. In the middle rounds of the draft, the Raiders need to find players who will fit and be effective in their system, despite not being cream-of-the-crop talent.
The players are there—they just need to obtain them.
With that in mind, here are five prospects who can help fix the Oakland Raiders:
Begin Slideshow

»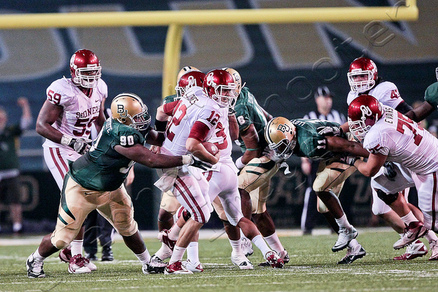 If he is still around by the time the Raiders make their first pick, Jean-Baptiste should be the clear selection.
Standing at 6'2" and 335 pounds from Baylor, his size on the defensive line would be an immediate lift.
In 13 games this year, Jean-Baptiste had 36 tackles and 8.5 tackles for loss.
He is exactly the type of big, pass-rushing body that the Raiders need.
Too often this year, the Oakland front four were unable to stop runners from getting to the second level of the defense.
Jean-Baptiste has the track record of being able to tackle, while also having the size to clog up holes.
He would also aid in getting pressure to the quarterback, an area where they have struggled in past years. With his stature, as long as he gets near the quarterback, he will alter their throws.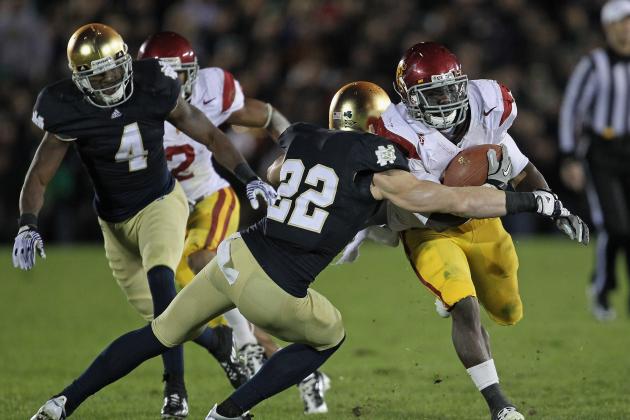 Jonathan Daniel/Getty Images

Depending on what happens with Tyvon Branch, the safety position could be a big need for the Raiders.
If he leaves, they will have a large hole to fill. If he stays, it would still be nice to have more depth at that position.
Enter 6'2", 212-pound Notre Dame product Harrison Smith.
Many projections have Smith going in the third round, so the Raiders may have to trade to get him if they do not receive two compensatory picks and use their lone selection on Jean-Baptiste.
However, depending on the terms of the trade, it might be worth it.
With the Irish, he is the only player in the history of the program to produce 200 tackles, 15 tackles for loss and 15 pass breakups in a career.
Not only that, but he proved to be durable as well. In the three years he saw action, he played in every single game.
Smith is a talent who would help the Raiders prevent some of the big-gain plays that have hurt them in recent years.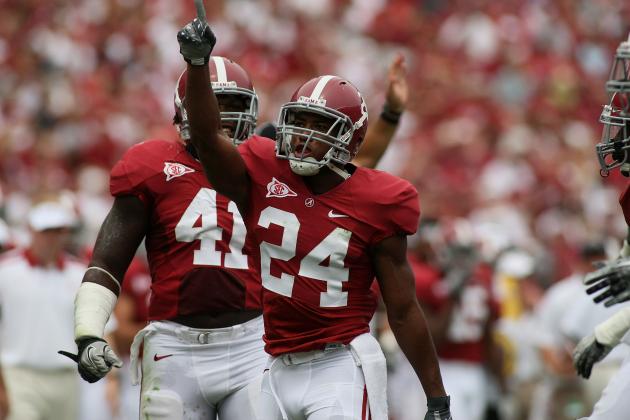 Greg McWilliams/Getty Images

Staying in the secondary, the Raiders should be looking for a fix at cornerback, either through free agency or the draft.
If they go for help via the draft, Dequan Menzie is a player they should have their eyes on.
On a star-studded defense at Alabama, Menzie was able to stand out for two reasons.
First, he was dynamic in his ability to play both the corner and free safety positions. Thus, if they chose to use him this way, the Raiders would add a possible starter at cornerback and also depth at safety.
Second, in his senior season, Menzie led the team with 11 pass breakups and 37 tackles. This indicates two things—he is effective in coverage and when he or someone else gets beat, he wraps them up.
Both are helpful skills that would improve the Raiders.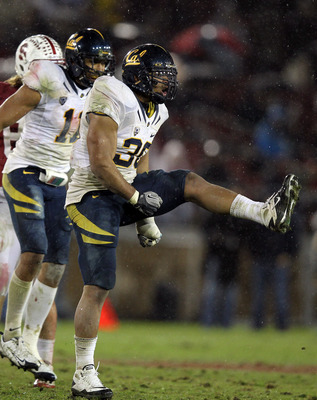 At some point in this 2012 draft, Reggie McKenzie and Dennis Allen must make a linebacker selection.
Rolando McClain and the rest of linebackers from this past year simply cannot be relied on to get the job done.
Fortunately, the Raiders' brain-trust does not have to look too far for a fix in Cal product Mychal Kendricks.
In his senior season, Kendricks was named the Pac-12 Defensive Player of the Year and was a First-Team All-Pac-12 selection. Those awards followed an impressive final year in which he racked up 106 total tackles (14.5 for losses), two interceptions and two fumble recoveries.
He may be as close to the complete linebacker package as the Raiders have available this year.
Emmanuel Acho from Texas would be another option if the Raiders lose out on Kendricks.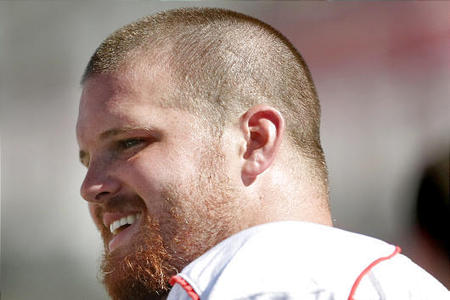 To help fix the offensive line, the Raiders need to draft at least one smart and disciplined player who is capable of blocking and creating holes for the running game.
They need an offensive lineman who is capable of starting immediately and can be disciplined in doing so.
Tony Bergstrom is that kind of player.
As a 2011 First-Team All-Pac-12 selection standing at 6'6", 315 pounds, Bergstrom has the size and demonstrated skill to deal with NFL defenses.
With that body, he should certainly be able to open running lanes for Michael Bush and Darren McFadden.
However, with all the penalty problems of the offensive line, it's just as important for the Raiders that Bergstrom appears to be mature and smart. In fact, he was nominated for the Lowe's Senior Class Award for his character, displaying strong work ethic in the community, classroom and on the football field.
Of course, at the end of the day, the Raiders need an offensive lineman who can play. Fortunately, he can do that too.