Detroit's Question Mark: Tigers Look to Fill Their Fifth Spot in the Rotation
January 31, 2012

Harry How/Getty Images
Vegas has the Detroit Tigers as the overall favorite to win the World Series, placing the team at 4-1 odds following the signing of first baseman Prince Fielder.
However, this team's success is not a given by any means, and there are still some holes that need to be filled prior to the start of the 2012 season—namely, finding an arm to be the fifth starter in the rotation.
Last season, Detroit was introduced to the Phil Coke show, which was a failure by all accounts, although the pitcher was impressive towards the end of the season in a reliever role.
While GM Dave Dombrowski has played the situation pretty close to the vest, he hasn't ruled out the idea of signing a veteran arm to round out the rotation.
That being said, there are a lot of young arms on the farm with a great deal of potential.
All in all, the Tigers have a variety of routes that they could go, though some are better fits than others. The following is an abridged list of solutions Detroit could have.
Jacob Turner, RHP
Turner has been projected to be a big-name talent in Detroit since he suited up with the West Michigan Whitecaps. He's projected to be a second starter with the team at some point, sitting just behind AL MVP Justin Verlander.
Turner has quite a bit going for him. His frame passes the eye test. His throwing motion is fashioned in a downhill sort of way, making his pitches look like they have more movement than they actually do.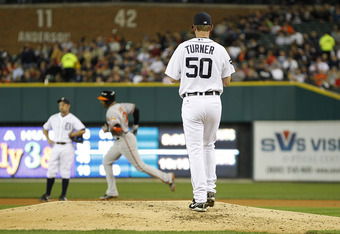 Leon Halip/Getty Images
His fastball is one of the best in all of the minor leagues. He frequently hangs in the mid-90's with his four-seamer, while throwing a low-90's cutter with great control.
His secondary pitches leave a bit to be desired, though. His curveball is average, and his changeup won't do much to trick hitters at the Major League-level.
The Tigers are also dealing with Turner being their No. 1 prospect, so the issue of wanting to limit his Major League exposure at such a young age also has to be considered. He's already thrown a very high number of pitches in the minors, so Detroit may want to keep him on an extremely short leash for another year.
All in all, while Turner could make the fifth spot in the rotation in 2012, it's more likely that he will be a spot starter, as he's still a year or two out from truly getting frequent big league time.
Duane Below, LHP
Below is a perfect feel-good story for those who like to see the hometown kid rise to success with the hometown team. The southpaw saw a few starts with Detroit in 2011 and played relatively well, although he did show signs of lacking in great control with his pitches.
With a few starts under his belt, Below has seemingly recovered nicely from Tommy John surgery. Below's biggest attribute is arguably his curveball which, when thrown well, is an excellent pitch to leave hitters guessing with.
However, his control is definitely below average, and he has ways to go in that regard. He seems to have the ceiling of a number four starter, and could just as easily never get consistent big league time.
That being said, Below will probably fair similar to Turner in 2012, getting a few spot starts while spending most of the year in Toledo.
Casey Crosby, LHP
Crosby had a pretty good season in 2011 coming off of Tommy John surgery. Probably the pitching prospect with the highest ceiling in Detroit's organization not named Jacob Turner, Crosby could see playing time with Detroit in 2012.
Crosby's fastball hangs in the mid-90's, though he often gets it up to 97. While he doesn't always have the best control, when he does, he can strike out anyone he faces.
He has a great secondary pitch in his curveball, although it isn't always thrown consistently. If he can get that pitch under control, Crosby could be the most Major-League ready of the group.
Crosby may have the best chance of snagging a spot in the rotation out of all of the prospects, but that is contingent on how well he performs in Spring Training.
Drew Smyly, LHP
Another southpaw, Drew Smyly has an outside chance of making the rotation in 2012. Though he's probably the second-best pitching prospect the Tigers have, it remains to be seen if he's ready to compete at a Major League-level just yet.
Smyly sits somewhere in between flame thrower and ground ball creator, and isn't really a typical lefty. He has a solid fastball and a pretty good secondary pitch in his curveball.
Like Turner, Smyly probably could start in the Majors, but the Tigers will likely have him on an extremely short leash in 2012.
Veteran Signing
Since there are a number of veteran prospects available, the Tigers could go after a short-term solution to fill the fifth spot. This will likely be a lefty, since the rotation is right-hand heavy already.
There's also the option that Detroit could still pursue a trade, although it seems unlikely that they'll trade any of their prospects at this point.