Fantasy Football 2012: 10 Big NFL Free Agents to Watch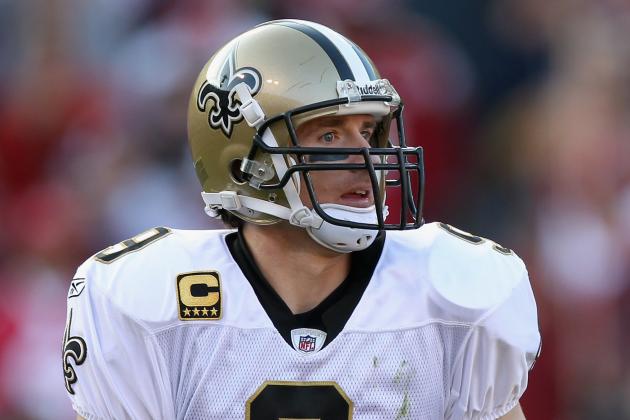 Jed Jacobsohn/Getty Images

While the Super Bowl and all its storylines will take precedence for the next week, after that, much of the football talk will be centered on the pool of free agents that are set to hit the open market.
There will be no shortage of studs hitting the open market. Where they end up could have huge ramifications when it comes to fantasy football.
The list of free agents-to-be reads like a who's-who of the NFL's elite. In some cases it seems unfathomable that any of these potential free agents would walk away from their current teams and situations.
So, in this slideshow, I will outline 10 crucial offensive free agents (in no particular order) who could be in line for a big payday.
Follow me on Twitter @Stacdemon
Begin Slideshow

»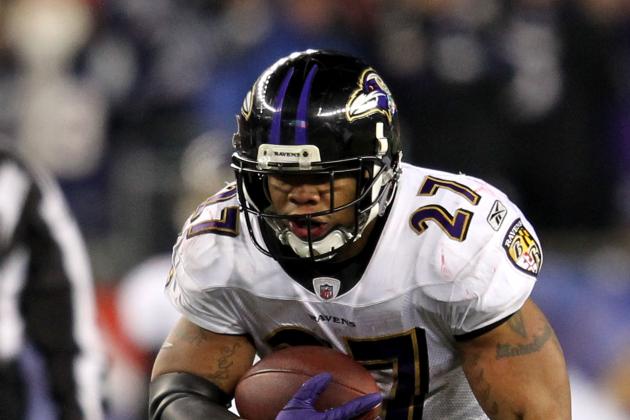 Jim Rogash/Getty Images

While the Ravens did not reach their goal of making it to the Super Bowl, Rice was certainly not at fault. He once again had a spectacular season.
After rushing for 1,364 yards and scoring 12 touchdowns while also racking up 76 receptions for 704 yards receiving and three touchdowns, Rice is the definition of a dual-purpose back.
It's hard to see Rice not coming back to the Ravens, as his multi-dimensional game is what their whole offense is predicated on.
So, if you're wishing he'll join your favorite team, think again.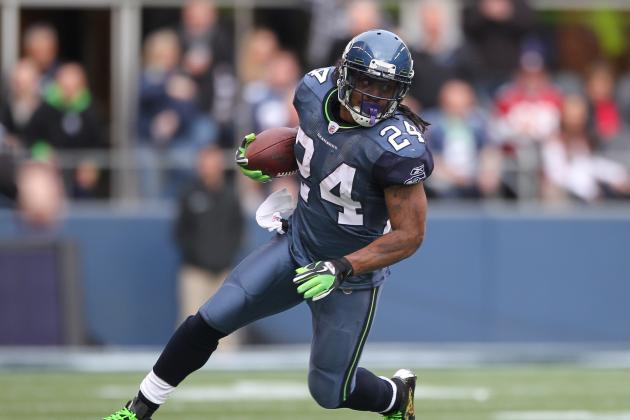 Otto Greule Jr/Getty Images

After busting out in 2011, Lynch is ready to collect his money.
Lynch obliterated career highs in rushing yards (1,204 yards) and touchdowns (13 total) en route to a stunning and captivating season.
If the money is sweet enough, Lynch could make a run for a new contract elsewhere, but it is hard seeing him bolt the Emerald City after the year he had.
The Skittles-loving beast should continue to do well in Seattle.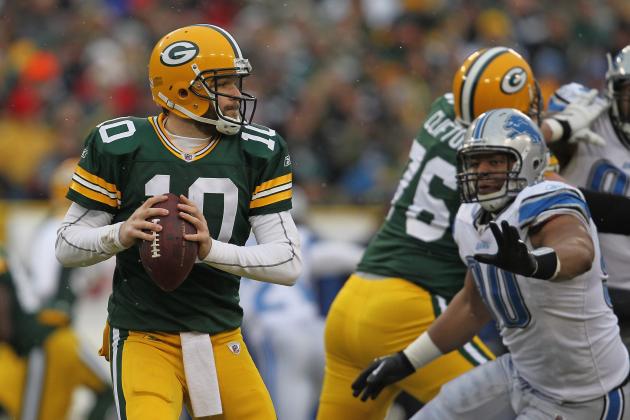 Jonathan Daniel/Getty Images

Many thought Flynn was a capable backup and his chance would come. However, after throwing for 480 yards and six touchdowns in the final game of the season against the Lions, Flynn will be a scorching name on the free-agent market.
With Aaron Rodgers firmly entrenched as the starter for years to come in Green Bay, it makes sense that Flynn takes his talents elsewhere. And where else would you take your talents these days other than South Beach?
Miami just signed ex-Packer OC Joe Philbin as their new head coach, and you could easily see Flynn follow suit.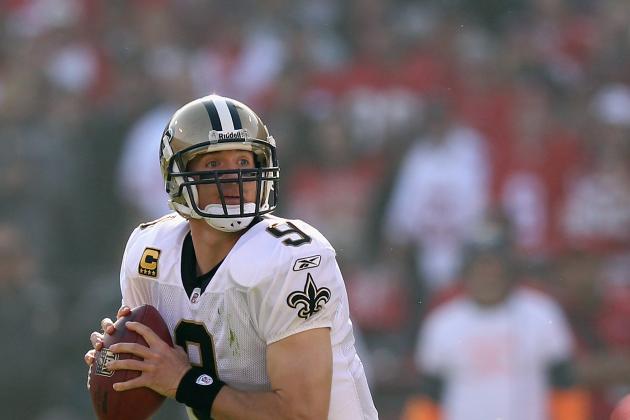 Ezra Shaw/Getty Images

The concept of Brees leaving New Orleans is ludicrous and beyond thought.
Brees is a player who transcends the game in New Orleans, as he is a figure whose popularity goes beyond what he does on the field.
After leading the Saints to their first Super Bowl championship two years ago, Brees just passed Dan Marino for the single-season record for passing yards (5,476 yards) this season while also throwing for 46 touchdowns.
Somehow, someway, New Orleans will come to terms in making sure Brees stays in a Saints uniform for the foreseeable future.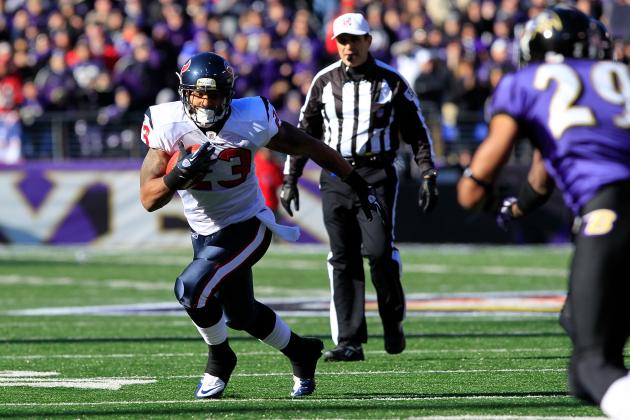 Chris Trotman/Getty Images

Much like Rice, Foster is what the Texans offense centers around and for him to leave just seems unimaginable.
While the Texans have a quality backup in Ben Tate, Foster was the main reason they made their first ever playoff berth. After the Texans suffered major injuries to both quarterback Matt Schaub and stud receiver Andre Johnson, it was Foster's 1,841 yards from scrimmage and 12 total touchdowns that kept this team afloat.
As a restricted free agent, the Texans have the ability to match any offer and seeing how much Foster means to this cub, expect a deal to be worked out.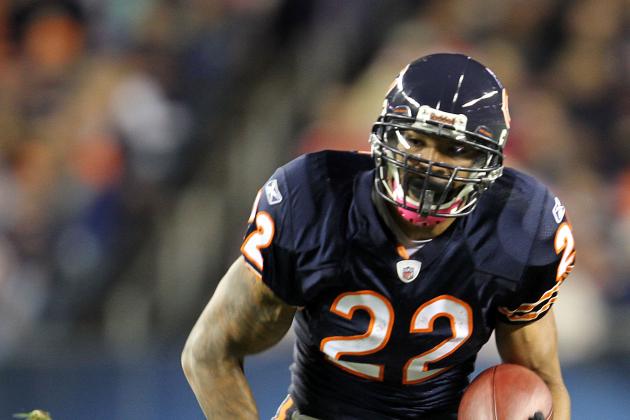 Tasos Katopodis/Getty Images

After threatening to sit out last season if he didn't get paid, Forte did his best to carry the Bears all season long, rushing for 997 yards and recording 52 receptions for 490 yards and four total touchdowns.
Unfortunately for Forte, his season was cut short with a sprained MCL and he only played in 12 games. However, Forte looks to be healthy now (even playing in the Pro Bowl) and should command a nice pay raise.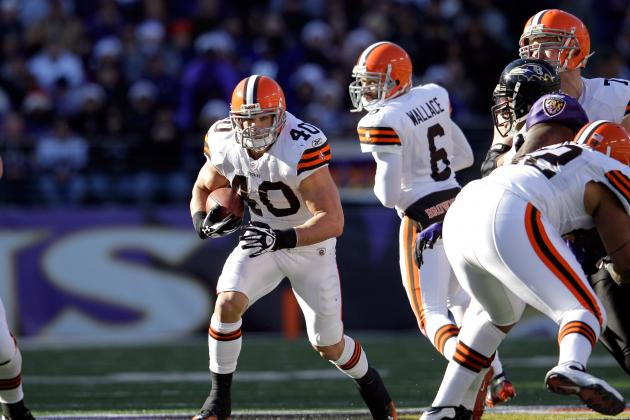 Rob Carr/Getty Images

Hillis and the Browns seem headed for a divorce, and it's a divorce both parties should feel comfortable with.
After erupting towards fantasy stardom in 2010, Hillis wore out his welcome in the Browns clubhouse (some reported he faked his illness in regards to his contract status) and had a very mediocre 2011 campaign, rushing for only 587 yards and three touchdowns in just 10 games.
A change of scenery could befit Hillis greatly. Expect teams like the Chiefs, Redskins and maybe even the Packers to kick the tires on Hillis.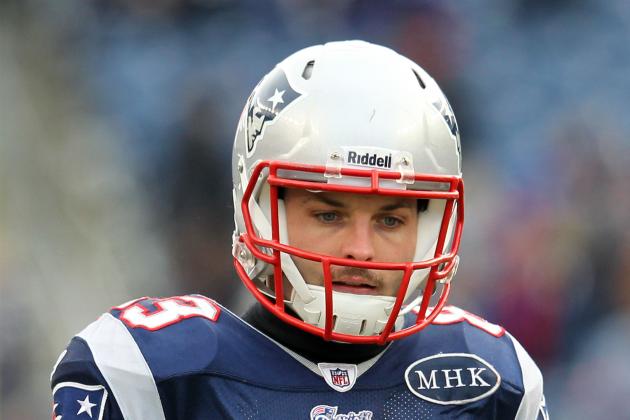 Jim Rogash/Getty Images

Although the Patriots have found success in its two-tight end formations, Welker is still Tom Brady's No. 1 trusted possession receiver.
After compiling 1,569 yards receiving (career best) and nine touchdowns (also a career mark) on 122 receptions and being a key ingredient in the Patriots' march to the Super Bowl, Welker should still be the beneficiary of more passes from Brady for a couple more years.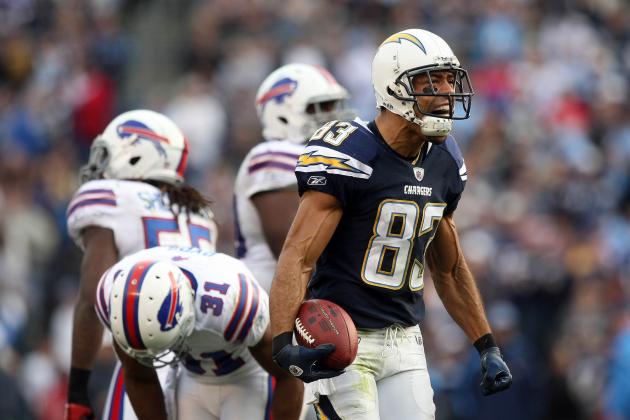 Donald Miralle/Getty Images

Jackson is your classic boom-or-bust receiver.
One day he'll record 10 receptions for 150 yards and three scores and in the next game he'll catch two passes for 40 yards. Such is the life when you own Jackson.
Jackson said he wants to stay in San Diego, and he does have a good thing going for him as Philip Rivers' No. 1 wide receiver.
Wherever he goes, though, Jackson will likely be the team's No. 1 receiver and get paid appropriately.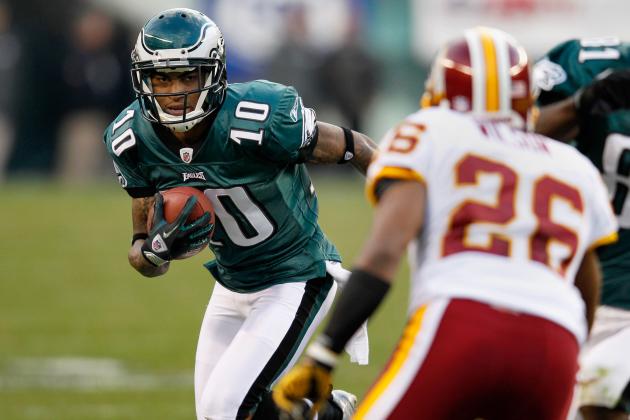 Rob Carr/Getty Images

Fair or not, Jackson has been portrayed as a selfish player.
That may hinder his value on the open market, but you can't deny his immense talent. While 2011 was a down year for Jackson (961 yards receiving and four touchdowns), he is young (25) and does possess lightning quick speed.
If he doesn't make amends with the Eagles, there are quite a few teams that would love to have Jackson's services (Jaguars, Browns etc.).