2012 NFL Draft: Oakland Raiders' Biggest Needs
Ezra Shaw/Getty Images

After a 25-20 victory over the Chicago Bears in late November last year, it was unlikely the Oakland Raiders were thinking about their needs in the 2012 NFL draft. The win put them at 7-4 on the season and if they simply played around .500 the rest of the way, they would make the playoffs. Unfortunately they lost four of five down the stretch, watching Tim Tebow and the Denver Broncos take the AFC West divisional crown.
In the weeks following the collapse, the Raiders have begun a new era. They fired Hue Jackson after just one year and for the first time in decades the team has a general manager, Reggie McKenzie. Then, in just the past few days McKenzie hired defensive minded Dennis Allen as Jackson's replacement. These moves suggest a change of direction for the Raiders and their front office, and it is likely that will reflected in their choices on draft day.
With many holes to fill, here are the Oakland Raiders' biggest needs heading into the draft:
Begin Slideshow

»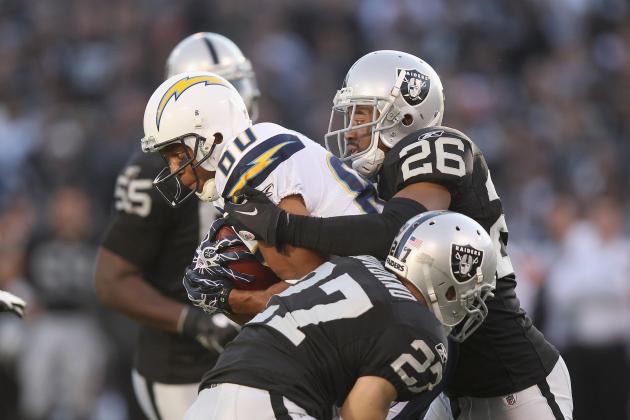 Ezra Shaw/Getty Images

Last year, the Raiders simply allowed too many teams to have big plays. Receivers routinely were able to find their way behind the Oakland secondary and get open downfield. In fact, they gave up an average of over seven yards per pass play.
That is too much when considering a team only needs 10 yards to move the chains. Therefore in this year's draft they should focus on skilled, athletic players in the secondary. Players such as Morris Claiborne of LSU or Dre Kirkpatrick from Alabama are two names that come to mind. However, those two will likely be gone by the time the Raiders pick.
Therefore, they are likely looking at someone like Alfonzo Dennard of Nebraska. Regardless of who Oakland chooses to go with, they must be able to stay on their assignment downfield and come up with a big play when needed.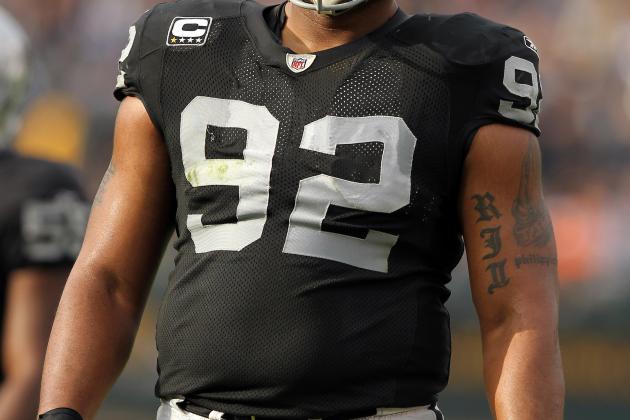 Ezra Shaw/Getty Images

Outside of Richard Seymour, the Raiders front four on defense this past season were difficult to watch. They could get little pressure on the quarterback and could not defend against the run. The team ranked 27th in the league in run defense and 15th in sacks. In order to be successful in future years, this cannot be the case.
Having dealt their first-round pick to Cincinnati in the Carson Palmer trade, Oakland is going to have to dig to find possible solutions. It even may take using a few late round selections and hope that one of them turns into a serviceable player.
Aside from pure talent though, Oakland should pay attention to the football intelligence of the players they are considering. Whether it was poor schemes or bad communication, it seemed like after every loss this year a coach or player would talk about undisciplined play. Good teams do not have that problem.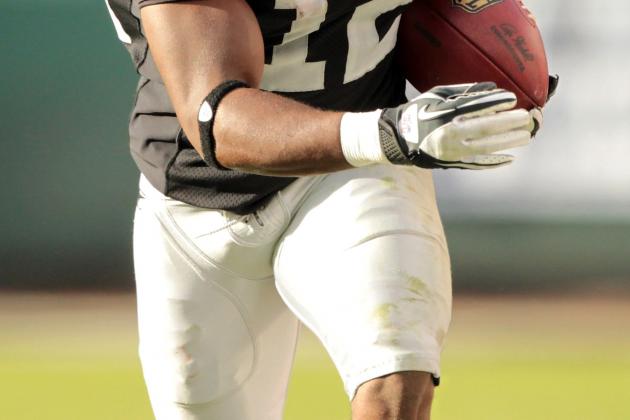 Ezra Shaw/Getty Images

Under Hue Jackson's scheme, the Raiders were a top-15 offensive team. However, it was clear from watching Carson Palmer that he needs another weapon. Darrius Heyward-Bey and Jacoby Ford are talented young pieces, but the Raiders could use one more target that can come on the field when one of those two comes out.
Plus, in a three wide receiver set, giving Palmer an extra option under center certainly would not hurt.
Ford and Heyward-Bey provide nice downfield threats, so drafting someone who can line up in the slot and catch passes in tight to get first downs should be the focus. This is not going to be a flashy name that people recognize, but rather a player who might fall in the draft due to a prior injury or poor showing at the combine.
Ryan Broyles from Oklahoma, for example, could be a nice option. Due to his injury in November, there are probably few teams that have him in their sights. If he falls into some of the middle to late rounds of the draft, he could be an excellent choice for Oakland.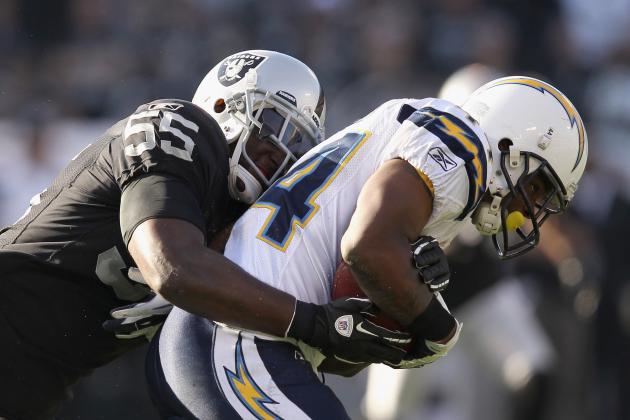 Ezra Shaw/Getty Images

The needs begin and end for Oakland on defense. Despite using their first round selection on linebacker Rolando McClain in 2010, the Raiders could still use some help in that area. Another strong presence in the middle would not only help the Raiders get more pressure on the quarterback, but more importantly help fill holes where a runner might be able break free for a large gain.
As with the need at corner, the Raiders need someone who can contain offensively gifted players. They need someone who can fill gaps and also come across the field and make open field tackles. In essence, if there is a ball carrier in front of them they need to be able to take care of him before he gets into the second level of coverage.
Furthermore, as with the defensive line, special attention should be paid to the player's football IQ. The Raiders would love for McClain to be capable of leading the defense, but up to this point in his career he hasn't shown the ability to do that. Therefore, a smart linebacker who can make the plays he is supposed to is clearly one of the Raiders' needs.