NFL Draft 2012: 3 Running Backs Who Will Jump Up Draft Boards
January 29, 2012

Jeff Gross/Getty Images
Trent Richardson is unquestionably the best running back in the 2012 NFL draft.
After Richardson, the talent level drops off, with Miami's Lamar Miller and Washington's Chris Polk as borderline first-round candidates at best.
But, there is a solid middle-tier of running backs, several of whom will jump up draft boards after solid performances in the NFL combine and pre-draft workouts.
Here are three running backs who should jump up draft boards before April.
LaMichael James, Oregon 
James is a blazing fast back with good power as well.
He's been the Ducks' offensive leader during his entire time in Oregon.
This year, despite missing a few games with a dislocated elbow, James ran for 1,805 yards and 11 touchdowns.
If he can quell injury concerns before April, he could jump as high as the late-second round.
His speed is unmatched by any of the other running backs in this draft class.
Ronnie Hillman, San Diego State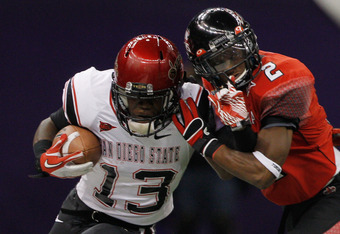 Chris Graythen/Getty Images
Hillman has been an absolute machine for the Aztecs during his college career.
This year, he ran for 1,711 yards and 19 touchdowns, leading the Aztecs offensively.
He's fast, but clearly teams don't think he can handle a full workload in the NFL.
They'll be proven wrong when they see what he can do leading up to the draft.
He should be chosen in the fourth round, not in the fifth or sixth rounds.
Bobby Rainey, Western Kentucky 
The Hilltoppers faced a lot of loaded defensive fronts this season.
But, Rainey ran through them all (except LSU) with ease.
He had an outstanding season, running for 1,695 yards and 13 touchdowns.
He's a workhorse, something that is very valuable in the NFL. He can take a beating and will still ask for the ball.
He'll have a place in the NFL, and he'll go higher than the sixth round after teams see what he can do in the NFL combine.