Senior Bowl 2012: Marquis Maze and Duds Who Will Be Exposed
January 27, 2012

Andy Lyons/Getty Images
The 2012 Senior Bowl will be played on Saturday, January 28 at 3 p.m. EST.
It will feature several college seniors who need to perform well in order to improve their 2012 NFL Draft stock.
Some will accomplish the task of raising their stock, but just as many will lower their draft positions with poor performances in the game.
Let's take a look at three players who will be exposed as duds in the Senior Bowl.
Marquis Maze, WR, Alabama 
Maze only measured in at 5'7" at his weigh-in.
That's incredibly short for a potential NFL wide receiver.
He can still hope for a career similar to that of Brad Banks of the Washington Redskins, but he's just not as fast as Banks.
Banks is a better return man, so he's much more valuable than Maze.
Look for Maze to fall from a fourth- or fifth-round pick to a guy who will be lucky to be drafted at all.
Janoris Jenkins, CB, North Alabama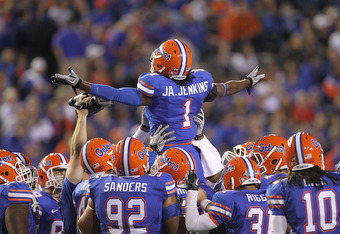 Mike Ehrmann/Getty Images
Jenkins will probably be a good NFL cornerback, but don't expect him to look like it in the Senior Bowl.
Due to several legal problems, the talented defensive back had to leave Florida and attend North Alabama.
This year, he dominated at his new school, but that's not surprising against the weaker competition.
Playing in the Senior Bowl against the best seniors in the country will be a shock to him and he'll look terrible.
He's still a first-round talent, but he might fall to a second round projection with a poor performance.
Dan Herron, RB, Ohio State 
From all appearances, Herron is just an average running back.
He's not overly fast and he's not incredibly strong. He's just a guy who can plug away and get some yards.
Against the fastest and strongest defenders in college football in the Senior Bowl, he'll probably struggle.
With guys like Courtney Upshaw roaming the field defensively, there won't be much room to run.
Look for Herron to fall into the sixth round after a very lackluster performance on Saturday.