San Francisco 49ers: Why I'm So Very Proud of the 49ers
January 23, 2012

Thearon W. Henderson/Getty Images
When the lockout ended this last spring I was hopeful for a season that would show some promise for my beleaguered San Francisco 49ers. Having followed their ups and downs for over 30 years, they have become as much a part of my life as my job, my house and my family.
"A season with a winning record would be nice," I wrote a friend after the lost decade when they kept promising, but not delivering.  His response was in the area of "dream on," old fool.
Before the season got started, I wrote for this space that the 2011 season would be a building one for the team.  A new owner heading the operation, new folks in the head office and a new head coach who brought mostly new staff with him were promising. I had felt for several years that the team had talent, but was not focused, not really a team effort. It seemed more a group of talented guys kind of trying to play a team game without the team spirit. Morale, it seemed to me, was practically non-existent.
I was hoping the new coach could focus the group and do some team-buliding exercises like they do in the military or in some corporate offices.
Most of all, I was hoping that, given the condition of the NFC West Division opponents, the 49ers would at least win a majority of their games, perhaps nine, and build on that success for next year.  I was hoping the 2012 season would be a breakout year where the old 49ers reappeared and became a force in the NFL once again. I was thinking of a three year building program.
I had in mind that some more drafting and free-agency acquisition of players over a couple of years were needed to build up a powerhouse that could win against the big boys in the NFL. Since the lockout prevented much planning between staff and players, I figured it would take a season or two just to shake out the bugs and perfect the system. It takes time, I reasoned, for players to learn a new system, and one year would not be nearly enough time.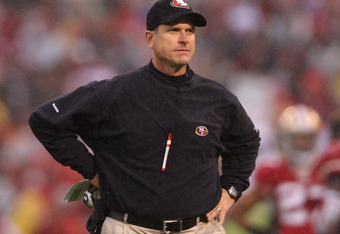 Ezra Shaw/Getty Images
Boy, have I been pleasantly surprised. Even though they stumbled a bit in overtime in the NFC Championship Game—losing by a single bad bounce of an irregularly shaped ball on a wet and soggy surface—I am proud of them.
The 49ers exceeded every goal I had in my little mind for them. A season record of 13 wins and three losses. A postseason win against a powerful team in the last nine seconds. A flooding of the Pro-Bowl team with 49ers players. NFL records achieved and powerhouse teams beaten on their home fields. Watching a previously wasted quarterback come into his own, tossing off quick, bullet-like passes for wins in the last few seconds?  Setting a record for the fewest interceptions? Who would have predicted that besides Coach Harbaugh?
Winning against premiere teams in away games was a complete and enjoyable surprise, a thrill, a boon, a gift. Wow!
There are those who will tell of things the 49ers might have done to be more perfect. It is a sports writer's job to dissect the past, explain the problem, make recommendations and predict the future. So it will be. Dozens of writers will analyze and entertain with their wisdom and skill.
I have a different slant. I think the 2011 49ers did everything perfectly. Given the time they had to acquire a new system, the time they had to practice new plays and learn a new philosophy, I think they did a marvelous job. It would have been absolutely unreasonable to assume or demand they make it all the way to and win the Super Bowl. At the start of the preseason it was unreasonable to suggest they do more than win the NFC West title.
So I want to declare that I am proud of the 49ers and all that they have achieved in one short season. They also should be proud. They have done a magnificent job in a super-short period of time and against monumental odds.
Next year, they will win the Super Bowl. I am sure of it.