Arizona Cardinals: 6 Late-Round Picks That Would Fit on the Cardinals' Roster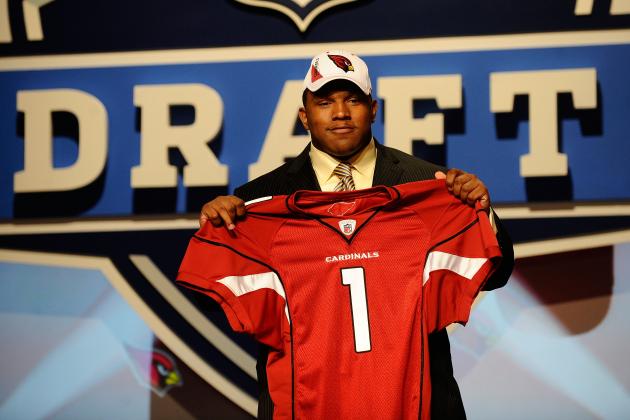 Jeff Zelevansky/Getty Images

As the 2012 NFL draft approaches, there will be no shortage of mock drafts thrown your way. Heck, I even put together a full seven-round mock draft for the Arizona Cardinals.
Most NFL mocks, however, focus on the first—maybe the second—round of the draft.
I get it. Those are the sexy picks. Often times, first- and second-round picks are the difference makers. And most fans know the names of the players picked in the first couple of rounds.
But NFL rosters aren't just filled with first- and second-round picks. Late-round draft picks can be the difference makers in the game, as well.
At the time of writing this article, I'm watching New England Patriots quarterback Tom Brady (sixth-round pick) toss the rock to Wes Welker (undrafted). No lucid argument can be made that those two guys are pivotal to the Pats' franchise success.
In 2010, the Cardinals put together a solid draft. Patrick Peterson (1st), Sam Acho (4th) and David Carter (6th) were all solid contributors during their rookie campaigns, while running back Ryan Williams (2nd) showed promise before succumbing to injury.
Carter, specifically, proved to be an extremely valuable late-round pick for the Cards.
When nose tackle Dan Williams broke his arm, Carter provided a seamless transition into the position that allowed the defensive line to remain effective in Ray Horton's aggressive defensive schemes.
Bang it below to learn about the late-round potential players who will provide the Cardinals with success in 2012.
Begin Slideshow

»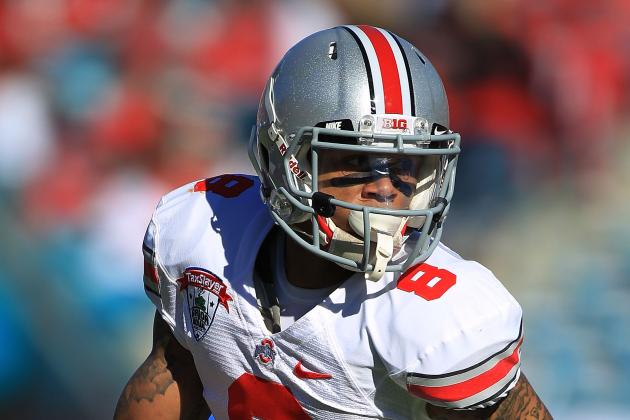 Scott Halleran/Getty Images

Wide receiver DeVier Posey missed most of his senior season with the Ohio State Buckeyes due to being overpaid by a booster and for his involvement in the highly publicized tattoo scandal in Columbus, Ohio.
Because of his two suspensions, Posey's talents were barely showcased this season—he played in three games to finish the season (Penn State, Michigan and against University of Florida in the Gator Bowl).
Posey may just get his chance to shine.
Michael Floyd and Kendall Wright are not playing in the Senior Bowl in Mobile, Alabama. Posey will be one of the top wideouts in Mobile and will give scouts something to consider if he has a strong showing.
For the Arizona Cardinals, Posey could be a late-round wide receiver that could fill the vacancy that existed all season at the No. 2 spot.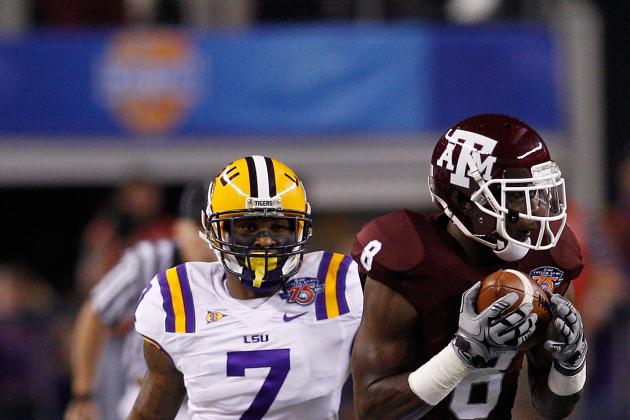 Chris Graythen/Getty Images

Texas A&M wide receiver Jeff Fuller would also be a solid late-round pick for the Arizona Cardinals.
Since letting Anquan Boldin walk across the country to the Baltimore Ravens, the Cardinals have been in search of a legitimate No. 2 wide receiver. Replacing Boldin is a daunting task, but Fuller comes pretty close to being up to the task.
Fuller (6'4" 220lbs.) is a big target with soft hands who has "outstanding size, stature and length with fluid movement skills," according to Profootballweekly.com.
While it may take a year for Fuller to develop into a Boldin-esque receiver in the NFL, he certainly already possesses the tools to do so.
Erich Schlegel/Getty Images

Arizona Cardinals fans may be graced with a pair of siblings on the field at the same time in 2012. Emmanuel Acho, inside linebacker from the University of Texas, could be a late-round draft choice for the Cardinals.
His brother, Sam Acho, has secured his place on the outside of the Cardinals linebacking corps. With aging veteran Paris Lenon manning the inside, Arizona will look to reinforce the position.
Emmanuel Acho (6'2" 245lbs.) will provide the Cards with immense potential at the position and will give them options to consider in 2012.
National Football Post revelled in Acho's instincts as an inside linebacker and labeled him as a potential first-year starter in 2012.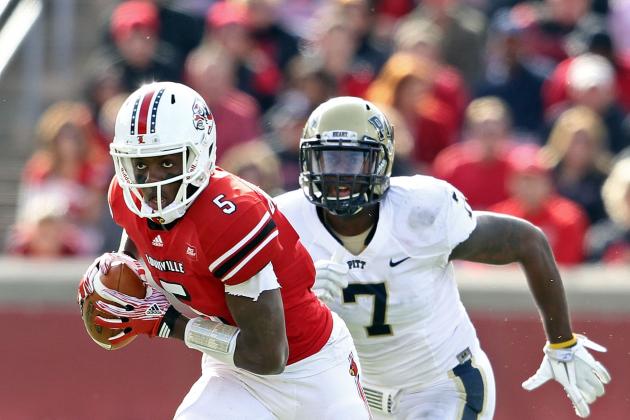 Andy Lyons/Getty Images

At season's end, the Arizona Cardinals linebackers were some of the best in the league. Nevertheless, the Cards will need to rejuvenate the position through the draft.
Youth at the position will keep the linebacker group fresh and dominant for years to come.
Rookie outside linebacker Sam Acho solidified his position with an outstanding inaugural season. Pittsburgh's Brandon Lindsey may do the same for the Cardinals in 2012.
Clark Haggans manned the other side of the linebacker corps opposite Acho. And having turned 35 years old last week, Haggans' position will need to be addressed.
While Haggans may have another season left in the tank, Lindsey will provide rotational help to keep Haggans fresh and allow the rookie to learn the position.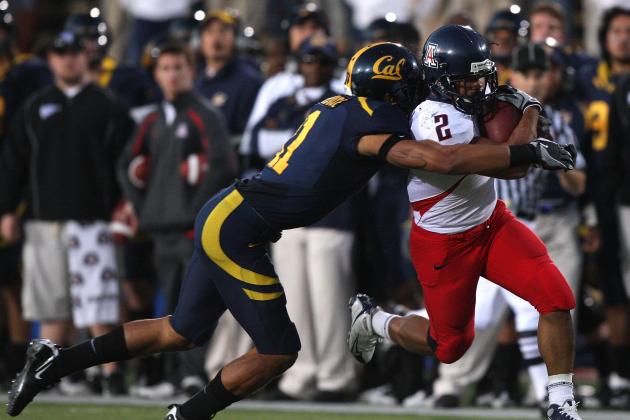 Jed Jacobsohn/Getty Images

The Arizona Cardinals secondary struggled to contain pass catchers in 2011. In the 2012 NFL draft, the Cardinals have to be thinking about injecting at least one rookie into the secondary that will give them a shot at turning their pass defense around.
Time is not on Arizona's side, either.
Adrian Wilson will turn 33 during the 2012 season and backup strong safety Hamza Abdullah has shown little to impress. Abdullah will also be 29 years old and playing in his ninth season in the NFL in 2012.
Strong safety Sean Cattouse out of California can be the answer to bringing youth into the position for Arizona.
And at 6'3" 218lbs., Cattouse won't force the Cards to take a hit at a big, physical safety. The Cardinals have gotten used to Wilson essentially providing them with an extra linebacker on the field.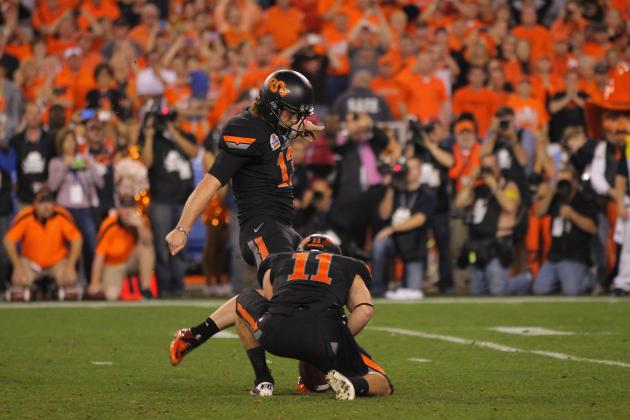 Doug Pensinger/Getty Images

Quinn Sharp was charged with kicking and punting at Oklahoma State. The Arizona Cardinals will be looking to replace both positions this offseason.
In all likelihood, kicker Jay Feely and punter Dave Zastudil will not find a home in Glendale in 2012. They are both unrestricted free agents who will demand much more money than Sharp.
Sharp will be a late-round (think seventh-round) draft pick and will be paid significantly less than retaining Feely and Zastudil, even if Sharp fills the kicker and punter positions.