East West Shrine Game Score: RBs Who'll Make Biggest Impact
January 21, 2012

Sam Greenwood/Getty Images
The East-West Shrine Game is a perfect place for running backs to make a name for themselves.
Running backs have such short-lived careers that teams are always looking for a starter or a backup. This game is a perfect time for running backs to impress NFL scouts.
With a good game, a player can go from the bottom of the draft to the middle, the middle to the top, or even from out of the draft to into it.
Some backs are from big schools, and others are from small schools. At this point, it doesn't even matter. All the running backs have a great chance to make a good impression.
If you want to see the other running backs in the game, check here.
The first running back to watch is Maryland's Davin Meggett. His carries increased each year he was at Maryland, and he is a powerful runner. He finishes off his runs, and at 220 lbs he's a bruiser.
Right now, not many people believe Meggett will be much more than a short-yardage back, but a good performance could have scouts thinking of him as a rotation back.
For teams that are looking for a quicker back, they need not look further than Bobby Rainey. The Western Kentucky product is a fast back, and he can break off some big runs.
His production improved each year at WKU, and he has shown the ability to take on a full load, carrying the ball more than 300 times each of the last two years.
Obviously, carrying the ball in the NFL is a little different than in the Sun Belt Conference, but he still has the chance to make a difference on a good team.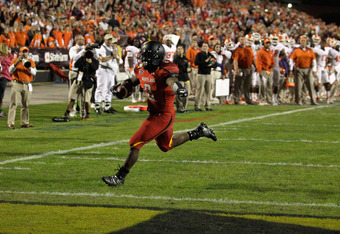 Rob Carr/Getty Images
In addition, his catching ability (79 career receptions) could help him become a regular third-down back for a good team.
While these two running backs could be solid in the NFL, the most complete back in the East-West Shrine Game is Tauren Poole.
Poole was a very good back for Tennessee, and he could find a home in the NFL. Unfortunately, he doesn't do anything remarkably well.
He's solid at just about everything, but he needs a "wow" factor to impress NFL scouts. Right now, he is viewed as a No. 2 running back on a good team.
However, with a big-time performance, he could solidify himself as a feature back in the NFL.
All of these running backs were very good in college. Now, a good performance could give them a big boost in their draft stock, allowing them to make an impact in the NFL.