Yu Darvish Contract: Rangers Looking for Darvish to Succeed Where Others Failed
January 20, 2012

Stephen Dunn/Getty Images
The Texas Rangers did not give Yu Darvish an ace-level contract. Aces tend to get better deals than six years for $60 million.
But you can't consider Darvish without factoring in the $51.7 million the Rangers paid just to negotiate with him, bringing his total tab to just under $112 million. Now that's ace money.
According to Richard Durrett of ESPNDallas.com, Darvish's deal with the Rangers includes only $56 million in guaranteed money.
Rangers general manager Jon Daniels also revealed that Darvish can opt out of the sixth year of the contract, but only if he wins the Cy Young and finishes in the "top three or four" of the voting in another of the first five years. Either that, or Darvish can opt out if he finishes second in the balloting one year and then in the top three or four in two additional years.
If Darvish actually manages either opt-out feat, the Rangers will be happy. It will mean they have gotten the ace they paid for.
As far as what Darvish can do to actually live up to his contract, Dave Cameron of FanGraphs crunched the numbers and determined that Darvish will need to accumulate a WAR (wins above replacement) of about 20 over the next six years to be worth every penny.
Sounds reasonable enough. After all, in the last six seasons (2006-2011), 22 different pitchers have achieved a WAR of better than 20, with Roy Halladay leading the way with an unfathomable 40.9 WAR.
However, it's not exactly fair to compare Darvish to contemporary major league pitchers. He hasn't thrown a single pitch in the big leagues yet, and he's going to have to make a lot of adjustments when he does.
We're better off comparing Darvish to pitchers who have had to make the same adjustments, which is to say we should compare him to fellow Japanese imports.
First off, there are few Japanese pitchers who have pitched as many as six seasons in the majors, so Darvish is going to be attempting to do something many have failed to do. Asking him to succeed in a significant way over those six years is an even iffier proposition.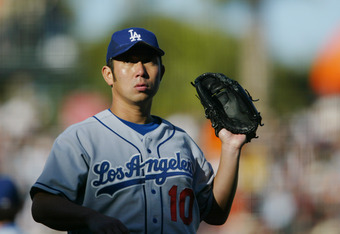 Justin Sullivan/Getty Images
The one pitcher who comes to mind when you think about Japanese pitchers who were able to enjoy long-term success in the big leagues is Hideo Nomo, who managed to stick around from 1995 all the way to 2008. He was never great, but he walked away from American baseball with a WAR of well over 20 to his name. He also pitched two no-hitters, and won the Rookie of the Year in 1995.
But Nomo is the exception to the rule. Hideki Irabu, for example, made 80 starts in six seasons and compiled a WAR of 4.0. Tomo Ohka made 178 starts throughout the course of a decade's worth of service, and only managed a WAR of 11.6.
As far as pitchers who are still active, Hiroki Kuroda has compiled a WAR of 12.2 in four seasons, and Daisuke Matsuzaka's WAR sits at 10.6 after parts of five seasons.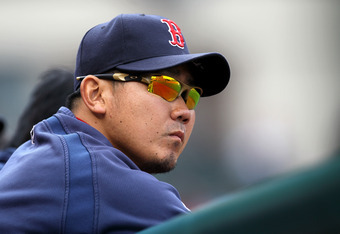 Stephen Dunn/Getty Images
And indeed, it's hard not to think of Dice-K when you think of Darvish. The Boston Red Sox paid over $100 million to get him, and they too were expecting an ace. Dice-K has certainly had his moments, but he hasn't been worth the money. Not even close.
So you go back to thinking about Nomo, and how the Rangers will be happy if Darvish ends up being the next Nomo. This wouldn't entail being an ace, necessarily, but it would entail being steady and productive.
Here's the thing, though: Per Baseball Reference, Nomo only made just over $34 million throughout his entire career, which spanned 12 seasons.
Darvish is going to make a little less than double that in six years.
So what does all of this mean, exactly?
In a nutshell, it means something we already all know: that Darvish needs to be an ace to live up to his contract. What all of the above info is meant to convey is that the odds of Darvish actually being an ace aren't good, and that the Rangers are therefore rolling the dice.
But if you're looking for my subjective view of things, all I will say is that I love Darvish's stuff, and that I do indeed think he has ace potential. And as long as he has a thunderous lineup at his back, it's not like Darvish has to pitch a complete-game shutout every time he takes the hill.
Given the dollar sign hanging over his head at all times, however, that's what people will expect.