Detroit Tigers Rumors: Brennan Boesch Could Replace Victor Martinez in Lineup
January 20, 2012

Ed Zurga/Getty Images
A loud and deafening groan was heard emanating from Comerica Park earlier this week—immediately after news broke that Victor Martinez would be out for the year with an ACL tear.
The bad news made me want to crumple up this article I wrote in December and throw it in the nearest trash receptacle. Losing Martinez for the year is a huge, huge loss, especially for a Tigers team with World Series or bust aspirations.
Detroit trying to replace Martinez with a fill-in player reminds me of when the Dukes of Hazzard tried to replace Bo and Luke with Coy and Vance.
It was an impossible task and it ultimately doomed the franchise.
Actually, Tigers fans should not get all fire and brimstone just yet. Detroit has options. Some of those options are closer than you think.
A number of free agents have been identified. Unfortunately—this late in free agency—that is akin to picking through the sale bin at Walmart. There's absolutely no chance of finding anything of real value.
Names that have been tossed around: Johnny Damon, Raul Ibanez, Casey Kotchman, Carlos Pena and Hideki Matsui.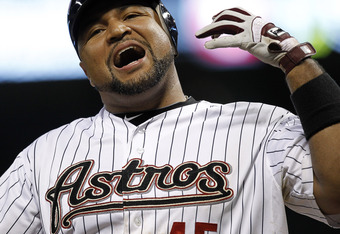 Bob Levey/Getty Images
If the Tigers are looking for aging veterans or marginal pros, I guess those are good options.
The most exciting rumor floating around is Houston's Carlos Lee. Yes, he's had a clear downward slope to his production over the last few years. Yes, he and Miguel Cabrera would make the heaviest three and four hitters in MLB history.
So what? Lee is the type of player that could have a major comeback playing for a team like Detroit and hitting behind a player like Cabrera. I believe playing for a bad team like Houston has really impacted Lee's numbers.
Dave Dombrowski isn't tipping his hat though and the Tigers might not be in a rush to do anything rash this early in the year. Besides, their best option might be to stay put. They have a player coming off the DL who could fill Martinez's shoes nicely.
What about Brennan Boesch?
As James Schmehl writes on MLive.com, Boesch is fully recovered from the right thumb injury that sidelined him last year.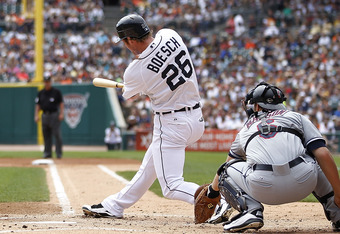 Leon Halip/Getty Images
Boesch isn't hesitating to throw his name in the ring to replace Martinez in the batting order. He said, "That spot is definitely a different spot with Miguel being the hitter he is. I think it's almost an honor to be put there, so if my name is called then I'll be up to the challenge and embrace it."
Boesch batted .306 with 12 home runs and 44 RBI before the All-Star break last year. In 31 games after the break his numbers were not even worth mentioning.
Yes, Boesch has been inconsistent with Detroit. He's started off hot both seasons, only to fade down the stretch.
Conventional wisdom would suggest that tendency would diminish as he matures. This—his third year as a pro—might be the year he puts a full season together.
As Jim Leyland said in the MLive article, "Whoever hits behind Cabrera has a chance to have a hell of a year."
If that fourth or fifth hitter is Boesch, his chances of being a consistent producer of home runs and RBI's would dramatically improve. If the Tigers decide to go with Boesch they would fill a need without spending additional money or diminishing salary cap space. This would allow them to stash it away for the trade deadline so they can add a piece or two later in the season—for the playoff push.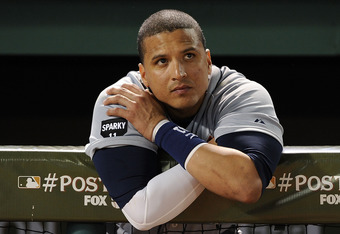 Harry How/Getty Images
Ultimately, no one can replace Martinez. As Leyland often says, "He's a professional hitter."
That's true. The Tigers might not be able to replace him but they can make-do without him and still challenge for the ALCS.
The other teams in their division aren't exactly World Series contenders. The White Sox are rebuilding. The Twins were bad last year and Jamey Carroll won't change that. No one is betting on Cleveland repeating their success from 2011 and the Royals are the Royals.
Who knows, maybe Martinez will return early and make an impact in the second half of the season.
The Tigers—and their fans—should start praying today.