Tim Tebow Time Out: Broncos Would Be Smart to Draft Another QB
January 20, 2012

Al Bello/Getty Images
Was there a bigger story in the NFL this year than Tim Tebow?
Maybe not to some, but to many, Tebow didn't deserve anywhere close to the amount of media coverage he garnered over the course of the season. The media coverage had more to do with Tebow's seemingly magical run rather than his actual ability as a passer. 
While the media madness was certainly fun to watch, the Broncos' best bet for their future is to draft a quarterback this year.
As simple as a move as this would be for the team, it may come as a shock for many as well as spark outrage from some of Tebow's fanbase. Tebow's road to becoming the Broncos' quarterback was certainly a roller coaster, but he built a huge fanbase along the way.
We all know the story by now. 
Tebow took over for Kyle Orton as the starting quarterback for the Denver Broncos in Week 7. The Broncos were 1-4 under Orton, but they then rallied under Tebow to go 7-1 in their next eight games. Denver went from being one of the worst teams in the NFL to a contender for the AFC West divisional title.
The media went wild with "Tebow fever." A series of dramatic come-from-behind miracles and last-minute heroics only helped feed the legend.
The first real blows in Tebow's armor came Week 15 against the New England Patriots. All week leading up to the game there was discussion as to whether or not Tebow could continue his winning ways against an elite team like New England. While Denver got off to a hot start, the Patriots went on to crush the Broncos thanks to their elite passing attack.
Denver went on to barely sneak in to the playoffs with two more losses to the Kansas City Chiefs and the Buffalo Bills. Tebow had seemed to have lost his magic and his knack for not turning the ball over. 
That is, until the Wild Card Round against the Pittsburgh Steelers.
The Steelers were banged up heading in to their showdown with Tebow and the Broncos, but still favored. Tebow hit several big pass plays during the game to keep up with the Steelers. However, there was no bigger pass than the first pass of overtime to Demaryius Thomas for 80 yards and the game-winning touchdown.
"Tebowmania" was once again running wild, but as we know, the Patriots were again responsible for derailing the hype train. 
Now we have seen John Elway come out and say Tebow will go in to the beginning of training camp as the starter for the Broncos. This is a huge announcement considering there were rumors he may have been benched for Brady Quinn against the Steelers had he struggled. Tebow accomplished some great things this year, but job security was not one of them.
Many sources close to Elway and head coach John Fox have continued to say all year long that neither is sold on Tebow as a long-term option at quarterback. However, his success and flair for the dramatic has created such a calling for him as the starter, they are handcuffed to an extent.
It will be tough to do, and they would receive some heat for doing it, but drafting a quarterback is a smart move for the Denver Broncos.
Their motivation for making this selection shouldn't have to do with just Tebow's stats.
He is what he is. Tebow can make certain throws, but will struggle making others. He is not going to have the elite numbers of a top-notch quarterback, but he will provide you with solid rushing numbers that many other quarterbacks can't match.
There are two bigger causes of concern for Tebow.
The first is the question of how long that style of offense can be successful in the NFL. The Broncos ran a modified option offense that surprised all the experts with how long it baffled opposing defense. However, no one catches up faster than NFL coaches.
There is plenty of game film on Tebow and the Broncos' offense now. There is a formula on how to stop it thanks to the New England Patriots. It isn't complicated, it just requires a disciplined defense. 
What will happen when Tebow is forced to be a traditional passer?
I don't know that Broncos' fans really want to find that out.
The second cause for concern is his ability to stay healthy. Reports came out after the Broncos' loss to New England that Tebow was so banged up he wouldn't have even been able to play in the AFC Championship Game had the Broncos advanced.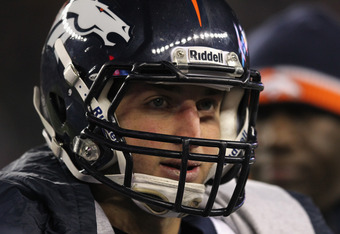 Jim Rogash/Getty Images
Tebow is huge for a quarterback and one of the most athletic in the league. Yet, his style of play results in him taking a serious beating from opposing defenses. He is never the type of quarterback to slide when there is a chance he could push his way to an extra one or two yards. 
While this competitive fire is something all fans and coaches would want in their players, you need your starting quarterback to be healthy. 
The Broncos don't need to blow up their draft and trade for one of the elite rookie quarterbacks that is coming out this year. They should be targeting one in the second or third round of the draft. A quarterback that may not be ready to take over right away, but certainly gives them options for the future.
That is really what it is about.
Tebow would still have his chance to continue to form in to whatever his potential will allow him to be, but the Broncos wouldn't have to push their chips all in on him either. They would be able to mold a more traditional quarterback that could step in if they decide to pull the plug on Tebow Time.
Tebow's story is an entertaining one, but when it comes to making smart football decisions, the Broncos need a strong dose of reality heading in to next season. 
It is time for a backup plan.