The Battle of Florida All-Star Game: Future NFL Players Will Emerge
Bobby Bowden will coach the North in The Battle of Florida
Doug Benc/Getty Images
Who doesn't love a home-cooked meal? Something prepared in mom's kitchen that wasn't put together by the bulbs of the microwave but by the recipe handed down from generation to generation. The reason why it's so special is the care and preparation put into it.
The home-cooked dish that we all crave is being served up this weekend in Boca Raton, Florida for the inaugural "The Battle of Florida" college All-Star game. Don't let the subtleness of "home cooked" allow you to think that this game isn't on its way to be elbow to elbow with the Senior Bowl and East West Shrine games; it has all the amenities of those and maybe more.
Some may think that Jack Bauer from the television series 24 got a lot done in a day; well, he isn't the only one. It was close to midnight the Monday of the first ever "The Battle of Florida" game taking place in Boca Raton, Florida. Jaden McNeely, the game's player personnel director, was standing in the Embassy Suites conference room, exhausted, yet filling the adrenaline of the first day of practice. He watched the North and South rosters earlier in the day. Referring to the 75 to 80-yard pass from QB Chris Hart (South roster) that garnered everyone's attention, so the fruits of McNeely's labor of the day was feeding him energy into the midnight oil.
McNeely was putting the day to rest around 2:00 a.m. before heading back to mission control (Embassy Suites) for a 5:00 a.m. work day ahead of him. Those are the sacrifices when you and a team of others puts there heart and soul into an event. The inaugural event that will have legendary college coaches—Bobby Bowden (North coach) and Howard Schnellenberger (South coach)—at the reins of their respective teams on January 21st in Boca Raton, Florida at Florida Atlantic University Stadium.
Sam Greenwood/Getty Images
"Its fun, seeing a lot of guys I haven't seen in ten years," said former South Carolina quarterback Stephen Garcia, who will be one of three quarterbacks for the North squad, adding, "nice catching up with every body."
The collection of players all have played or have ties to the hot bed of football talent known as the state of Florida. McNeeley shared the same view, saying, "They are really happy to be back home," adding, "One player requested 100 tickets for family and friends."
The idea of putting together the game started around four or fives years ago for Jaden and his father, Brian McNeely, who has over 30 years of college football experience with his last head coaching job at Idaho State University, helping coach over 50 players play in the National Football League over his coaching career. Father and son would watch on hand at other All-Star games, leaving McNeely (Jaden) to say, "There was room for a game like this," adding, "So we started to test the water and involving the NFL input."
Which is one reason why the elected not go try to use juniors in the game, which is something that the NFL is very strict on not going along with—by not sending scouts to the game, which the NFLPA All-Star Game found out the hard way.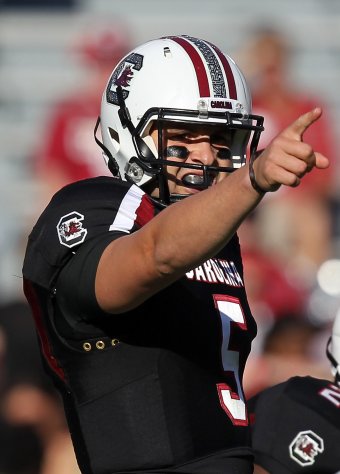 Streeter Lecka/Getty Images
"We've always been focused on Florida because of the talent," said McNeely (Jaden), while acknowledging they didn't want it to be Florida vs. The Nation; they wanted the game to build a rivalry between the North and the South rosters.
The vision that started out about a year-and-a-half ago has become reality. The vision that started out about a year-and-a half-ago has become reality for the father and son duo, who are working alongside with McNeely senior's wife and two daughters to perfect the event.
Finally, the most important reason why this game will be exciting—the talent. From certain sources, there was estimated to be close to 140 NFL scouts or coaches on hand for Wednesday's practice, with request from certain head coaches and NFL GMs. For the Floridians who love their Seminoles and Hurricanes and cheer on their kids that once played at or will go on to play at high schools like Manatee or American Heritage, then I recommend you don't hesitate to attend. Plus, this game is going to allow some small blitzing plays that will definitely generate some buzz.
The talent is there—will you be there to watch "The Battle of Florida"?
Bo Marchionte is a Contributor for Bleacher Report. Unless otherwise noted, all quotes were obtained first-hand.
This article is
What is the duplicate article?
Why is this article offensive?
Where is this article plagiarized from?
Why is this article poorly edited?

Florida State Football: Like this team?