NFL Draft: 8 SEC Stars Who Would Make Sense for the Pittsburgh Steelers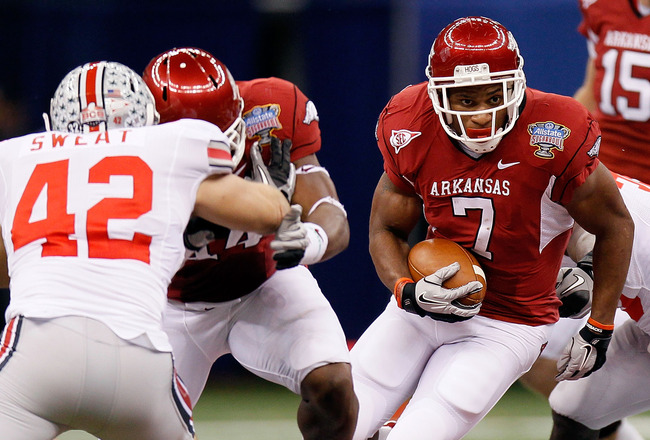 Kevin C. Cox/Getty Images
The current roster on the Pittsburgh Steelers website features 15 players who played for schools that are currently a member of the Southeastern Conference (including Texas A&M and Missouri, who join this fall).
Some teams draft out of particular conferences regularly. While I can't say the SEC and the Steelers have an indelible connection, several players, including star receiver Mike Wallace, hail from those schools.
With that in mind, here's a look at eight players who might make sense in a Pittsburgh uniform next fall.
Knile Davis, RB, Arkansas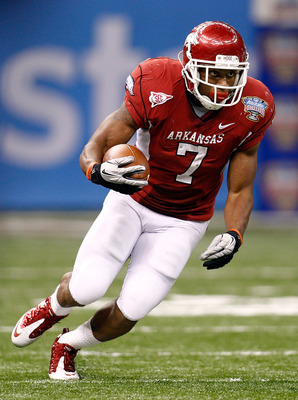 Chris Graythen/Getty Images
Davis spent the 2011 season on the bench injured, but there's no denying the guy has talent. He's got excellent speed for his size (6'0", 220) and he has the power skills to bull his way through tight spots and move blockers out of his way.
The Steelers have questions at the position. Rashard Mendenhall tore his ACL in the regular season finale in Cleveland, so he might be shelved into next season. Isaac Redman has shown brilliance in flashes of action, but it remains to be seen if he is ready to be the No. 1 back. Even if he is, the team could use a good tough backup.
That man might just be Davis, who could slip into a middle round because of his injury, but may still go too high to be in play for Pittsburgh.
Courtney Upshaw, LB, Alabama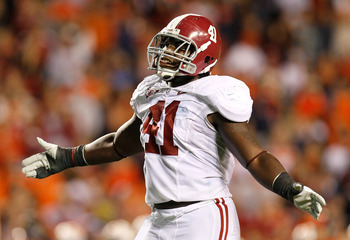 Kevin C. Cox/Getty Images
One of the greatest assets of a guy like Upshaw is that he can play any of the linebacker positions on the field. The Steelers love that versatility (see Lawrence Timmons and LaMarr Woodley, who can play multiple positions) on defense. Upshaw is also a sure tackler, something that was lacking in run defense this year.
The Steelers have a need too. James Farrior isn't getting younger, and he is starting to show signs of age. He also may be too expensive to keep at this point. His original successor, Stevenson Sylvester, is still raw. A guy like Upshaw fits the team's usual desire to take one linebacker a year, and he could start within a season or two.
One idea if they feel he's better suited to the outside would be to swap him in for James Harrison and move the team's fearsome rusher to Farrior's interior spot.
Travian Robertson, DT, South Carolina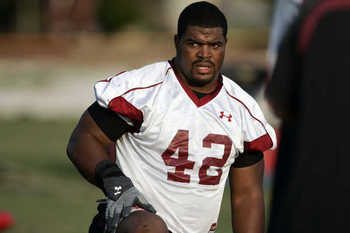 Robertson is a great young prospect who needs a bit of coaching before he's ready for prime time. The idea, if Pittsburgh were able to get him, would be to put him behind Casey Hampton for a year and then turn him loose in 2013.
Robertson is a great player who's big and hard to move. He shows great ability to get off blocks, and he's also a good player when it comes to working down the field. He does have some holes in his game (notably, he can be fooled on some plays) and he needs to work on his technique a little, but he's got a ton of upside and is the type of player the Steelers need.
Getting a successor to Casey Hampton is paramount this offseason. The Steelers may not be able to retain Hampton at his current cap number, so finding a long-term solution in the draft would be the best outcome.
Brandon Mosley, OT, Auburn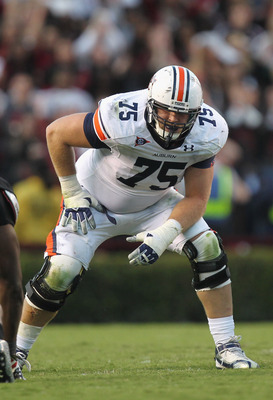 Streeter Lecka/Getty Images
Mosley is a converted tight end but you'd never know it by the way he plays. He's aggressive and smart. He engages blocks quickly and also is a dedicated worker, something important in this organization. He's raw and will need time to develop, especially his strength and technique. He does have the ability to play either side and at any position on the line, something that Pittsburgh covets.
There's a lot of flux on the Pittsburgh line right now. Chris Kemoeatu and others may not be back. Max Starks has another injury. The Steelers really need a solid tackle. The idea might be to draft a guy like Mosley and move Marcus Gilbert, a rookie last year, to left tackle. Mosley being raw doesn't help, but Sean Kugler has worked some miracles before and he could again.
Cordy Glenn, OL, Georgia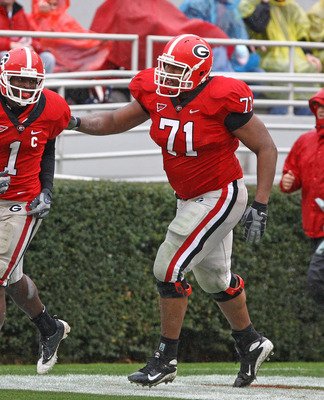 Mike Zarrilli/Getty Images
Glenn is the kind of player I feel like can start right away on the offensive line. He plays everywhere. The Steelers, as we've covered, love versatile guys (Doug Legursky, Maurkice Pouncey, Marcus Gilbert and any of their backups). Glenn is probably best suited as a right tackle or at a guard spot. He's a mammoth blocker, and I think he could eventually develop into a fine run blocker.
The Steelers need help in the running game where they weren't very good at opening holes for Rashard Mendenhall. Isaac Redman was more able to gain yards because he simply ran straight into an opening and pushed it open himself. A guy like Glenn could instantly improve the stability on the line. One other intangible is that Glenn is sturdy and rarely gets hurt, something the Steelers could use a dose (or 10) of on their line.
Ben Jones, OL, Georgia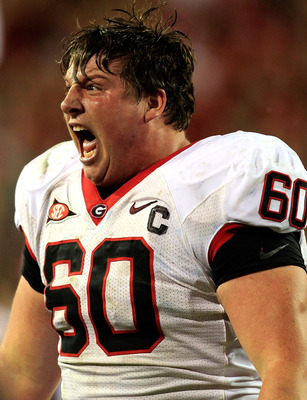 Sam Greenwood/Getty Images
Jones has spent the majority of his time at center, but he slots in at any middle line position. He's a solid, fiery player who teamed well with a guy we just mentioned (Cordy Glenn). He gets excellent push, and he's great at holding blocks. He has sound technique and is actually quick for his size.
The Steelers likely wouldn't use Jones at center as they already have Maurkice Pouncey in that spot. He would be good insurance in case Pouncey continues to get hurt. Where Jones might be valuable is at a guard spot, where the team has had a ton of flux in recent seasons.
Casey Hayward, CB, Vanderbilt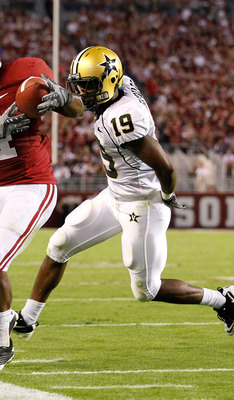 Kevin C. Cox/Getty Images
Hayward is a smaller player at 5'11" that takes on big receivers fearlessly. He's not someone who lets size determine his ability to cover. He is fast and plays with excellent technique. The big drawback is that he needs to be a bit more disciplined, but it's nice to see he isn't afraid to get physical to break up plays. He just has to find a way to play within the pass interference rules.
The Steelers are likely going to be looking everywhere for another corner to team with Ike Taylor. There's no guarantee that William Gay or Keenan Lewis will be back, and Curtis Brown and Cortez Allen may need more seasoning before starting. A guy like Hayward gives them a good pairing with Taylor and insurance in case one of the other players mentioned isn't able to slot in there.
Randall Burden, CB, Kentucky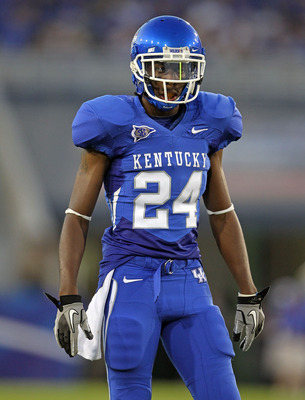 Andy Lyons/Getty Images
Burden is a work in progress. The big advantage is size, where he's got a nice advantage. He can cover and he's got fluid motion, but he struggles with his footwork at times, although that seems more a matter of trusting himself and his instincts than a bigger problem. He needs to work on technique in some areas, but he has some nice potential.
The Steelers need a corner and could be in the market for a guy in the draft that they can work on as a project behind their two stellar rookies from last season. Burden fits that bill. The team needs a taller corner and he would give that, but he's quite raw and may need more time to develop than someone else like Casey Hayward.
Keep Reading

Pittsburgh Steelers: Like this team?