Fixing the 2012 Kansas City Chiefs: Complete 7-Round Mock Draft with Trades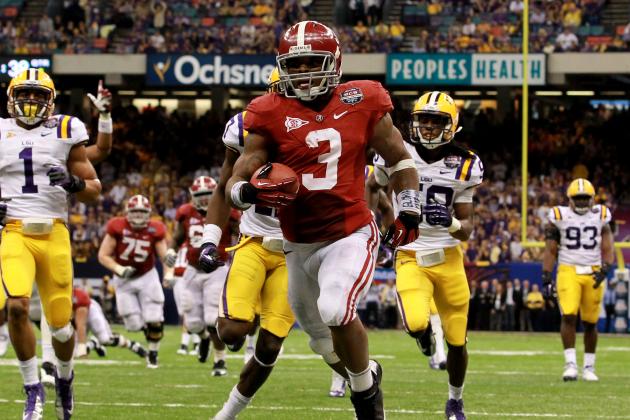 Ronald Martinez/Getty Images

The Kansas City Chiefs endured a disappointing 2011 NFL season due in large part to season-ending injuries to some of their star players and many questionable coaching decisions.
The Chiefs went from first-to-worst in the AFC West this year, but there is plenty of reason for optimism in 2012, as Kansas City should benefit from the return of many of its key players.
Kansas City may have the most talented team in the division next season, as they don't have many holes to fill this offseason, but they do have some obvious needs to address.
Quarterback is a big question mark after the shaky play of Matt Cassel before he finished the season on injured reserve with a hand injury.
Kansas City needs help at right tackle, and if the team re-signs Barry Richardson, then general manager Scott Pioli may be on his way out of Chiefs headquarters much quicker than anyone could have expected.
With few holes to fill and plenty of money to spend (but will they spend is the question) this offseason, this will be one of the most important offseasons in recent Chiefs history.
Here is a look at what the Chiefs should do (but almost certainly will not) in this year's draft.
Begin Slideshow

»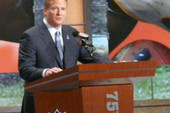 Make a trade!
The Chiefs trade the 11th-overall pick (or 12th if they lose the coin toss to Seattle) to the Bengals for the 17th and 53rd-overall picks.
After watching Matt Kalil, Riley Reiff and Jonathan Martin come off of the board before the Chiefs are able to nab one of the top offensive tackles, Kansas City general manager Scott Pioli decides to trade down in order to get full value at a different position of need.
By moving down, the Chiefs acquire another second-round pick and don't lose out on any of their potential targets, while the Bengals move up in order to draft Alabama running back Trent Richardson.
Some believe the Chiefs should draft Richardson if this were to happen, but with Jamaal Charles coming back from injury, the team already has one of the top runners in the league. They can find a back later in the draft or a veteran in free agency who can help supplement Charles in the K.C. rushing attack.
Boston College inside linebacker Luke Kuechly would also be a solid option if Kansas City was to stay put and look at positions other than on the offensive line.
In the end, with Martin and Reiff off of the board, the Chiefs' best bet would be to move down and acquire more picks.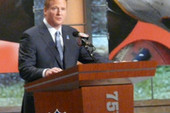 Make a trade!
That's right; the Chiefs move down yet again, as they don't see a great fit at this point in the draft for their roster.
In this scenario, the Chiefs would be moving down to the 23rd pick in the draft by trading with the Detroit Lions, who could use some major secondary help.
The Chiefs also acquire the Lions' third-round pick (No. 86 overall) in addition to the 23rd overall pick just for moving down another six spots.
You may be wondering if these two teams would work a trade out following the Gunther Cunningham fiasco, which resulted in the Lions swapping draft picks with the Chiefs last season, but this trade makes too much sense for both teams to not work something out.
Detroit would be able to select Nebraska corner Alfonzo Dennard to help bolster a secondary that was gashed much of the season, and particularly at the end of the season, including the Lions' playoff loss at New Orleans.
Kansas City would still be able to acquire one of their top targets with this trade while also picking up yet another quality draft choice.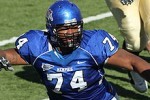 Select Memphis defensive tackle Dontari Poe.
The Chiefs have been lacking a presence in the middle of their defensive front, and a presence is exactly what Poe would provide.
Poe tips the scales at over 330 lbs., and he has the potential to be the kind of interior player that Kansas City has been looking for ever since moving to the 3-4 when Pioli first arrived on the scene at Arrowhead.
This is not the most talented or deepest defensive tackle class to come along as of late, but Poe is unquestionably one of the top nose tackles available in this draft. The Steelers could be looking to add him to their defense with the 24th pick, which is why the Chiefs' move to the 23rd pick makes all the more sense.
Poe is very mobile for a player with his elite size, and his run-stoppping ability has drawn him comparisons to Phil Taylor of Baylor, who was selected by the Browns with the 21st-overall pick in last year's draft.
Defensive ends Glenn Dorsey and Tyson Jackson showed improvement last season, and Allen Bailey also showed some promise as a rookie, but the Chiefs still need to find their dominant force in the middle of their defensive line to make life easier on Derrick Johnson and Co. Poe could be that guy.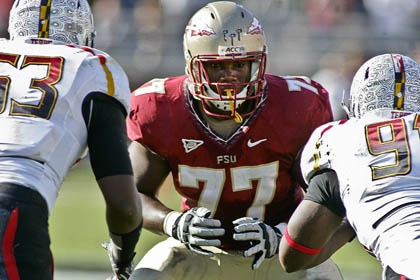 Select Florida State offensive tackle Zebrie Sanders.
The Chiefs missed out on the elite offensive tackles in the first round, but they get their guy in the second round with the selection of Sanders.
Kansas City absolutely cannot bring Barry Richardson back to play right tackle next season, and they will need to find his replacement either through the draft or free agency. Sanders has the skills to be his replacement.
The selection of Sanders would give the Chiefs a Florida State offensive lineman in the second round for the second straight year after taking Rodney Hudson during the 2011 NFL Draft.
Sanders is a more than adequate pass-blocker, and he excels as a run-blocker, which would seem to fit what the Chiefs want to do offensively.
The 22-year-old flashes a mean streak at times, which is exactly what the Kansas City offensive line could use, and his addition would give the Chiefs a very good nucleus of young and talented players in the trenches for years to come.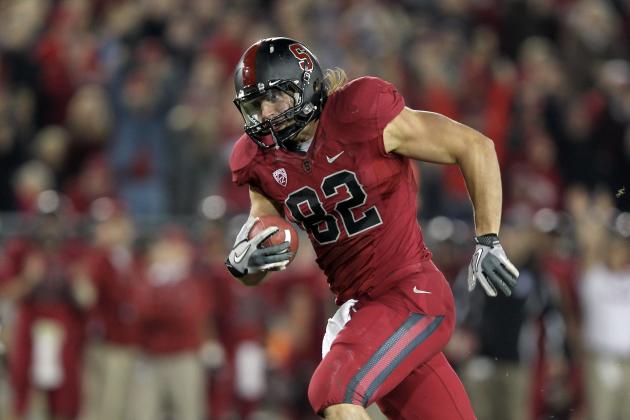 Ezra Shaw/Getty Images

Select Stanford tight end Coby Fleener.
The NFL is a copycat league as most people know and with the success of young tight ends such as Jimmy Graham, Jermichael Finley, and Rob Gronkowski this past season, many other teams will likely be looking for the next big impact pass-catching tight end.
At 6'6" Fleener definitely fits the bill when it comes to height, but he also has the skills to produce at the next level as well.
Fleener caught 34 passes this season for the Cardinal and he managed to find the end zone 10 times this year.
While Fleener needs to improve his blocking, his athletic ability is very good for a tight end of his size and he has the soft hands that teams look for in a pass-catcher.
The Chiefs do already have a very good tight end of their own in Tony Moeaki, but adding another good one to the mix wouldn't hurt, especially given Moeaki's lengthy history of injury issues.
The major question will be whether of not Fleener is still available with this pick, and after the season that some of the above-mentioned tight ends had, that may no longer be the case.
I've seen Fleener projected as high as the second round and as low as the bottom of the third so it's tough to say where he will land but if he is available with this pick then the Chiefs should pounce on the opportunity.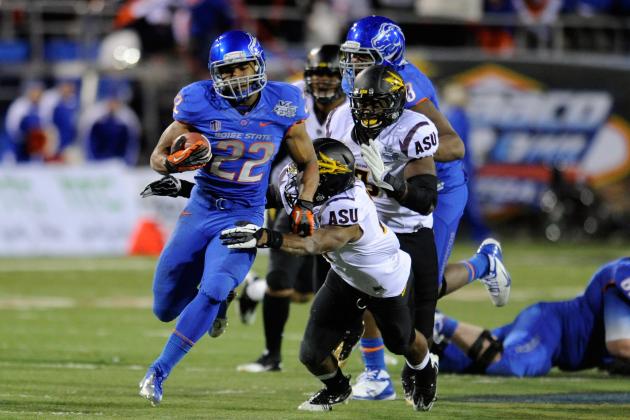 Ethan Miller/Getty Images

Select Boise State running back Doug Martin.
Many Chiefs fans have been clamoring for bruising Baylor running back Terrance Ganaway, and while he could be an option for the Chiefs, Martin would be even better.
Martin ran for nearly 1,300 yards and 16 touchdowns this season for the Broncos, and he has the top-end speed to break off long runs at the next level that you won't find from Ganaway while still maintaining the ability to be a physical runner capable of carrying the load.
Of course, Martin won't be asked to carry the load in Kansas City with Jamaal Charles on board; he will simply be asked to help shoulder it while spelling the Chiefs All-Pro runner when needed.
Martin is a very competitive runner who is also good at catching passes out of the backfield and in pass protection.
Another major bonus working in Martin's favor is that he spent plenty of time on the Broncos special teams unit, and he would be able to help the Chiefs special teams as well as he eases into his first few NFL seasons.
At just 5'9" but 213 lbs., Martin has the durable build to succeed at the next level and would be a very smart addition for Pioli and Co.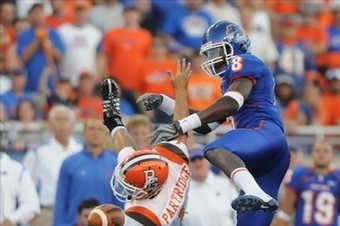 Select Boise State safety George Iloka.
If you are were tired of watching Jon McGraw and Sabby Piscitelli attempt to cover opposing NFL receivers this season, then you were not alone.
Even with Eric Berry coming back from an ACL injury, the Chiefs must upgrade their talent and depth at the safety position, and to do so, they take their second Boise State Bronco of the third round.
Iloka has elite height for the safety position, measuring over 6'3", which is similar to those other two aforementioned Chiefs safeties, except for the one slight difference that Iloka actually makes plays.
Iloka is a solid athlete who would be a clear upgrade over what the Chiefs currently have on their roster, and since I'm still not sold on free safety Kendrick Lewis, Kansas City would be wise to take a look at adding another potential playmaker in the back-end of their secondary.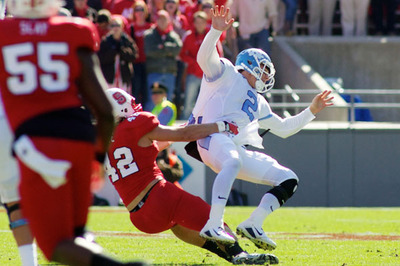 Select North Carolina State inside linebacker Audie Cole.
This is not an overwhelming group of inside linebackers in this year's draft class by any stretch of the imagination, and that is why the Chiefs should hold off until now to find one unless they decide to take Kuechly in the first round.
Many have labeled Cole as an overachiever at the college level due to his work ethic and energy level, but I doubt the Chiefs would view either of those attributes as negative.
Former Chief Jared Allen has made quite the name for himself due to his high motor, and Houston Texans rookie defensive end J.J. Watt is another guy who is now finding himself recognized for his love for the game.
Cole may never become the type of impact player along the lines of either of those players, and in fact, he will never have their sack totals because he is an inside linebacker. But, he has the chance to be a steal at this point in the draft for whoever decides to take a chance on him during the middle rounds.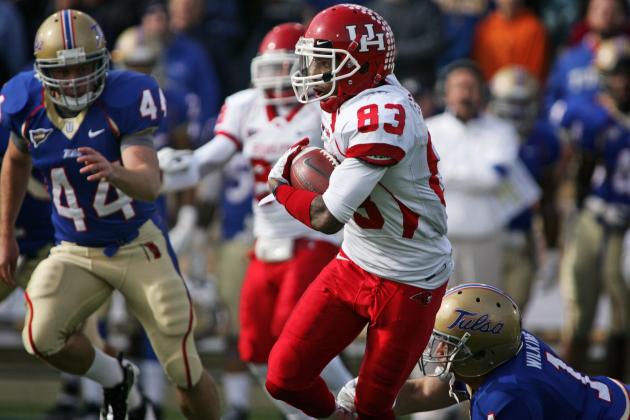 Brett Deering/Getty Images

Select Houston wide receiver Patrick Edwards.
Some Chiefs fans may not be a fan of this pick because the Chiefs appear to be pretty solid at receiver at the moment, providing the team re-signs Dwayne Bowe, but I believe Edwards would be a great addition at this stage in the draft.
Yes, there are questions about his size, and fans will wonder if the Chiefs have just drafted a Dexter McCluster clone. But, Edwards was incredibly productive the past few seasons for the Cougars, and he would give Kansas City another speedster on their offense with return ability.
Edwards may struggle to make it in the NFL at just 5'9" and 178 lbs., but considering Scott Pioli's recent fifth-round selections of Cameron Sheffield and Gabe Miller, it would be hard to complain about a guy who caught 89 passes for 1,752 yards and 20 touchdowns for Houston this season as this year's pick in the fifth round.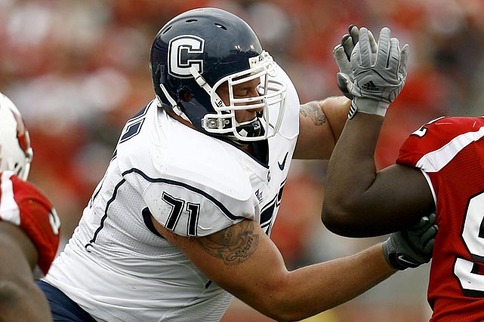 Select Connecticut offensive tackle Mike Ryan.
Ryan has got some major size (6'5" and 338 lbs.), and he is the type of player who plays with an incredible mean streak that would be worth taking a flier on in the later rounds of the draft.
The Chiefs do not have a lot of depth at offensive tackle as the roster currently stands, and if they ever decide to move Branden Albert to the inside at guard, they will be even thinner on the outside. So, a player like Ryan would make a lot of sense at this point in the draft.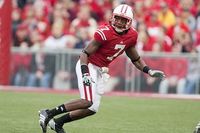 Select Wisconsin safety Aaron Henry.
The Chiefs depth and talent level at safety is an issue; did I mention that?
Aaron Henry could go earlier than this in the draft, or he could end up going undrafted, as he has been given a seventh-round grade from many draft analysts, but the Chiefs would be smart to give him a look with their final pick in the draft if he's still available.
Henry played corner earlier in his career for the Badgers, but moved to safety in 2010 and played pretty well the past two seasons for Wisconsin.
Kansas City should strongly consider adding not one, but two safeties in this year's draft, and Henry would be a versatile addition who could make an impact down the line.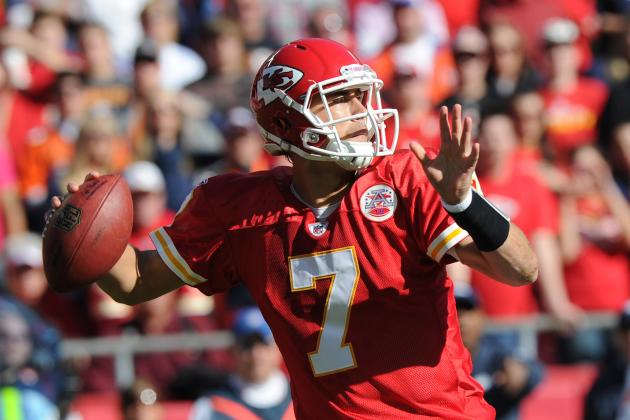 Peter Aiken/Getty Images

As you may have noticed, I do not have the Chiefs selecting a quarterback in this year's draft because I really don't see a good fit at this time.
They could potentially take a flier on a guy like Wisconsin signal-caller Russell Wilson in the middle rounds of the draft, but does their franchise passer await?
I don't believe so.
The Chiefs should focus on other areas of need this offseason and give Cassel one more year with a hopefully improved offensive line to really show what he can do.
if Cassel struggles in 2012, then Kansas City can go out and look for their eventual replacement in the draft or free agency next season.
Re-signing Dwayne Bowe and Brandon Carr should also be top priorities for the Chiefs this offseason, but this draft would meet nearly all of the team's needs and would add more size and speed to a roster that has been gaining more of that in recent years.