East West Shrine Game 2012 Roster: Reviewing Rosters for Both Sides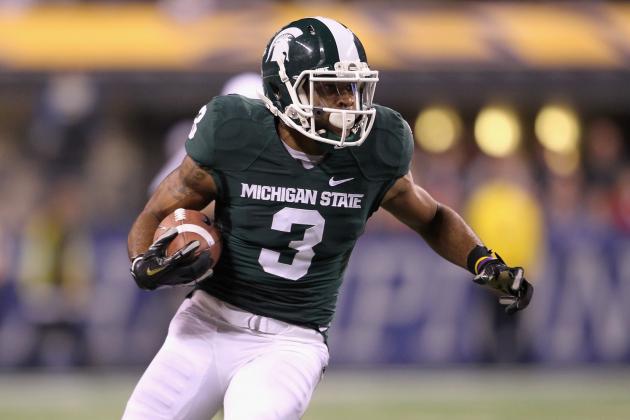 Andy Lyons/Getty Images

On Saturday, Jan. 21, the annual East-West Shrine game will kickoff and some 2012 NFL Draft prospects are looking to increase their stock on a big stage.
That being said, check out some notable players to watch for on both sides as they prepare for their immediate futures.
Additionally, click the link to view the full roster of each team.
Begin Slideshow

»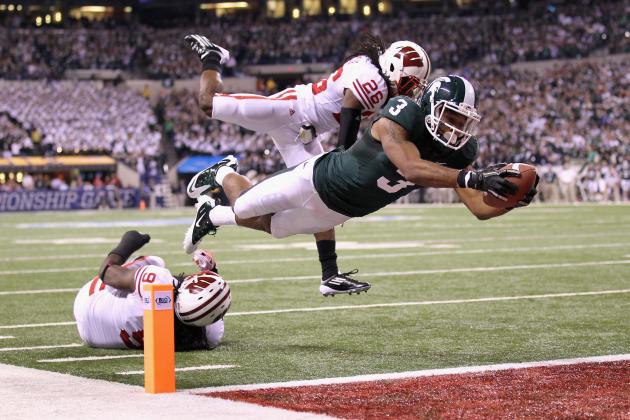 Andy Lyons/Getty Images

Currently an expected fifth round pick, Michigan State's B.J. Cunningham is one of the most reputable receivers in this game.
In 2010, he only accounted for 611 yards on 50 receptions—however, he did score nine TDs. A year later, Cunningham caught 71 passes for 1,306 yards and scored 12 TDs. Easily one of the better receivers in the Big Ten, B.J. can move his draft stock up to a potential late third-rounder with a strong showing.
His 16.5 yards per catch average proves that Cunningham can stretch the field while also being a reliable third down target. Also, Cunningham's 6'2", 215-pound frame allows him to get solid yards after the catch. So, quick slants and screens are another option in his repertoire.
Going vastly under the radar because of rather deep receiver draft, Cunningham is a potential mid to late-round steal this spring.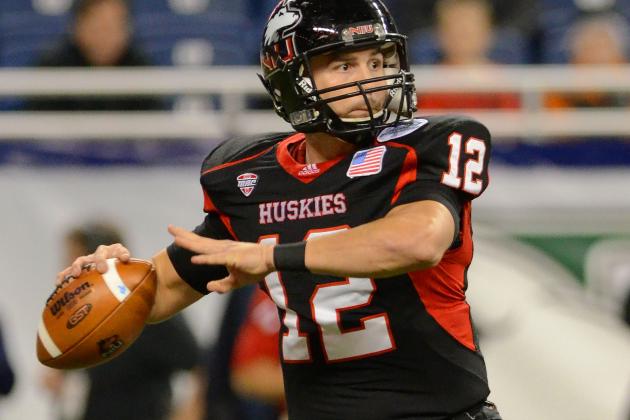 Mark A. Cunningham/Getty Images

Definitely not going to get the typical exposure coming from the MAC and being a dual-threat quarterback, but Northern Illinois' Chandler Harnish has good potential.
Right now Harnish is expected to be a late fourth/early fifth-round pick, despite literally being a one-man band.
For the year, Harnish accounted for almost 4,600 total yards and 39 total TDs. Had it not been for Harnish, the Huskies wouldn't have won the MAC or finished 11-3.
Now he obviously still has to improve on his mechanics and becoming more of a pocket-passer; however, with virtually no talent around him, Harnish did make some noise. He has a strong arm and can be decently accurate (63.5 completion percentage combined from 2009 through 2011).
A display in the East-West game that he's willing to sit in the pocket and/or buy time while keeping his eyes downfield will only bode well for Harnish's draft stock as an underrated quarterback.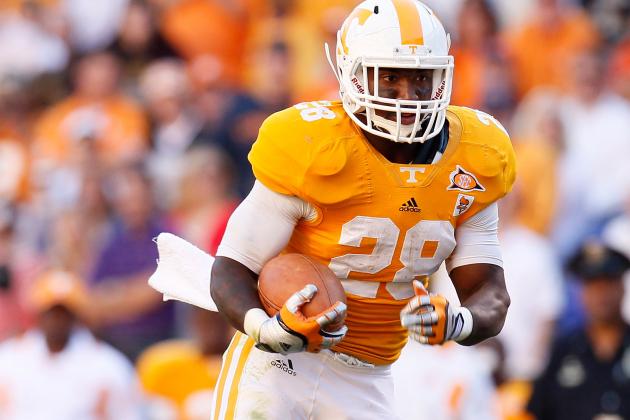 Kevin C. Cox/Getty Images

After two seasons of not much playing time in the backfield, Tennessee's Tauren Poole had a solid 2010 campaign of 1,034 rushing and 171 receiving yards with 12 total TDs.
In 2011, he clearly became the focal point of defenses and was held to just 693 yards rushing, 164 yards receiving and scoring five TDs. Still, Poole is an expected fourth to fifth-round pick, which isn't surprising as other running backs such as Trent Richardson, LaMichael James and Chris Polk have had more successful careers.
Luckily, Poole can erase some of the cynicism with the East-West game because he does need to improve with patience and lateral movement.
He is though, reliable as a receiving back—so worst case-scenario for Poole in the NFL is strictly becoming a third down back. In addition, watch for him in short yard situations as Poole's size allows him to blast through the first wall of defenders.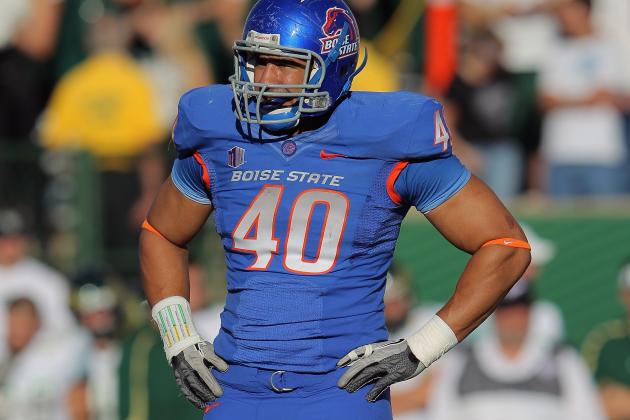 Doug Pensinger/Getty Images

It's not so much that he played for Boise State, but Broncos defensive end Tyrone Crawford goes significantly overlooked due to fellow defensive line teammates Shea McClellin and Billy Winn.
Crawford however, still has a decent shot at getting drafted. Currently he's on the cusp but can really solidify getting drafted with a good performance in the East-West Shrine game.
Earning solid playing time in just two seasons, Crawford recorded 13.5 sacks, 27 tackles for loss, 76 total tackles and had forced four fumbles (three in 2011).
His production when given the opportunity was consistently above average and you can't ask for much more coming from a guy who's not nearly as well known. He adds talented-depth to a good defensive line at Boise State and can offer the same in the NFL.
Provided that Crawford dominates the trenches this weekend, he'll be a great steal late in the draft.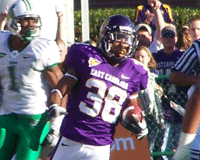 If only Emanuel Davis would have kept his work ethic up, he could have been one of the better cornerbacks in the 2012 NFL Draft.
Instead, his production never really escalated. However, Davis still remains a potential late sixth/early seventh-round pick.
Obviously he's not going to garner much exposure playing at East Carolina and in the Conference USA, but after a great start to his collegiate career, Davis gradually declined.
Through the 2008 and '09 seasons, he recorded six picks, defended 26 passes and made 114 tackles. Now, that statistical production also went down because Davis was challenged less as well.
After all, you don't see many quarterbacks attacking once they see how lock-down he was through two years. Still, Davis managed to intercept three more passes, make 116 more tackles and defend 19 passes between 2010 and '11.
This All-Star game will provide Davis another opportunity to really shine on a big stage and it'll be interesting to see how he performs. If he plays well, moving up to a late fourth/early fifth-round pick is possible.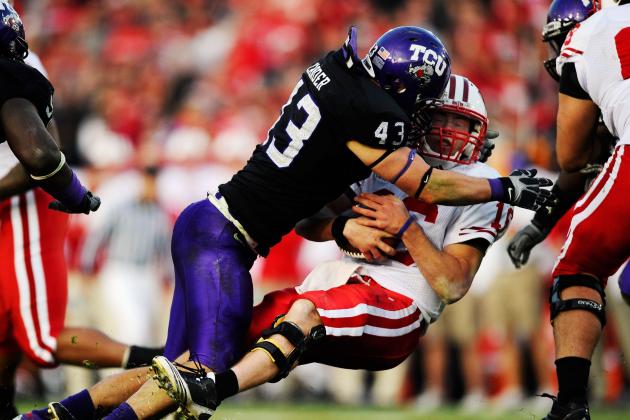 Kevork Djansezian/Getty Images

TCU's recent success in the past few seasons is a big reason why a lot of college football fans are aware of linebacker Tank Carder.
He is one of the more complete linebackers in the 2012 NFL Draft; however, he goes overlooked because of his size and because he plays in the Mountain West Conference. That being said, Tank recorded an average of 73 tackles in each of the past three years and defended a total of 23 passes throughout his career.
In 2011, he took both his interceptions back for a touchdown but is still only considered a fifth or sixth-round pick.
Perhaps Tank's reactionary skills and ability to pre-snap read quite well are his best attributes. He can hit hard while being a sure tackler, is quicker than meets the eye and has great awareness when in coverage.
If there's one player to watch in the 2012 East-West Shrine game, it's Tank Carder because not only does he have arguably the best first name ever, but he may arguably be this weekend's best player.
John Rozum on Twitter