San Francisco 49ers: Ranking the Seven 49ers Coaches in the Bill Walsh Era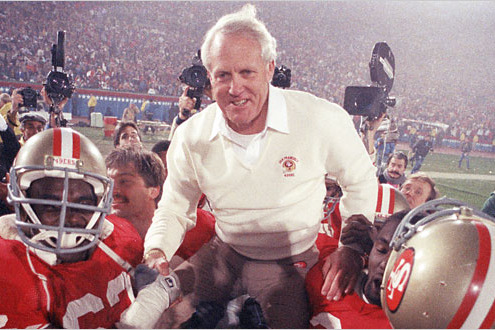 In 1978 the San Francisco 49ers appointed Stanford's Bill Walsh as their new head coach. Walsh, upon arrival, was gifted Joe Montana in the 1979 draft and subsequently, a dynasty was born.
From 1981 to 1998, the 49ers finished with a winning record in 17 consecutive seasons, qualified for 16 postseasons and won five Super Bowls. They were the game's elite, and one of the greatest dynasties in sports history.
Then, akin to the collapse of the Roman Empire, the seemingly impenetrable dynasty suddenly and completely collapsed. The 49ers underwent a multitude of coaching changes and experiments, including the firing and hiring of three head coaches in a decade. A black cloud was cast over a once-proud franchise, and fans in Northern California found solace only in the lore of the Bill Walsh past.
In 2011 the skies cleared and another former Stanford coach took the helm in San Francisco.
Coincidence or not, the Cardinal-49er connection has once again galvanized an underachieving group, and the Red & Gold find themselves one win away from a Super Bowl that almost no one could have predicted.
From Bill Walsh to Jim Harbaugh, let's take a look at the seven the 49ers head coaches in the Bill Walsh era, from best to worst.
Begin Slideshow

»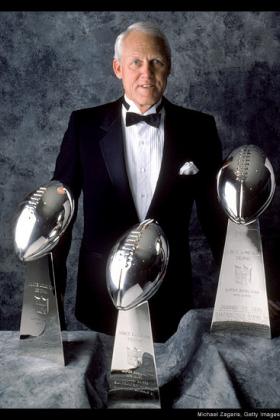 The King
Characteristics: Genius, lovable, revolutionary, inspirational, the list goes on
Tenure: 1979-1988
Record: 92-59
Win %: .609
Bill Walsh is the face of the 49ers and the greatest coach in franchise history. That, though, is only scratching the surface regarding the career of "The Genius."
Bill Walsh's coaching career ended as my life began—in Super Bowl fashion. His coaching legacy is off the charts: three Super Bowls, seven playoff appearances in 10 seasons and close to 100 wins.
His time with the 49ers however, transcends the franchise and extends into the realm of football history.
Walsh is the creator of the now well-defined "West Coast Offense" that you see being utilized in many current NFL systems.
He redefined the quarterback position and schemed in ways no other coach had been able to imagine. He took Joe Montana despite Joe's lack of premier tools, which set the stage for the careers of players such as Doug Flutie, Wes Welker and, quite relevantly, Drew Brees.
The 49ers, even in losing throughout the last decade, remain an iconic NFL franchise; their history forever ingrained into the league's record and story books. We as fans should be proud and humbled to cheer for the 49ers, and we have Bill Walsh to thank.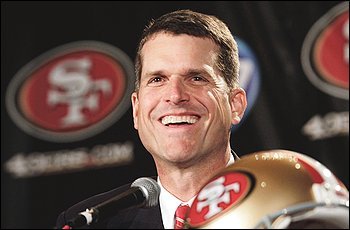 I'm smiling because I know I'm awesome...
Characteristics: Tough, likeable, unlikeable, brilliant, successful, heroic, legendary, etc.
Tenure: 2011-As long as he would like to stay
Record: Not going to jinx this one
Win %: Very good
(See 2011 season)... Jim Harbaugh is, to those in the Bay Area, a savior.
Forget Tim Tebow, this guy is the best story in the NFL this season and anyone who calls themselves a fan of the 49ers is enjoying each and every second of it.
A sample size of one year is nowhere near enough time to define a coach's legacy, but in Harbaugh's case it is one hell of a good start. The 2011 49ers, more or less the same team who finished 6-10 under Mike Singletary, stand one game away from their sixth Super Bowl.
Coach Harbaugh is the reason for it; it is simply up for debate as to how much credit the players deserve at this point.
To tell the Harbaugh story would take up a lot more room than I have in this slide, so I will just let history speak for itself. He already has Coach of the Year wrapped up, but that is by no stretch of the imagination enough for the coach of the new-age San Francisco 49ers.
"Whoooo's got it better than us?"
NOBODY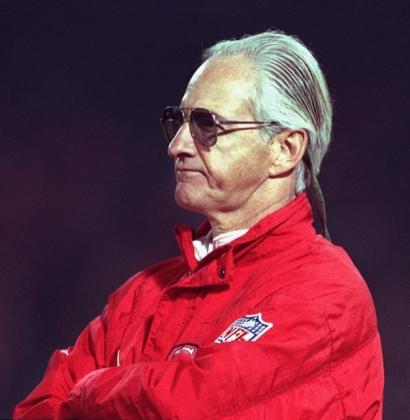 Smile George, that was a touchdown
Characteristics: Grumpy, smart, defense-minded, quiet
Tenure: 1989-1996
Record: 98-30
Win %: .667
George Seifert was the successor to Bill Walsh. That is about all you need to know when determining whether or not he was going to be successful at the outset of his career with the 49ers.
Seifert, who was the defensive coordinator for the Niners under Walsh, goes down as the winningest coach in the franchise's history and may wind up in Canton down the road.
Why then, is he not higher on this list?
Well, three reasons:
1) He was given a team coached and mentored by Bill Walsh (and thus set up well for success);
2) He was given a team coached and mentored by Bill Walsh;
3) Jim Harbaugh.
Seifert is one of the great coaches in 49ers history, and despite possessing a frigid personality off the field, should be beloved in San Francisco.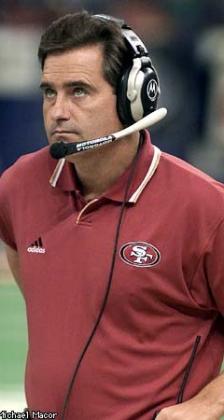 Characteristics:
Tenure: 1997-2002
Record: 57-39
Win %: .594
Steve Mariucci inherited one of the most talented football teams in the league in 1997 and he did not disappoint, winning 13 games before losing to the Packers in the NFC Championship. The following year was not much worse, as the team won 12 games, losing to the Falcons in the playoffs.
Unfortunately for Mariucci, when you inherit a team that is expected to win, simply making the playoffs is not enough. Further, Mariucci was the man at the helm when the 49ers streak of 17 winning seasons in a row was unexpectedly broken.
Granted, Mariucci had to deal with the loss of several key players, but to go 10-22 in two seasons as head coach of the greatest NFL franchise in history is, and was, unacceptable.
That being said, "Mooch" retained his position in the following seasons and led his squad to an NFC Championship in 2002, after which he was subsequently fired.
Mariucci was a good, not great football coach who I remember as being "the guy" for my team as I grew up and began to understand the beauty of football.
In another city Mariucci's accomplishments likely would have garnered an extension, but in San Francisco at the time, losing in the playoffs was just not going to cut it.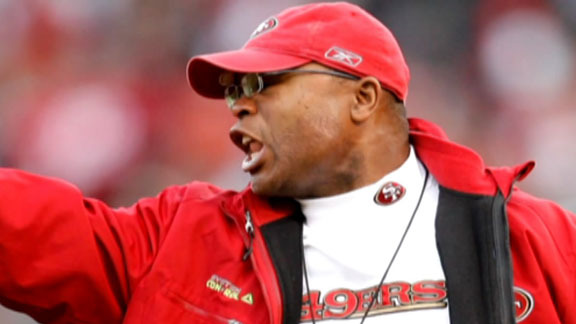 Standard Singletary
Characteristics: Defense-minded, tough, stubborn (basically Mike Nolan with better players)
Tenure: 2008-2010
Record: 18-22
Win %: .462
The Mike Singletary experiment started off with a bang, but fizzled pretty quickly after that. What Mike Nolan failed to do in establishing an identity for the 49ers, Singletary did successfully.
Unfortunately, he implemented this new identity without abandon, and to the point of failure.
"We're going to punch you in the mouth," he said. And they did...kind of.
His 49ers showed signs of a ferocious defense, much to the appreciation of the fanbase, and many fans were invigorated by Singletary's "winning" attitude. That is, until they stopped winning.
Singletary should be praised for changing the course of Mike Nolan's inept 49ers. He, if anything, managed to change the direction of Vernon Davis' career when he memorably benched him for his "me first" attitude—a move that, if you wanted to be nice, could be attributed to the success that Vernon Davis has had in recent years.
Singletary was not a horrible coach, but he was stubborn and unwilling to alter a game plan that clearly was not flexible enough for extended success in the NFL.
Lastly, Singletary flip-flopped between starting QB's, which did nothing but hurt the growth of Alex Smith.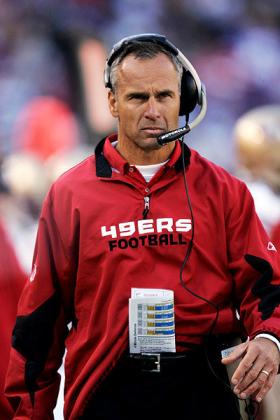 I suck at coaching
Characteristics: Well-dressed, tough, defense-minded, offensively inept, stubborn, unlikeable
Tenure: 2005-2008
Record: 18-37
Win %: .327
Mike Nolan is arguably the best-dressed head coach in 49ers history. He's also the franchise's worst (excluding Erickson).
Nolan's ability to look good in a suit, combined with the success of his father Dick in 49er past had at least some of the fanbase in San Francisco excited after the departure of Dennis Erickson.
Unfortunately, this hard-edged attitude led to a three-year stretch in which the coach: A) selected Alex Smith over Aaron Rodgers (citing that Rodgers attitude would not mesh with his); B) Drew the ire of his entire team; and C) Lost...a lot.
I can forgive Nolan for failing to win or make the playoffs, as the man was dealt a pretty difficult hand. I cannot forgive him for his utter failure in establishing a team identity, confidence in his young players, his draft miscue(s) and his complete ineptitude of trying to run an offense.
Mike Nolan's legacy in San Francisco is a bad one anyway you look at it. His decision to skip over Aaron Rodgers in the 2005 draft will forever go down in infamy (not a cut at Alex, but Rodgers is probably the G.O.A.T.), and he should take serious blame in the botched handling of Alex Smith.
In failing miserably in establishing an identity and confidence in a young team, Mike Nolan should go down as the second-worst 49ers coach in the Bill Walsh Era.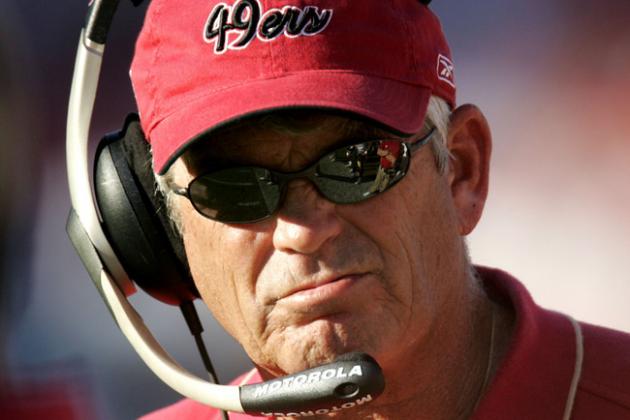 Go Sun Devils
Characteristics: Bad at coaching
Tenure: 2003-2004
Record: 9-23
Win %: .281
Bad move: Firing Steve Mariucci.
Even worse move: Hiring Dennis Erickson
To be honest, I don't even want to waste a slide on this guy, but his impact is actually pretty important. In only two years, Dennis Erickson managed to take a very talented team that had won 22 games in the two previous seasons, and basically turn it to crap.
Erickson's reign over the Niners was so short and so terrible that I, as a young teen, chose basically to ignore it altogether.
The coaching of Dennis Erickson was the first step in the Niners descent into NFL shame.