NFL Rumors: Oakland Raiders Would Be Wise to Bring in Defensive Head Coach
January 18, 2012

Ezra Shaw/Getty Images
The Oakland Raiders are doing something right now that the organization is used to doing, and that's searching for a new head coach.
The difference this time around is that Al Davis is not calling the shots. Mr. Davis passed away in October, and Hue Jackson was let go by new general manager Reggie McKenzie shortly after the 2011 season ended.
Nevertheless, McKenzie's search for a head coach is starting to look a lot like a search that Mr. Davis would have conducted. So far, McKenzie is focusing most of his attention on offensive-minded candidates.
On Wednesday, The Denver Post reports that McKenzie is going to interview Broncos offensive coordinator Mike McCoy. He is in Denver today to carry out the interview.
Yesterday, the Chicago Tribune reported that McKenzie has requested permission to interview Bears offensive coordinator Mike Tice. Per NBCBayArea.com, we also know that McKenzie has his eyes on Philadelphia Eagles offensive coordinator Marty Mornhinweg.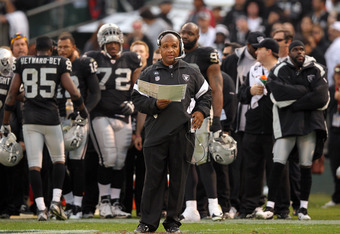 Ezra Shaw/Getty Images
The fact the Raiders are focusing on offensive-minded coaches is somewhat surprising, but it's also not. Hiring offensive-minded head coaches is a Raider tradition, especially recently. Going back all the way to 1998, the Raiders have been coached by Jon Gruden, Bill Callahan, Norv Turner, Art Shell, Lane Kiffin, Tom Cable and then Jackson. All of them were (and still are) offensive-minded coaches.
It's past due for the Raiders to consider bringing in a defense-first head coach. Offense is all well and good, but the Raiders have developed a tendency to be well below-average on defense, and that needs to change.
Things were particularly bad in 2011. The Raiders finished the year allowing over 250 passing yards, more than 130 rushing yards and over 27 points per game. All three figures ranked near the bottom of the league, causing defensive coordinator Chuck Bresnahan to lose his job.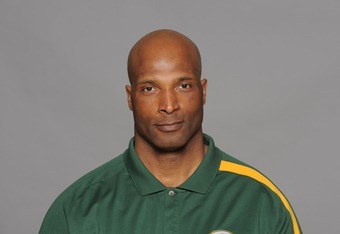 Handout/Getty Images
The good news is that the Silver and Black are circling some defensive-minded coaching candidates. The Denver Post notes that McKenzie also plans on interviewing Broncos defensive coordinator Dennis Allen, and Pro Football Talk classified Green Bay Packers' linebackers coach Winston Moss as the "early favorite" to get the job back in December.
Of the bunch, Moss does indeed seem like the best candidate for the job. In addition to being a former Raider linebacker, he's been involved with a Packers defense that, though it struggled in 2011, was very good in 2010 and other recent seasons. You also have to like the fact that he would be coming from a Super Bowl-winning coaching staff.
If the Raiders do settle on a defensive-minded head coach, he's going to have a lot of work to do. The Raiders have some talented pieces here and there, but they have gotten by with bare-bones defensive schemes for years now. Getting the pieces that are already in place to adapt to a new system will not be easy, and new pieces would undoubtedly have to be brought in to complete the ensemble.
The problem with that, of course, is that the Raiders basically won't be participating in the 2012 NFL Draft. Fixing this defense will not be easy.
But it's something that needs to be done. Hiring a new DC would work, but hiring a defensive-minded head coach would be better. A hiring like that would invariably result in a fixed defense, but it would also result in a much-needed culture change.
It would admittedly be pretty weird to see a Raiders team that is not predicated on an explosive offensive attack. But then again, it's not like the current approach is working.
Shoot, it hasn't gotten the job done in three decades.