Denver Broncos: Grading Elway-Fox-Xanders' First NFL Draft Class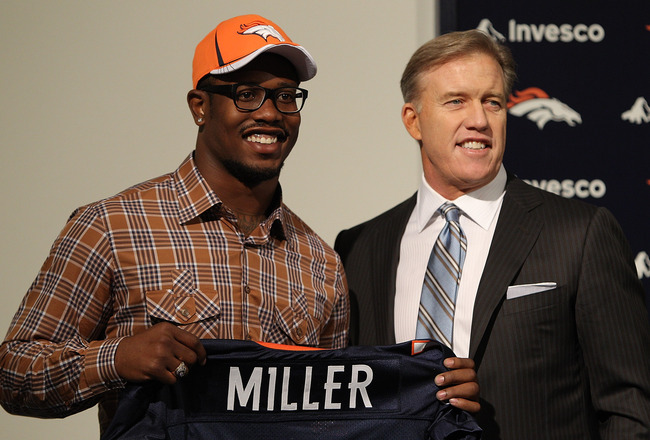 Justin Edmonds/Getty Images
The NFL draft is one of the most important offseason activities for every team in the Pro Football. It is the time of year when teams can reload with new players replacing losses via Free Agency and adding talent to improve your roster.
At the beginning of this offseason, there were gaping holes on the Denver Broncos roster, which executives John Elway and Brian Xanders tried to fill with quality talent. Nine players were added to the Broncos roster with mixed results.
Let's see what grade Elway, Fox and Xanders earned this season.
1st Round (2nd Overall Pick): Von Miller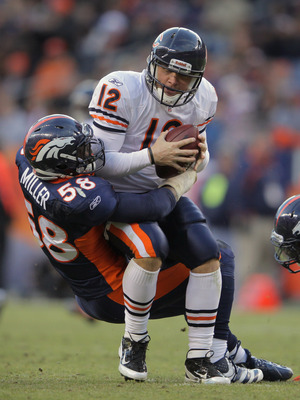 Doug Pensinger/Getty Images
Von Miller was a terror coming out of Texas A&M. His athleticism, heart and tenacity showed all season long. He had 15 starts out of 16 in his rookie season in Denver.
Denver's dynamic duo of Miller and Elvis Dumervil wreaked havoc on opposing quarterbacks and offensive lines all season long.
Von had 11.5 sacks during the regular season and tacked on one more in the victory over the Pittsburgh Steelers in the Wild Card Round of the playoffs.
The thumb injury late in the season, however, slowed him down considerably. He missed one game due to the injury and had trouble getting to the quarterback.
Overall, it was a solid year for a rookie linebacker. Broncos fans should hope that Miller can continue this type of success for many years to come.
Grade: A
2nd Round (45th Overall Pick): Rahim Moore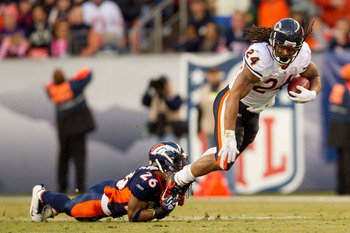 Justin Edmonds/Getty Images
Rahim Moore showed a lot of promise during the preseason. He looked like a great addition with instant starter status.
Moore did start off the season as the starting free safety, but he lacked consistency and often appeared lost on the field. His struggles eventually gave way to fellow rookie Quinton Carter.
Moore had one interception on the season and 31 total tackles, one stop for a loss.
The Broncos have to hope that the rookie's first season is not an indicator of things to come.
Grade: D
2nd Round (46th Overall Pick): Orlando Franklin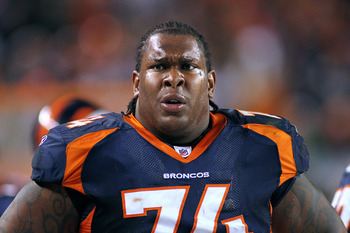 Marc Piscotty/Getty Images
Orlando Franklin anchored the right side of the offensive line, Tim Tebow's blind side, all season long.
Franklin started every game this season on the offensive line as a rookie and proved to be a great run blocker. Franklin excelled in the running game by opening holes and sealing off the right side for Willis McGahee and company.
Franklin struggled more in the passing game as he was unable to fend off pass rushers coming after Tim Tebow on his side.
While the pass blocking is an area Franklin must improve in, he earned a top grade for his overall performance as a rookie.
Grade: A-
3rd Round (67th Overall Pick): Nate Irving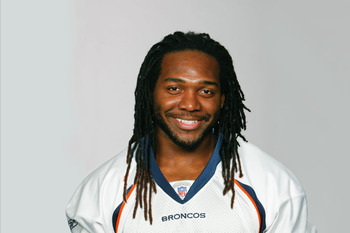 Handout/Getty Images
Nate Irving was a complete disappointment this season. He hardly ever saw the field and spent most of his time on the sidelines for the Broncos.
He didn't really come into the role the Broncos were hoping for in relieving Joe Mays as an inside linebacker this season.
We shall wait and see if Irving will continue to improve next year.
Grade: D
4th Round (108th Overall Pick): Quinton Carter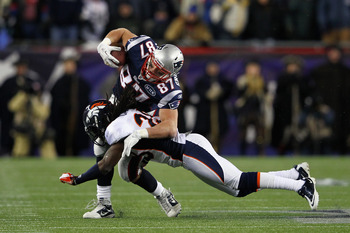 Al Bello/Getty Images
Quinton Carter was a surprise starter for the Broncos as a rookie when Rahim Moore struggled early on this season. He came up with some big plays all year but blew some coverage, too.
All season long, Carter proved that he was a sure tackler. He had 56 total tackles, 45 solo tackles and a sack in the regular season.
In postseason play, Carter also picked up the first two interceptions of his career. He had one apiece against the Steelers and the Patriots.
Look for Carter to continue to improve and he should start next season because the status for Brian Dawkins next year is uncertain.
Grade: A
4th Round (129th Overall Pick): Julius Thomas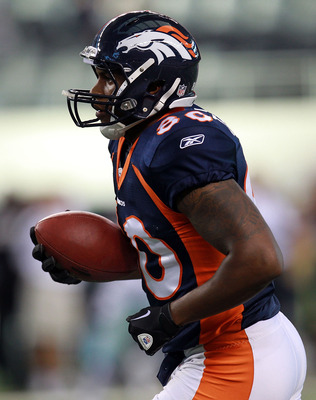 Ronald Martinez/Getty Images
Julius Thomas is a big, athletic tight end who has some of the raw talent to make it in the NFL. His first season with the Denver Broncos, however, was disappointing.
Thomas was only active in five games this season, and his play really suffered after an ankle injury in the second game of the season against the Cincinnati Bengals.
Thomas had only one reception all season for five yards.
Grade: C-
6th Round (189th Overall Pick): Mike Mohamed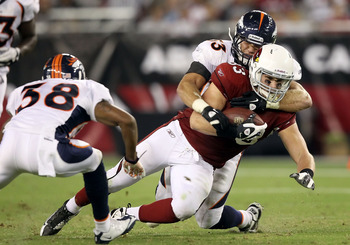 Christian Petersen/Getty Images
Mike Mohamed spent most of his season on the practice squad. He was activated for two games during the regular season and both playoff games.
In all four games, he saw very limited playing time.
Grade: F
7th Round (204th Overall Pick): Virgil Green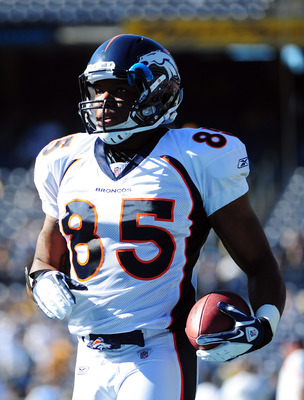 Harry How/Getty Images
Virgil Green saw a lot of playing time all season long, and he turned out to be a superb blocking tight end. Quality blocking tight ends are an underrated commodity and hard to come by.
The Broncos found a diamond in the rough when Green fell in their laps in the seventh round.
He should be a key piece in the Broncos offense for many years to come.
Grade: A
7th Round (247th Overall Pick): Jeremy Beal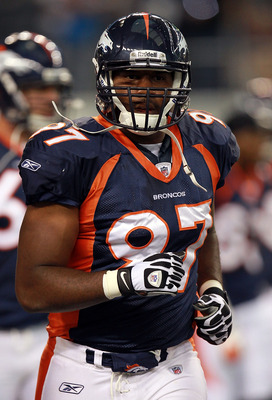 Ronald Martinez/Getty Images
Jeremy Beal spent all season on the practice squad and didn't contribute much this season. He will likely compete for a roster spot next season, but has a line in front of him that he must prove he belongs for the Broncos.
Grade: D
Undrafted Rookie: Chris Harris
Doug Pensinger/Getty Images
Chris Harris has proved to be the best offseason acquisition for the Denver Broncos this season. He went undrafted in 2011 and the Broncos picked him up for secondary help.
He has proven to be a very good cornerback who is a sound tackler.
In his rookie campaign, Harris had more tackles than any of his fellow rookies. He had 72 total tackles and 62 solo tackles. He had six passes defended and an interception.
Hopefully, under the tutelage of his All Pro teammate Champ Bailey, Harris will continue to flourish for the Broncos.
Grade: A+
Overall Draft Grade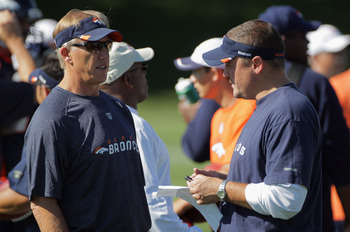 Doug Pensinger/Getty Images
How did Elway-Fox-Xanders do with their first draft class?
I'd give them an A!
They got four starters through the 2011 NFL draft with at least two or three key role players to build around for their future.
Hopefully, the Broncos can continue their draft success this April in the 2012 NFL Draft.
For those looking ahead, here are the Denver Broncos draft picks in 2012:
1st Round
2nd Round
3rd Round
4th Round
5th Round
5th Round (from the St. Louis Rams)
6th Round (from the Philadelphia Eagles)
7th Round
Conditional Draft Pick (from the Cleveland Browns)
Source: Pro Sports Transactions
Keep Reading

Denver Broncos: Like this team?