Tim Tebow: Denver Broncos QB Played Through Injury in Patriots Blowout
January 18, 2012

Elsa/Getty Images
Tim Tebow was not at full health in the AFC divisional playoff matchup against the New England Patriots this past Sunday, but the Denver Broncos quarterback stuck it out and finished the whole game. 
ESPN's Adam Schefter is reporting that Tebow suffered torn cartilage on his ribs, bruised a lung and had fluid buildup in his chest after a third-quarter hit. 
Since Tom Brady threw five touchdown passes and the Patriots led 35-7 in the first half, the game was pretty much over so this Tebow injury didn't have a huge impact on the game.
We've seen crazy Tebow comebacks before, but that wasn't going to happen because the Patriots were rolling and couldn't be stopped. 
Still, one would think that in a blowout game the Broncos would've benched Tebow for Brady Quinn to help preserve their starter's health.
The report states Tebow had trouble sleeping and has undergone tests to figure out how bad the injury is. He is expected to be ready to go for his normal offseason routine, which is good because John Elway recently said Tebow would be the starter heading into training camp. 
Given the fact it was freezing during Sunday's game, the Broncos should have sat Tebow down and let Quinn handle the fiasco on the field. 
Perhaps they were afraid Quinn would actually thrive and then the quarterback controversy would really heat up in Denver. I know that's something I would have loved to have seen just to stir up more debates, but now we'll never know.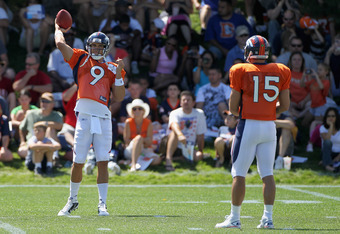 Doug Pensinger/Getty Images
I understand that Tebow is a fierce competitor who strives to win at all costs, but with multiple injuries like that, he shouldn't have been on the field. The extent of his injuries may not have been known at the time, but if he was in pain, the right thing to do was to bench him. 
After all, he wasn't having any success. The Broncos could have saved Tebow from further embarrassment by benching him because of his health.
His critics would have cried out more hate upon him, but if he's hurt then there really is no point to play in such a beatdown. 
The lead was too big for the Broncos to come back from, even if Tebow was 100 percent healthy enough.
He still would have had a difficult time getting the offense going, which is why Denver should've let Quinn get some good reps in to see what he is made of. 
Now we have to wait through the offseason to see if Tebow can keep his job status. It's good that this injury won't hinder his quest for improvement during the spring and summer because it's definitely something Tebow needs.