2012 NFL Draft: How Dre Kirkpatrick's Arrest Shakes Up Prospect Rankings
January 18, 2012

Streeter Lecka/Getty Images
Alabama Crimson Tide's Dre Kirkpatrick didn't destroy his draft stock by getting arrested and charged with marijuana possession, but it does send up the dreaded "red flag."
This isn't the first time a player has been busted in some form or another with marijuana entering the draft and it certainly won't be the last.
Last year—although under different circumstances—Georgia's Justin Houston and Iowa's Christian Ballard tested positive for for marijuana at the actual NFL scouting combine.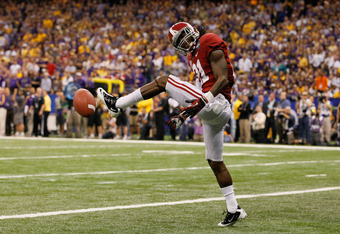 Kevin C. Cox/Getty Images
Both players were fringe first-round prospects that fell far from the first round. Houston wound up dropping to No. 70 (third round) and Ballard to No. 106 (fourth round).
How will this arrest affect Kirkpatrick and the prospect rankings this year?
The Crimson Tide junior chose to forgo his senior season and enter the draft this year.
Kirkpatrick is largely considered the No. 2 defensive back in the class behind fellow junior Morris Claiborne of LSU and was a fringe top-10 pick at the time of his announcement.
Standing 6'2", 192 pounds, Kirkpatrick has a rare combination of size and speed that isn't often seen at the cornerback position. He isn't an elite cover man, but is a big, physical presence with great overall athleticism.
He and Claiborne are the only two corners worthy of a potential top-10 selection.
As troublesome as the situation is, Kirkpatrick will have the chance to fully explain himself at the NFL scouting combine in Indianapolis late next month.
The combine is essentially the largest job interview in the sport and players are put through a number of physical and mental drills designed to give every team the most information possible on the incoming players.
The interview process with Kirkpatrick is now a very big deal.
Today, Jan. 18, is the last day for underclassmen to return to school if they have yet to hire an agent.
Kirkpatrick is still a first-round talent though, and should he not make any more mistakes between now and the actual draft, will still hear his name called on day one.
There are obviously a few teams that will steer clear of him, but it is hard to believe he falls past a trio of teams like the Bengals, Browns and Lions at pick Nos. 21-23. He could even still go before that.
Only Alfonzo Dennard of Nebraska and Janoris Jenkins of North Alabama are threats to leapfrog Kirkpatrick because of this incident.
Dennard is a solid all-around corner, but he doesn't have any one area where he excels, and Jenkins is a potential game-changer but is battling red flags of his own after getting kicked out of Florida last spring.
Kirkpatrick's stupid decision is something that will affect him, but he still has a chance to do damage control.
Don't expect him to fall out of the first round.
Always live on Twitter.