NFL Draft 2012: Teams That Should Shop Their Pick
January 17, 2012

Dilip Vishwanat/Getty Images
There are a three teams at the top of the first round that should consider shopping their picks in the 2012 NFL draft. 
There will be plenty of teams itching to see what it would take to move up in the draft in order to acquire one of the top-flight players. Robert Griffin III, Justin Blackmon and Trent Richardson are just a few of the young men that teams will tempt them to jump up in order to secure their services.
1. St. Louis Rams No. 2 overall
Jeff Fisher and his new staff have considerable work to do in order to mold the Rams into a contender in the not-so-lame-anymore NFC West. 
Many mock drafts have the Rams taking either Matt Kalil or Justin Blackmon with the second overall pick of the draft. 
The Rams would be smart to listen to any and all inquiries for that precious pick. Apparently, there have already been some rumors swirling that the Cleveland Browns are interested in moving up in a trade with the Rams in order to draft Griffin III. 
This is a move I support. In fact, I wrote a post last week detailing this exact scenario, which you can read here.
Consider that the Rams need help on the offensive line as well as a couple more playmakers for Sam Bradford and that offense. There are a few prospects (Alshon Jeffery, Jonathan Martin, David DeCastro, Michael Floyd, etc.) that will be available in the middle to late first-round that would suit their needs. 
2. Cleveland Browns No. 4
Many Browns fans are dissatisfied with the progress Mike Holmgren has made in the last few years, but this is a team that is closer to success than people realize. Holmgren stripped the guts out of their roster in order to pave the way for new schemes on offense and on defense. 
If the Browns don't move up to snag Griffin III, they will need to address similar areas of need as the Rams. They could leverage their fourth overall pick for three to four other picks in the 2012 draft while minimizing the risk involved with a high-draft pick.
Their biggest need is certainly going to be at the wide receiver position. Alshon Jeffery, Malcolm Floyd, Kendall Wright and Nick Toon will all be available after the top ten are selected. 
Another tremendous need for the Browns is on the interior of their offensive line. Moving down would still put them in the running for guys like DeCastro, Cordy Glenn and Peter Konz.
3. Washington Redskins No. 6 overall
The Redskins must either trade up to draft Griffin III or they should trade down. The biggest area of need for them is at the most important position on the field: They need a quarterback.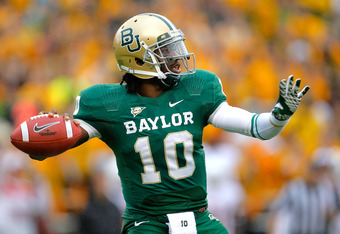 Sarah Glenn/Getty Images
Landry Jones and Matt Barkley decided to stay in school for one more season (selfish buggers) and deny Mike Shanahan the opportunity of drafting them for his needy offense. Many of the top draft experts were penciling in Barkley's name for the Redskins before his decision.
Since he won't be able to get his prized quarterback (I'm assuming, of course that Griffin III is gone before the sixth pick) Shanahan should do what ever it takes to find a team that wants to move up to his spot.
The biggest areas of need for the Redskins beyond finding the right quarterback are at the wide receiver position and at cornerback. 
There are plenty of top-notch receivers to be found in the first round, as I've previously stated. There are also a few starting-quality cornerbacks to be found in the middle to bottom half of the first round, like Stephon Gilmore, Janoris Jenkins, Alfonso Denard and now Dre Kirkpatrick (due to his marijuana bust).