2012 NFL Draft: Dre Kirkpatrick's Recent Arrest Will Cause Stock to Plummet
January 17, 2012

Kevin C. Cox/Getty Images
Alabama corner Dre Kirkpatrick just destroyed his draft stock. It appears as if Mr. Kirkpatrick has managed to get himself into a little legal trouble.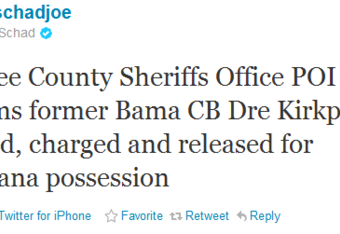 Needless to say, this is a horrible time for Kirkpatrick to get arrested. The results of this legal trouble are going to pale in comparison to the millions of dollars he just cost himself on his rookie contract. 
The Arrest 
Michael David Smith of Pro Football Talk attained information from the Sheriff's office in Manatee County, Florida, which "lists Kirkpatrick as having been arrested at 12:48 a.m. today for possession of less than 20 grams of cannabis. He was released after posting $120 bond."
Damaging Results of Arrest
Kirkpatrick has been almost universally regarded as a top 15 selection. He, along with LSU's Morris Claiborne, was almost guaranteed to be one of the first two corners selected.  
That is about to change, as the sentiment of this tweet will undoubtedly turn into a reality.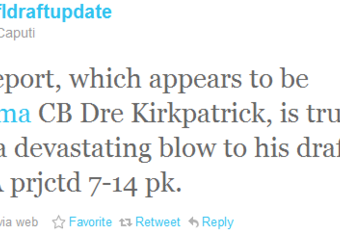 After his stellar season, Kirkpatrick could have only done two things to damage his draft stock: He could have bombed at the scouting combine, or he could have gotten into legal trouble. 
The fact that Kirkpatrick is immature enough to get arrested between the end of the season and the draft is a bad sign. There is now a huge red flag raising up the mast that stands next to his name. 
Kirkpatrick is now likely destined for the end of the first round.