2012 NFL Draft: Cleveland Browns Shouldn't Trade Up to Snag Robert Griffin III
January 17, 2012

Ronald Martinez/Getty Images
With the No. 4 pick in the 2012 NFL draft, the Cleveland Browns have plenty of options, but their best bet is to stay put and use both of their first-round picks. 
NFL.com senior writer Steve Wyche released his updated mock draft this morning, and he has the Browns trading places with the St. Louis Rams just so they can draft Robert Griffin III. 
Wyche has a number of questionable picks, but if his prediction of the Browns trading up is correct, it will be the story of the first round. 
However, that isn't what Cleveland needs to do. 
Sure, they "have the most ammo" to move up like Wyche says, and he also writes that "according to league sources" Griffin is who they want. 
But by sitting at No. 4, the Browns still have a chance to land the Heisman Trophy winner. There's a possibility teams will move up in attempt to get the stand-out dual-threat quarterback from Baylor, but that's just a risk the Browns will have to take. 
Colt McCoy isn't a terrible quarterback, and it would be interesting to see how he fares if he had some true talent surrounding him. The run game that was so strong during his rookie season vanished because of drama and injuries, but if it comes back, McCoy is one playmaking receiver away from doing something special. 
As we saw with the Cincinnati Bengals, a star wideout changes everything. If Andy Dalton starts for the Bengals and doesn't have A.J. Green, there is no way they squeak into the playoffs. 
Staying put allows the Browns to hold onto all their draft picks, and they'd still be able to get superb talent at No. 4. What's more, they have the No. 22 pick as well, which they can use to add more offensive players or focus on strengthening the defense.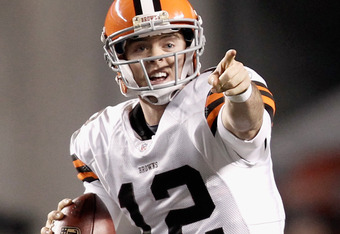 Jared Wickerham/Getty Images
Robert Griffin III is a difference-maker, and there is no doubt he would instantly make the Browns a better team. However, moving up doesn't make sense when they could stay at No. 4 and still draft him. 
Even if he isn't available then, guys like Justin Blackmon or Trent Richardson would most likely still be on the board, and the Browns offense could certainly use either of them. 
If they throw their eggs into the Richardson basket, then Peyton Hillis becomes easy trade bait. Should they land Blackmon, McCoy has a skilled wide receiver that will draw a ton of attention from opposing defenses. 
Blackmon has the ability to get separation from defenders, but should he draw double teams, it will open up space for Greg Little, who showed signs of being a true No. 1 wideout this past season. 
Since he was the Cleveland's only weapon, Little was unable to reach his full potential. When opposing teams realize a team has one threat, it's not too difficult to shut down that offense. 
It's clear that the Browns main priority for the 2012 NFL draft is to upgrade the offense, and while Griffin can help with that, he isn't worth trading up just two spaces for when it's better to run the risk and see if he lands there at No. 4.
Wyche is right in thinking the Browns would benefit from getting Griffin, but waiting two more picks isn't going to cost Cleveland everything. 
Besides, there's no guarantee the Rams even want to trade down. They have their own big needs, and moving back could ruin their chances at selecting an offensive lineman to keep Sam Bradford safe, or even a playmaking wideout to help their own offense. 
Cleveland is better off sitting tight and hoping Griffin falls their way at No. 4. If it doesn't happen, there are still other ways to improve the offense to ensure the Browns take the next step in the AFC.