16 Rehabbing MLB Stars That Will Determine Who Wins the World Series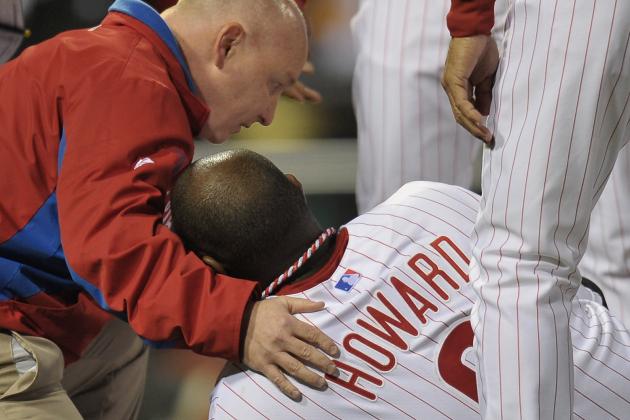 Drew Hallowell/Getty Images

At the end of the 2011 season, you may not have realized just how many big-name players were either nursing injuries or surgery-bound for the offseason. Some of these players' recoveries could be vital to the success of their 2012 club.
Even a few players who were not necessarily injured at the end of the season are currently rehabbing from surgeries they elected to undergo to alleviate discomfort and other side effects of past injuries. Such procedures could help return these players to their previous elite levels of play, which would be highly beneficial to their respective ball clubs.
I have ranked the top 16 players currently rehabbing from injuries that will have the most substantial impact on their team's World Series aspirations in 2012.
*Please note that there are two players I have included on this list whose teams I believe have no chance of making the playoffs this season, but whose presence on another club by means of a successful return followed by a trade could pay dividends for the receiving club. I will identify these two players accordingly, but all others I expect to stay with their current clubs and will be analyzed as such.
Begin Slideshow

»
Doug Pensinger/Getty Images

In 2011, my pick for the NL West crown was the Colorado Rockies. I saw them as a team with a good offense and a decent pitching rotation that could thrive in a weak division. Obviously, I was wrong. The Rockies failed to post a winning record and were derailed by inconsistency and — you guessed it — injuries.
Most notably, Carlos Gonzalez, the Rockies' breakout star from 2010, went down with wrist injuries multiple times throughout the year. The reigning NL batting champ only played in 127 games, and Colorado's lineup felt his loss.
Will the Rockies win the World Series with a healthy CarGo? Well, let's just say they wouldn't be the favorites, not even in their own division. Still, it wouldn't hurt their chances. The Diamondbacks proved last season that out in the NL West, anything's possible.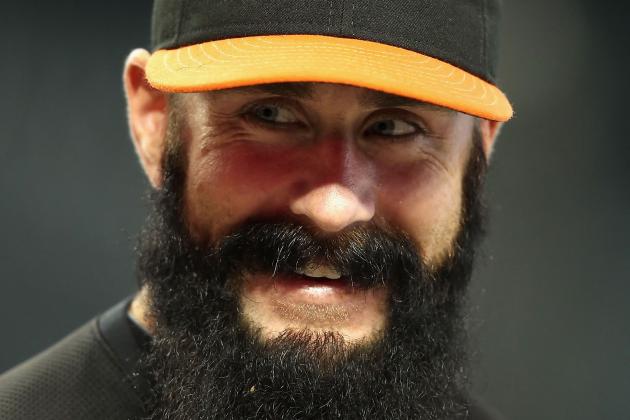 Christian Petersen/Getty Images

I think it's time for The Beard to go.
Yes, Brian Wilson's beard became a symbol of the Giants' improbable run in 2010, but that's over now. The Giants lost their division crown to the D-Backs and their World Series crown to the Cardinals, so now it's time for it to go. But I digress.
Wilson followed up his spectacular 2010 season with an abysmal showing in 2011. He pitched fewer innings, had a higher ERA, struck out fewer batters, and recorded fewer saves than he did the previous season, all likely due to his season-long elbow issues. A little rehab and some rest could do wonders for one of the best closers in the NL, and as we saw in 2010, with a closer like Wilson backing up a rotation like San Francisco's, the World Series isn't such a far-off fantasy.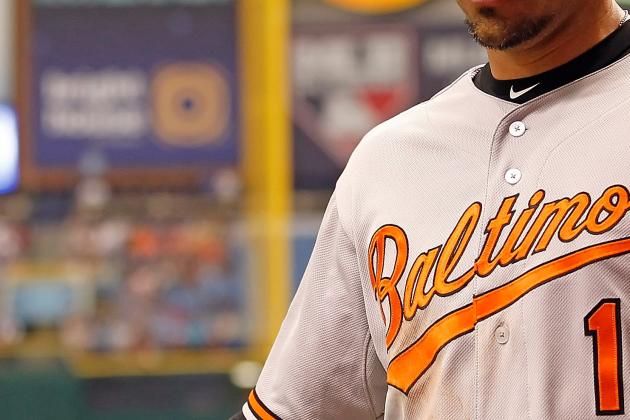 J. Meric/Getty Images

The past two years, Orioles second baseman Brian Roberts has suffered from injuries that greatly impacted his 2010 and 2011 seasons. In 2010 it was a herniated disc, in 2011 it was a blow to the head. If Brian Roberts can make a successful return to the field in 2012, he will probably be... of little to no help to the Baltimore Orioles.
Roberts is the first of those two aforementioned players who will only help determine a World Series winner if he is traded. The Orioles will in all likelihood finish in last place in the AL East in 2012. The Yankees, Red Sox, Rays, and Blue Jays are all very good teams, and even if the Orioles had managed to woo Prince Fielder to Baltimore, they would have still finished in last place. That's the unfortunate effect of residing in baseball's best division.
So, who could a healthy Roberts help? Detroit, Miami, Washington, and St. Louis would all benefit from an All-Star second baseman to serve as a dynamic leadoff hitter, and if any of them make a trade for a rejuvenated Roberts, it might help push them to the Fall Classic.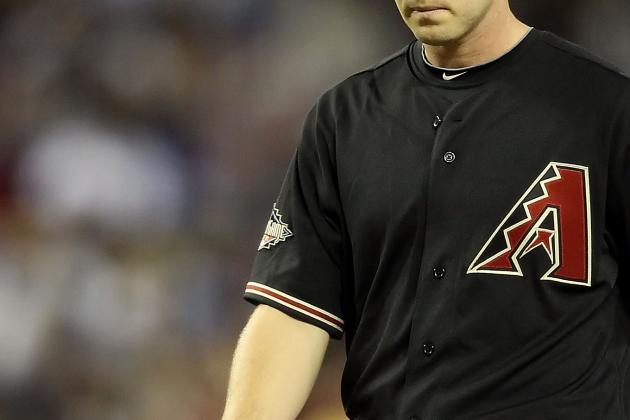 Christian Petersen/Getty Images

If you had told people in Spring Training that the Arizona Diamondbacks would win the 2011 NL East title, most would have laughed in your face. But, after some discussion, most people would have agreed that if, in some fantasy world, the D-Backs did make a playoff run, their young shortstop Stephen Drew would play an integral part.
They would have been wrong, as Drew fractured his ankle on July 20, ending his season. While Drew was on pace to put up some very un-Drew-like numbers anyways, you can never be sure what would have happened over the course of the 162-game season. Look at fellow shortstop Derek Jeter, for example, who turned his season around after recording his 3,000th hit mid-year.
With a healthy, back-to-normal Drew in their lineup in 2012, along with some other additions, the Diamondbacks will likely make another playoff run, and this time they might make it a little further than Game 5 of the NLDS.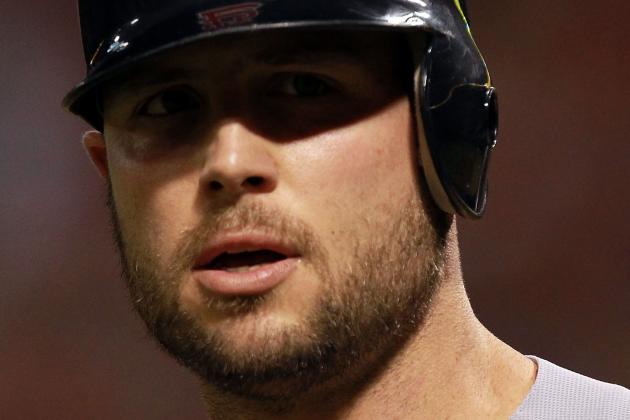 Ronald Martinez/Getty Images

Lost in the euphoria of their World Series victory was the fact that the Cardinals played Game 7 of the Fall Classic without Matt Holliday. In fact, had he been in the game, he would have caught the last out, which was instead secured by rookie Allen Craig.
So why wasn't Holliday in the most important game of the season? Well, the slugger suffered a wrist injury during Game 6 of the World Series and eventually caused him enough pain to miss the winner-take-all Game 7. It shouldn't be too much of an issue to rehab such an injury, which is good news for the Cardinals, who need Holliday in 2012 more than ever with the loss of superstar Albert Pujols.
The Cards will just have to hope that a healthy Holliday can compensate for an Anaheim-bound Pujols in 2012.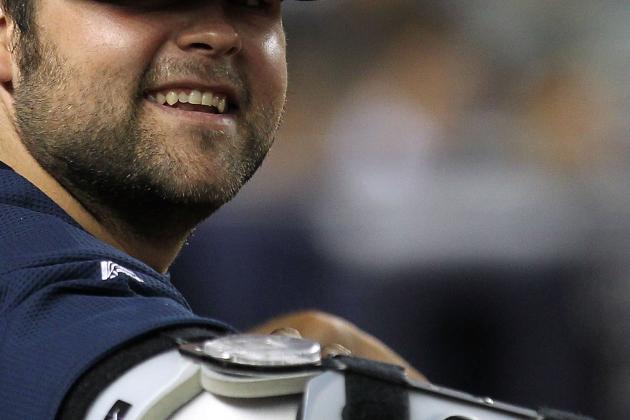 Al Bello/Getty Images

You had to figure a Tommy John would appear somewhere on this list.
Yankees pitcher Joba Chamberlain was having a resurgent 2011 season, with the whole starter-reliever debate finally being settled. As a full-fledged member of the bullpen, Joba looked like he was starting to return to the form that made him a force as a setup man in 2007. However, during a June game, Joba felt that unmistakable pull in his elbow, and shortly thereafter underwent the dreaded procedure, ending his 2011 season.
Joba will not be ready to start the 2012 season, as the rehab time for Tommy John surgery is approximately one year, placing his return date sometime in mid-June. Once he returns, however, he could make the Yankees' bullpen a powerful weapon. With a revamped rotation of CC Sabathia, Michael Pineda, Ivan Nova, Hiroki Kuroda, and either A.J. Burnett, Phil Hughes, or Freddy Garcia, a powerful bullpen will make the Yankees a very dangerous team. The bullpen as it stands, with Rafael Soriano, David Robertson and Mariano Rivera, is enough to shorten games to six innings, so with Joba in the mix, all a Yankees starter needs to do is pitch five strong innings and they will be in a great position to win.
Without Joba, the Yankees should be considered heavy favorites for the World Series in the AL, along with the Angels and Rangers, but with him, it seems almost unfair.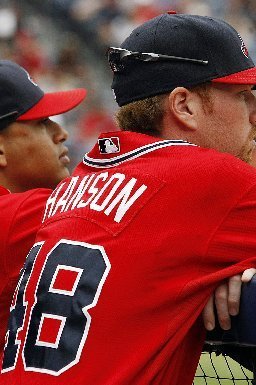 I figured I'd package these two together, as their cases are quite similar.
For the first half of the season, Braves righties Tommy Hanson and Jair Jurrjens were two of the best pitchers in the game. In fact, when Hanson wasn't named a 2011 All-Star, I personally was appalled. Along with Tim Hudson, I was starting to believe at one point that the Phillies' four aces wouldn't be enough to hold off the Braves in the standings.
However, in July, Hanson faltered, and after his first start of August (in which he was shelled by the Mets), he went on the DL with shoulder issues and did not throw another pitch in the season. Jurrjens soon followed suit just before September, when he went down with a knee injury, effectively ending his season as well.
The loss of these two pitchers doomed the Braves, as they joined the Red Sox in a pair of epic September collapses. Had they not gone down with injury, the Braves likely win the Wild Card over the eventual champion St. Louis. The season would have ended much differently then.
With Hanson and Jurrjens back in the fold in 2012, the Braves will have a good shot at either the NL East of the NL Wild Card (or the other NL Wild Card?). And if they can make the playoffs healthy, they will have an excellent shot at taking home a title.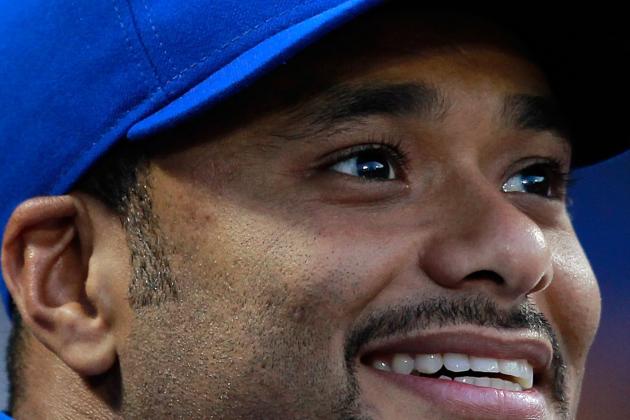 Chris Trotman/Getty Images

Johan Santana was a curious case for this list, so I stuck him right in the middle. This is a guy who was once recognized as one of the elite pitchers in baseball, as evidenced by his 6-year $137.5 million contract with the Mets. With the Mets in their current state, they most likely look back on the trade that brought Santana to New York as a pretty big mistake.
Santana has suffered from shoulder issues the past two seasons, and missed all of 2011 after undergoing surgery. There is no guarantee that Santana can return to form and become an ace lefty again, but if he does, the Mets would love to cash in on him and use him to aid their rebuilding stage.
The Santana of old would help any halfway decent team win a World Series, and really any team would look to acquire him if he does return healthy and effective in 2012.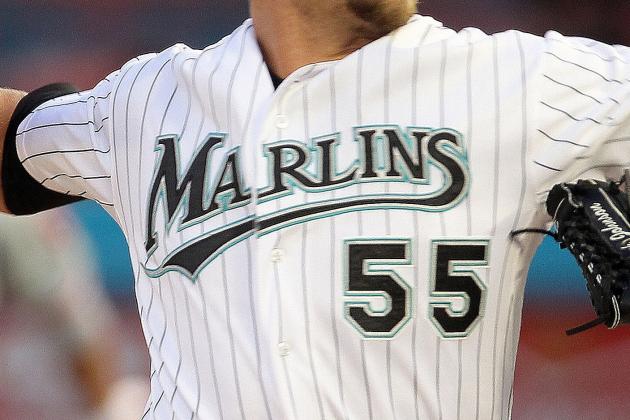 Mike Ehrmann/Getty Images

Even with all of the major signings the new Miami Marlins have made this offseason, with star players Heath Bell, Jose Reyes, and Mark Buehrle joining the team, the most important addition of 2012 might just be that of a player who was on the 2011 roster, Josh Johnson.
Johnson is the ace of the Marlins staff, and is one of the best pitchers in the game when healthy. However, the past few seasons, health has been a major issue for JJ. After starting the 2011 season 3-1 with a 1.64 ERA in 9 starts, he hit the DL again with a shoulder injury and didn't throw another pitch on the year.
Had Johnson pitched a whole season in 2011, the Marlins likely would not have finished last in the division. Completing a worst-to-first turnaround will be a difficult task, but with the additions of Bell, Reyes, and Buehrle, the return of a dominant Johnson could be just what Miami needs to christen its new park with a championship.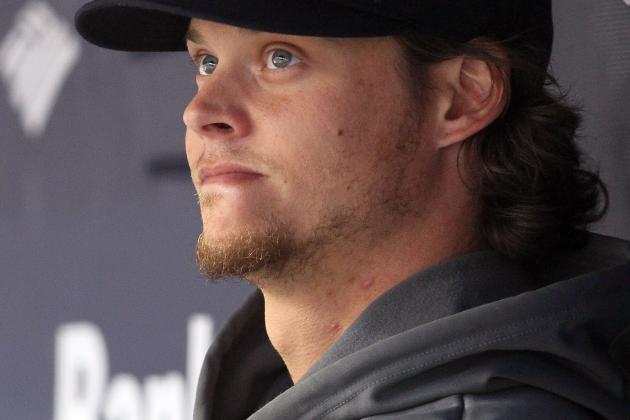 Jim McIsaac/Getty Images

In 2010, both the Red Sox and Yankees watched as two of their organization's top pitching talents finally reached their true potential. Clay Buchholz and Phil Hughes each put together All-Star seasons, and then each of them broke down. Hughes was first, as he trailed off in the second half due to overworking his arm, and Buchholz followed suit this season with a stress fracture in his back.
Hughes has already returned for the Yankees, and so far it doesn't look too encouraging, as he struggled with his velocity upon return to the rotation. The Red Sox will be next to learn the fate of their young hurler, and with Boston in the shape it is now, it is pretty much banking on a smooth return from Buchholz. If it gets what it wants, however, it could potentially have a rotation headed with three excellent starters.
The Red Sox were supposed to go to the World Series in 2011, and might have had a chance to if Buchholz had stayed healthy. If he returns in top form in 2012, the AL East race and the postseason could get interesting for Boston.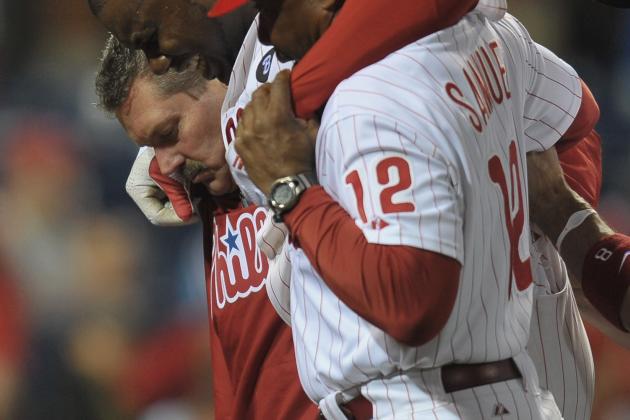 Drew Hallowell/Getty Images

The Phillies' magical 2011 season couldn't have ended on a worse note.
After defeating the Braves in the final game of the season to help the Cardinals clinch the NL Wild Card, the Phillies were then tasked with ousting that same Redbird team from the postseason. In what can only be described as a major upset, the Cardinals managed to edge the Phils in five games, ending their World Series aspirations. The final out of the NLDS couldn't have possibly hurt any worse, as Ryan Howard hit a ground ball to second and fell to the ground while leaving the box, hobbling a few feet down the first base line before succumbing to the pain and hitting the ground once again.
Howard had ruptured his Achilles tendon, and underwent surgery just days later. The Phillies slugger is trying his hardest to return by Opening Day, but the much more likely scenario has him making his 2012 debut around the beginning of May. With options like John Mayberry Jr. and Jim Thome to fill in at first, the Phillies should not rush their star first baseman back into action. He is important to the success of the ballclub, and if missing him in April is what it takes to have him back at 100 percent for the postseason, then that's what should happen, because a healthy Howard could make the difference between another dark offseason and a World Series victory parade.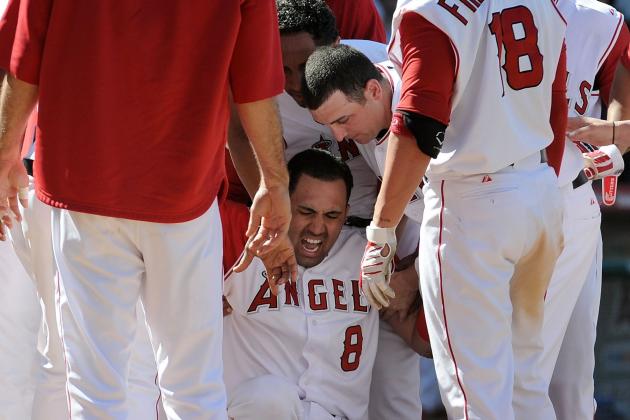 Harry How/Getty Images

May 29, 2010. That's the last time Kendrys Morales played in a major league baseball game. After hitting a walk-off grand slam against the Mariners, Morales jumped on top of home plate and crumbled to the ground in obvious pain. He had broken his leg, and his 2010 season was over. Unbeknownst to him at the time, his 2011 season was over as well, and he would be fighting to return to the game in 2012.
Personally, I do not believe that the Angels have much faith in a return for Morales, as evidenced by their acquisition of superstar first baseman Albert Pujols and moving AL Rookie of the Year runner-up Mark Trumbo to DH. Trumbo will likely see some time at third base in Spring Training, and the best case scenario is that Pujols mans first, Trumbo third, and Morales occupies the DH spot. If all three of these players are in Anaheim's lineup, the Angels should be considered heavy favorites in the American League.
The Angels have prepared for bad news when it comes to Morales, but good news could be what turns this team into a champion in 2012.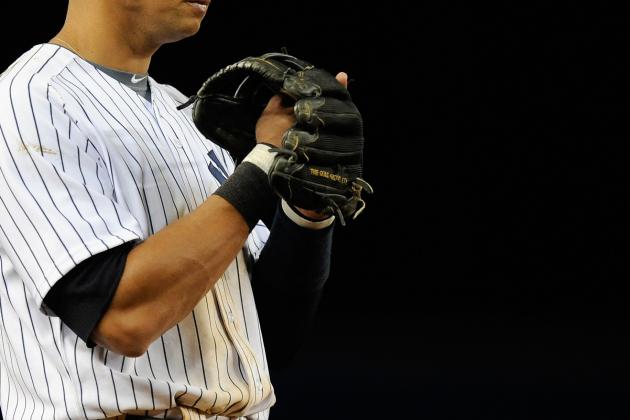 Patrick McDermott/Getty Images

Alex Rodriguez did not end the 2011 season with an injury per se. That is not to say that his 2011 campaign was without injury. A-Rod had surgery on a meniscus tear in his knee mid-season, and upon his return, promptly injured his thumb diving for a ball.
However, despite finishing the season only a little worn from these injuries, Rodriguez did have surgery this offseason. Taking advice from Los Angeles Lakers star Kobe Bryant, A-Rod traveled to Germany to have experimental surgery on his knee and shoulder. You can read more about the surgery, called Orthokine, here, but in summation, Kobe gave it rave reviews and MLB and the Yankees gave it the green light for A-Rod.
If this surgery does what it's meant to, then the best-case scenario is that A-Rod returns to his former elite level of play; the one that led him to put up 13 consecutive seasons of 30-plus home runs and 100-plus RBI. Injecting a player like that into the Yankee lineup from last year would easily make the Yankees' offense the best in the game, and would be exactly what the Bombers need to return to the World Series for the 41st time in their history, and take home their 28th title.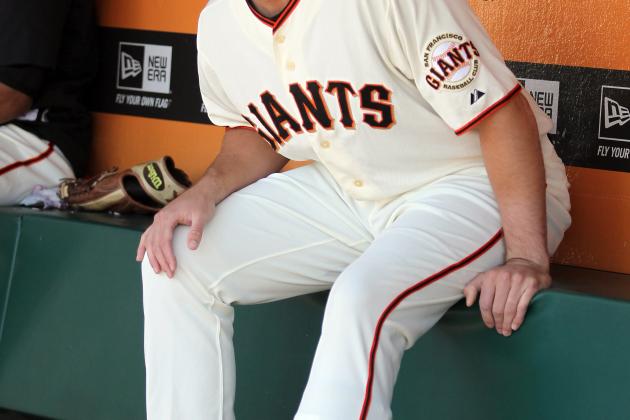 Ezra Shaw/Getty Images

One of the most memorable moments from the 2011 season was an awful one for Buster Posey and the Giants. The reigning NL Rookie of the Year and World Series champion was involved in a home plate collision on May 25 that resulted with a broken fibula and a few torn ligaments in his ankle, ending his 2011 season. The surgery that followed took and hour and a half, during which the doctors repaired the torn ligaments and inserted two screws to stabilize his ankle.
The Giants never recovered from Posey's injury, and fell in defense of their World Series title to the Arizona Diamondbacks in their own division race. As the impact bat in their lineup and the genius behind the plate calling the games, Posey's presence was irreplaceable and invaluable to the Giants. With Posey set to return in time for Opening Day, the Giants will once again be in the hunt for the NL West title, and as we've witnessed before, they will be more than capable of winning the World Series if and when they reach the playoffs.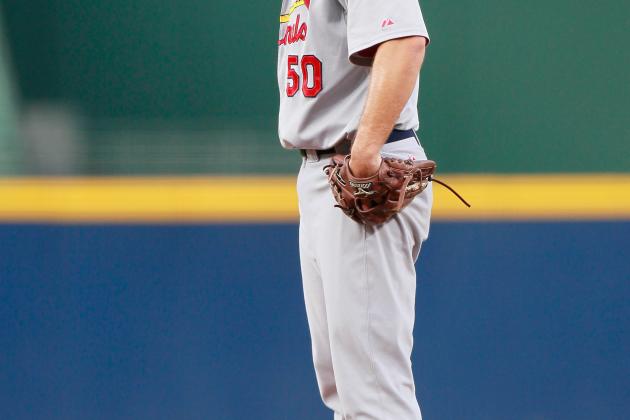 Kevin C. Cox/Getty Images

Remember this guy? It's Adam Wainwright, the man who finished third in the 2009 Cy Young vote and was the runner-up in 2010. It's hard to believe that the Cardinals actually won it all in 2011 without him, but it's true.
In Spring Training 2011, Wainwright was throwing during the first week of workouts when he felt a tug in his elbow. His season was officially over. Wainwright underwent Tommy John surgery and was forced to accept the fact that he would not throw another pitch in the major leagues until 2012.
He then watched as his team completed an incredible September run, won the NL Wild Card, upset the Phillies in the NLDS, defeated the rival Brewers in the NLCS, and capped it all off with a Game 7 victory in what will go down as one of the greatest Fall Classics of all time. Pretty easy ring, huh?
Wainwright will now play a huge role in the Cardinals' defense of their title, as he will be tasked with helping offset the loss of franchise icon Albert Pujols. Adding an ace into the rotation that captured a championship can only help the Cardinals, and makes them the favorites in the NL Central with both Pujols' and Prince Fielder's departures.
It may be hard to believe, but even while subtracting Pujols from the equation, the Cardinals are more likely to win in 2012 than they were in 2011.