East-West Shrine Game 2012: Top NFL Prospects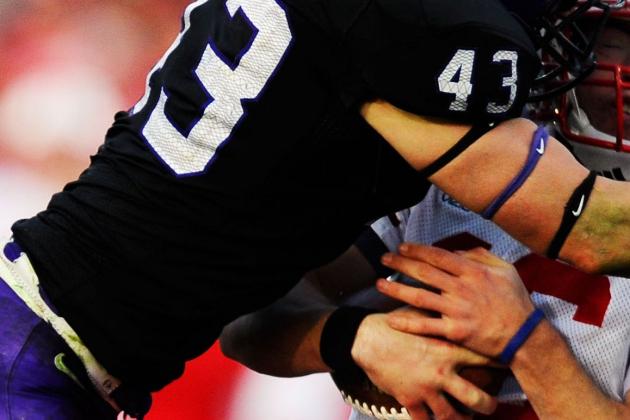 Kevork Djansezian/Getty Images

The East-West Shrine Game doesn't feature any elite-level prospects, but it does have a few intriguing middle-round players.
The majority of the talent is on the West roster, with players like David Paulson and Shaun Prater. However, the East boasts talents like Brandon Lindsey and B.J. Cunningham.
The most interesting prospect might be Chattanooga's BJ Coleman, a strong-armed quarterback prospect.
This week of practice will have a major impact on these players' draft stock.
Begin Slideshow

»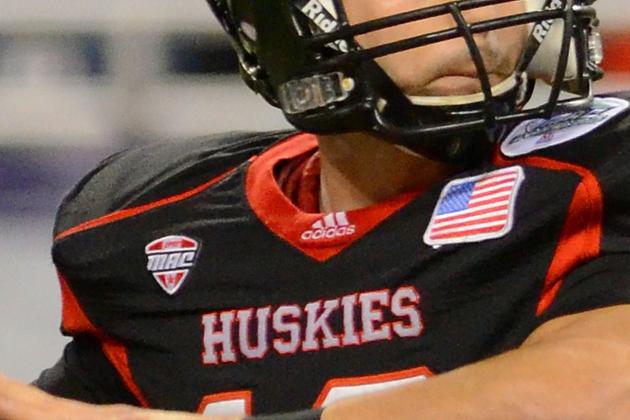 Mark A. Cunningham/Getty Images

Projected: Round 7-Undrafted
Northern Illinois' Chander Harnish is a dual-threat quarterback, who doesn't project as much of a pocket passer.
His lack of arm strength limits his potential and could ultimately resulted in Harnish going undrafted.
He needs to use this week to show he can make the necessary NFL throws. This is going to require throw anticipation to help overcome his limited arm strength.
NFL teams will like his leadership ability and work ethic. However, that isn't enough to guarantee good news come April.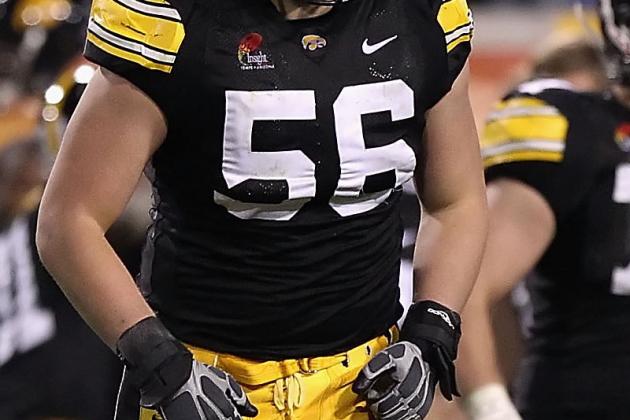 Christian Petersen/Getty Images

Projected: Round 4-5
Iowa's Markus Zusevics is going to get a long look by a lot of NFL teams.
His head coach and school are known for producing technically sound offensive linemen. Kirk Ferentz has won games at Iowa because of hard work and toughness, which is embodied by his players.
Zusevics played right tackle in college but will need to move inside to guard. He possesses the size and strength needed to be an effective run blocker in the NFL.
His experience at right tackle will help him hold up in pass coverage at guard.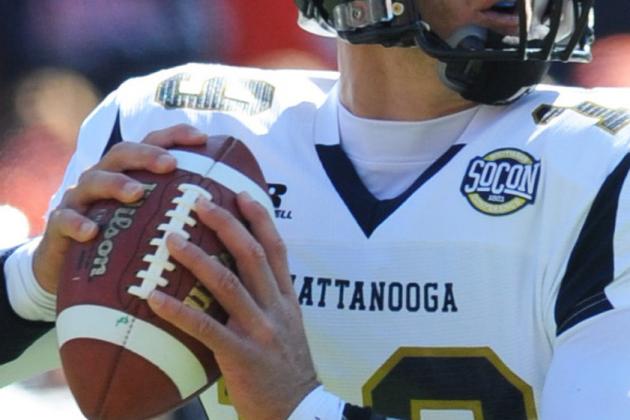 Al Messerschmidt/Getty Images

Projected: Round 5-7
Chattanooga's BJ Coleman has all the measurables needed to compete at the next level. At 6'5" and 220 pounds, he will have no problem seeing over the line and finding open targets. His biggest strength is his ability to deliver the ball with good zip.
Coleman's time at Chattanooga hurts his stock a little, as he hasn't faced much top-level competition. However, he would be a perfect fit for a team looking to add a developmental prospect with upside.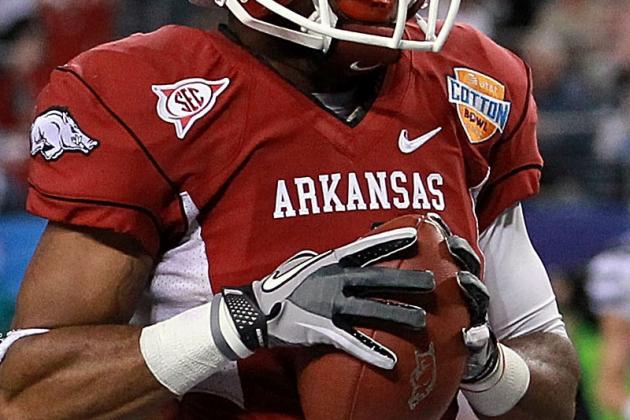 Ronald Martinez/Getty Images

Projected: Round 4-6
Arkansas' Jarius Wright was one of the main contributors to Bobby Petrino's high-powered offense.
Wright excels at finding open zones in the defense and providing a consistent target. He uses his quick burst to transition in and out of his breaks and create separation.
The defensive backs at the Shrine Game are not like the competition he faced in the SEC, which means that Wright should dominate this week of practice.
Teams that like to run three-receiver sets and are looking for a slot guy could target Wright.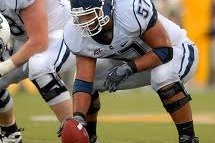 si.cnn.com
Projected: Round 5-7
Connecticut's Moe Petrus is a power interior lineman, who excels at opening running lanes. His ability to consistently obtain inside hand placement allows him to control bigger defensive linemen. He also boasts a really strong leg drive, helping him create a push off the line.
Petrus doesn't receive a lot of attention because of the team struggles at Connecticut. However, he and Kendall Reyes could come off the board earlier than expected.
The fact that both players had each other to compete against in practice is noteworthy.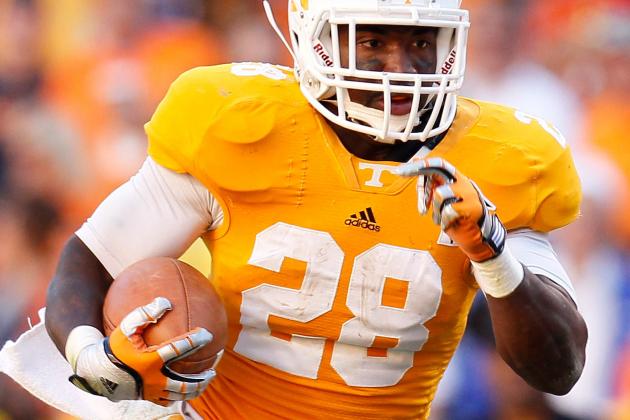 Kevin C. Cox/Getty Images

Projected: Round 5-7
Tennessee's Tauren Poole is a very solid prospect, who could greatly improve his draft stock in the Shrine Game. This game lacks any really exciting offensive players, especially at the running back spot.
If he can show some burst and dominate this week, a fourth-round grade isn't out of the question.
This past season was a disappointment, as Poole failed to reach 1,000 yards and only averaged about 3.7 yards per carry. A lot of his struggles can be attributed to a lack of surrounding talent and inconsistent quarterback play.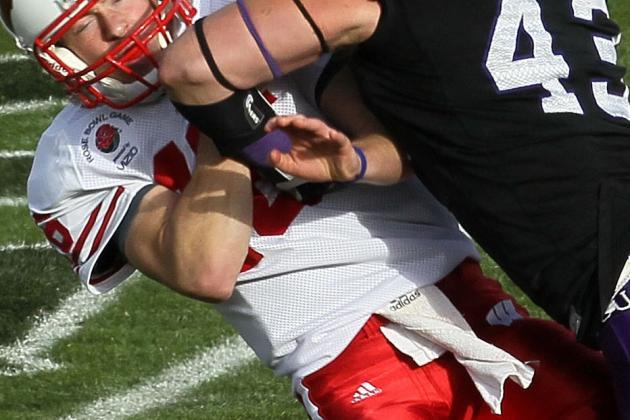 Stephen Dunn/Getty Images

Projected: Late in Round 3-5
TCU's Tank Carder is a quick and rangy linebacker, who does a lot of things well.
The strongest part of his game surrounds his ability to drop back into coverage. It's because of his fluid motions and quick burst that Carder is able to match up with tight ends and backs.
The biggest question mark for Carder is his size and bulk. He is listed at 6'3" and 237 pounds but appears much more lean than those numbers. His lack of size will make it difficult for him to step up and play the run.
He needs to use this week to show that he can hold at the point of attack and pursue the football.
However, at the very least, he looks like a good nickel linebacker.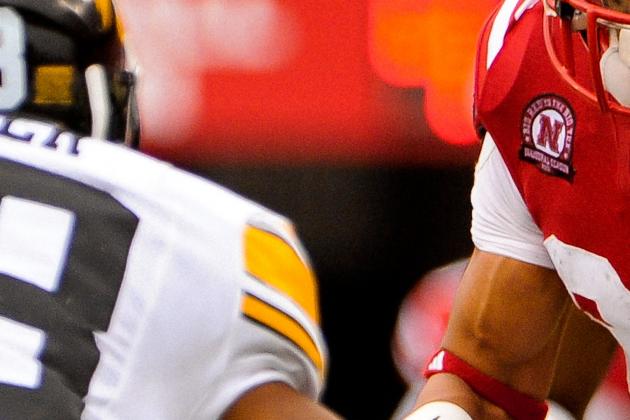 Eric Francis/Getty Images

Projected: Round 5-7
Iowa's Shaun Prater considered coming out early and entering the 2011 NFL draft, but he returned for his senior season. The move didn't really impact his stock much, and if anything, it dropped him a little.
He is mainly a zone-scheme cornerback, who does a good job reading the quarterback's eyes.
He brings some added value with his leadership and willingness to contribute on special teams. These two skills will help Prater stick on a roster, as backup cornerbacks are expected to excel on special teams.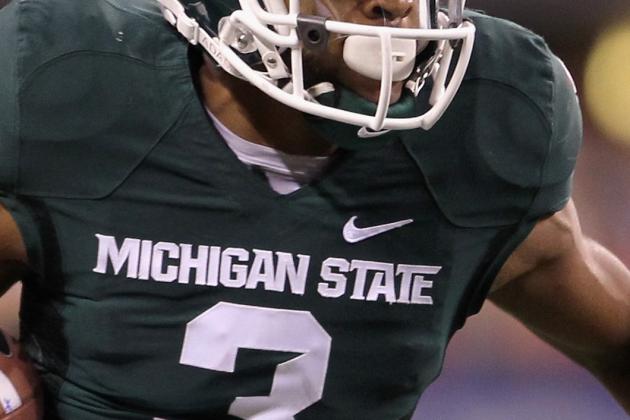 Andy Lyons/Getty Images

Projected: Round 4-6
Michigan State's B.J. Cunningham finished his career as one of the better receivers in Michigan State history.
He topped 40 receptions in each of the past four seasons and finished his career with a total of 2,018 catches. His 12 touchdown receptions and 17.2 yards per catch average shows his overall playmaking ability.
At 6'2" and 215 pounds, Cunningham has the size and bulk some teams covet at the wide receiver position. Any team looking to add a reliable target with some playmaking ability could target Cunningham early in the fifth round.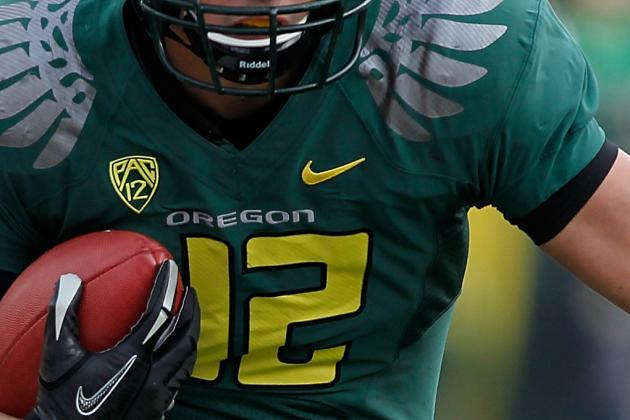 Jonathan Ferrey/Getty Images

Projected: Round 5-7
Oregon's David Paulson had two productive seasons on a team that featured a ton of playmakers.
It's easy for a tight end like Paulson to get overlooked on a team with the likes of LaMichael James and De'Anthony Thomas. However, he provided the Ducks with a reliable target and a good red-zone threat.
He isn't just a pass-catching threat, as he shows good effort and technique in the running game. This will allow him to get some action on first and second down.
Paulson could develop into a starter in the NFL.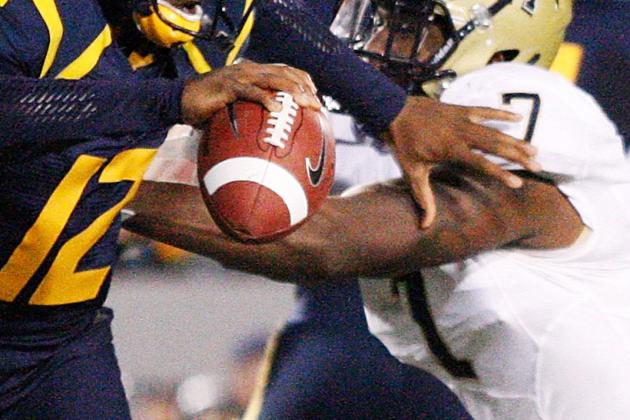 Jared Wickerham/Getty Images

Projected: Round 3-5
Pittsburgh's Brandon Lindsey has the most upside of any prospect at the Shrine Game. His quickness off the edge and developing pass rush arsenal make him an intriguing player.
Lindsey spent the majority of his college career at defensive end, but he will need to shift to outside linebacker in NFL.
Teams that will consider adding Lindsey are 3-4 teams looking to add a pass-rushing outside linebacker.
This week of practice will shape his draft stock, as he needs to prove he can provide a rush from a two-point stance.