2012 NFL Draft: Claiborne or Kirkpatrick Should Be Detroit Lions' Targets
January 13, 2012

Joe Murphy/Getty Images
Morris Claiborne out of LSU and Dre Kirkpatrick out of Alabama are the top cornerbacks available in the upcoming 2012 NFL draft. The Detroit Lions are in desperate need of help in the secondary and are probably drooling over these two. 
Both players announced their plans to enter the draft yesterday and they're both predicted as potential top 10 picks.
Bad news for the Lions who will pick much higher, but such is life for playoff teams in the NFL.
Demand is high for this type of player. In a pass-happy league, drafting a shut down corner is like finding the golden ticket in a Willy Wonka chocolate bar.
They're one in a million, so when you find one you don't ever let it go.
Quarterbacks are routinely passing for 400 yards a game and receivers are getting bigger and stronger. If teams aren't looking for help in the secondary, they're in the minority.
Kirkpatrick is ranked eighth overall by ESPN Scouts Inc. and No. 22 on Mel Kiper's draft board. He is a bigger and more physical cornerback, but he's not as quick as Claiborne. He is, however, predicted to be a very productive pro.
Claiborne won the Jim Thorpe Award this year as the nation's best cornerback. He had six interceptions (11 for his career) and returned one for a touchdown. The former wide receiver is also a skilled kickoff returner and ran one back 99 yards for touchdown against Virginia Tech.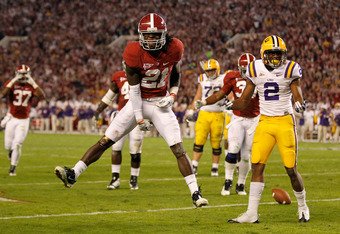 Streeter Lecka/Getty Images
On Kiper's latest Big Board, Claiborne is predicted to be the fourth pick and is third overall on ESPN Scouts Inc.
There are plenty of teams that are likely eyeing these guys. Carolina, Tampa Bay, Jacksonville and Minnesota all need help in the secondary.
But so do the Detroit Lions.
The Lions don't have as many needs as they did last year or the year before. That doesn't make this draft less important. They need to take another step forward and they need to select players that will be able to contribute immediately.
Many experts predict the Lions first selection will be an offensive lineman. No doubt this would be a smart pick and fulfill a big need for Detroit.
In my opinion though, offensive line can effectively be addressed later in the draft. I think the Lions should pull off a draft coup.
They should trade up for one of these guys. Here's why.
I already said that the NFL is a pass happy league. Everyone knows that. Elite passing teams are the ones that win Super Bowls and the Lions have the best of the best right in their division.
The Green Bay Packers are one of the best passing teams in the league right now and Aaron Rodgers is an elite quarterback. Guess what? The Packers aren't going anywhere folks.  The Lions eventual road to the Superbowl will likely go through Green Bay three times.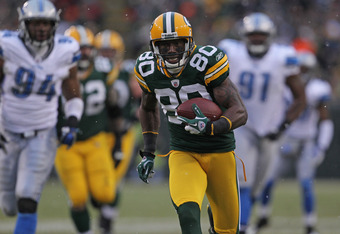 Jonathan Daniel/Getty Images
Two games in the regular season and the NFC Championship game. This is why the Lions need to go for the home run by drafting one of these guys. They need a dominating pass defense to get past Green Bay.
The chances of them getting one in the fifth or sixth round is very slim.
Green Bay offers another reason why the Lions need to invest heavily in their secondary. How did the Packers win 15 games this year?
With a great offense? Sure. With a great quarterback? Yes. With a great defense? Nope. Overall, their defense was pretty poor.
Their secondary was deceivingly good though. They gave up a lot of yards but got tons of turnovers. They won just as many games for the Packers as their offense did.
The Packers offer the recipe for success in today's NFL. An elite offense and a big play pass defense. The Lions should emulate them and construct their team the same way.
"Fight fire with fire" is what I always say!
When you consider these reasons, it is obvious why the Lions need to trade up and steal one of these guys away from some poor unsuspecting team (preferably the Minnesota Vikings).
With Martin Mayhew's history of draft mastery, anything is possible.