2012 NFL Draft: 10 Players Who Can Make Major Moves at the Scouting Combine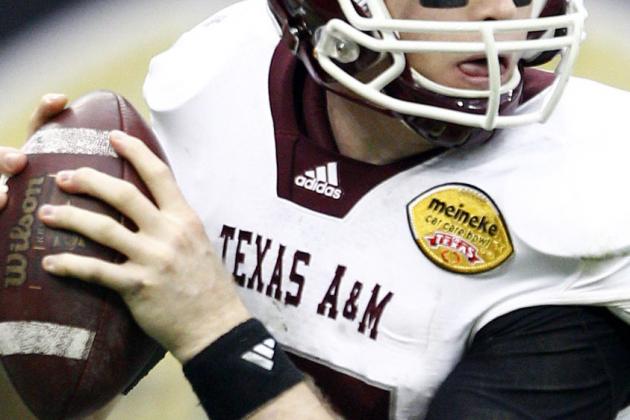 Bob Levey/Getty Images

We're still over a month away from the NFL Scouting Combine, but time flies by during the NFL season and before you know it, the Super Bowl champion will be crowned and we'll be just over two weeks away from one of the most exciting events of the offseason.
Every year, there are players that make quantum leaps up the draft board with impressive showings at the combine and sometimes earn themselves some serious cash in their rookie contract.
In 2011, it was Julio Jones who had one of the more attention-grabbing performances. He was among the top performers in the 40-yard dash, broad jump, and 60-yard shuttle. The Alabama receiver moved his stock from a mid first-round pick to lock as a top-10 selection—he was eventually selected sixth overall by Atlanta.
Stephen Paea's record 49 reps on the bench press was enough to warrant early second-round attention and of course, DeMarcus Van Dyke's top showing in the 40-yard dash motivated the Raiders to draft him rounds ahead of where he was projected.
Which 2012 draft prospects can boost their stocks in the way that these players did a year ago? Read on to find out.
Begin Slideshow

»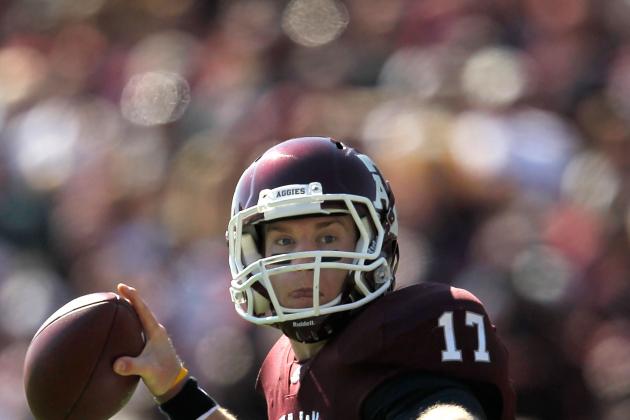 Sarah Glenn/Getty Images

Tannehill has one of the more questionable release points among the top quarterback prospects of this draft as it pertains to batted balls at the next level. He's inconsistent with his release and can often get away with it in college due to his height.
In addition to showing an improved throwing motion, Tannehill will need to show better accuracy and confidence on his deep ball.
He doesn't have great arm strength and will often miss his target when he does go deep. He'll have to show some more potential in this aspect of his game during drills.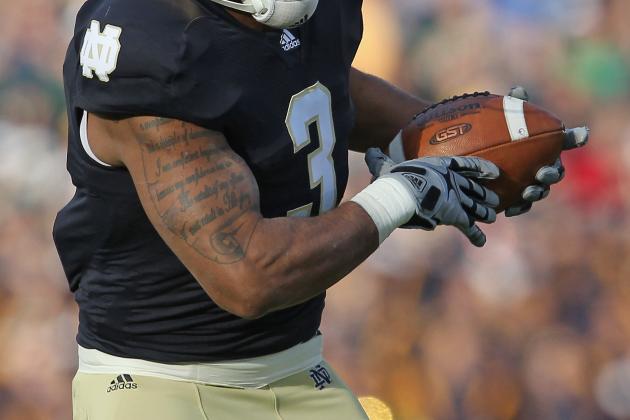 Jonathan Daniel/Getty Images

Floyd will need to show up to the draft an improved route runner. At Notre Dame, he often seemed lackadaisical with his routes and relied heavily on his physical skills to compensate once the ball is in the air.
Floyd's cleaned up his act lately, but the interviews will be important to his draft stock.
Last year, North Carolina's Marvin Austin failed in his interviews and his stock feel sharply once draft day came around. Floyd must show he's a changed and matured man.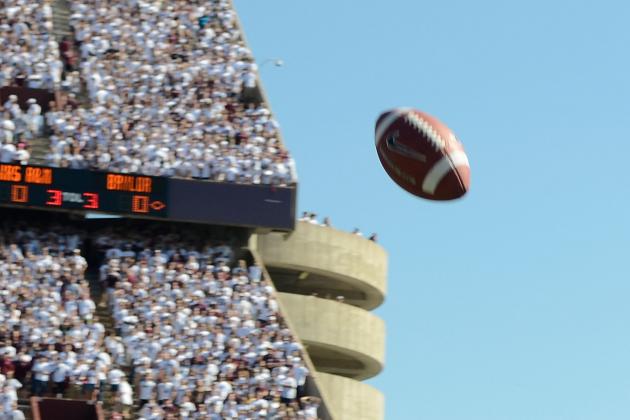 Sarah Glenn/Getty Images

Wright is a raw talent at this point, but his potential has earned consideration as a first-round pick. At the combine, he'll need to show that he's refined his receiving skills, because his physical abilities are not in question.
Wright drops too many balls for a top-flight prospect, and while he occasionally makes the spectacular catch, it's the few that he drops that will stick in NFL teams' minds.
He's still not a great route runner at this point and is more often thinking than reacting. It's something that can be coached at the next level, but at the draft, teams will always look for a polished product.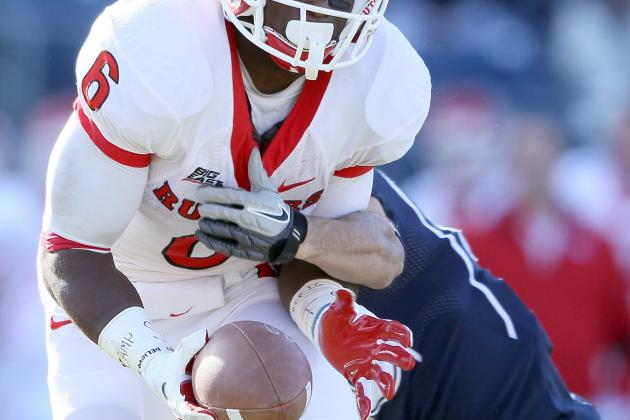 Elsa/Getty Images

Sanu will look to show his growth in the deep ball drills. He was not always excellent at completing the deep catch and doesn't have the speed to make up for missteps in his routes.
Sanu doesn't have great speed off the line and will need to show just as much improvement in his shallow route running. He's a solid all-around player with few weaknesses, but no real strength that stands out.
He'll need to give teams a reason to draft him rather than a reason to overlook him.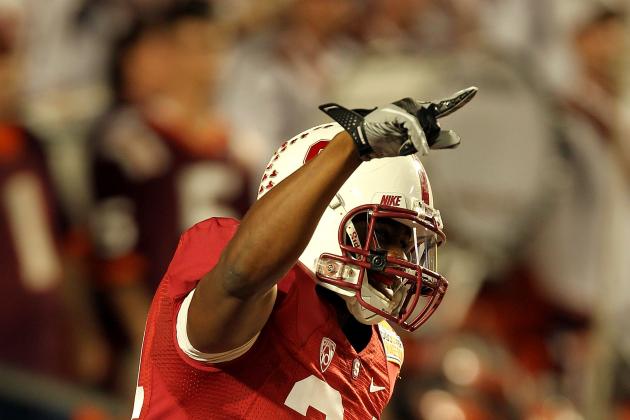 Mike Ehrmann/Getty Images

Martin is a great run blocker; there are no questions to answer there, but he is not a complete tackle at this point—which is something that will cause teams drafting in the top 10 to second-guess the Stanford product.
Martin is a physically gifted player, but his pass-blocking technique has room to improve. His potential is high, but at the combine he'll have the chance to show better footwork and hand usage.
He must show the ability to maintain better balance and consistently anchor against top pass-rushers.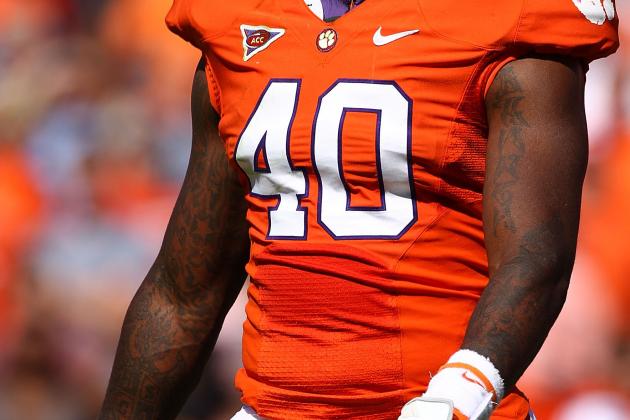 Scott Halleran/Getty Images

Branch is a heady player who does not get noticed for the wrong reasons, but he doesn't show the athleticism on the field that typically accompany first-round defensive linemen. He's not exceptionally quick or powerful and is likely going to be drafted into a 4-3 scheme as a defensive end.
Branch needs to show a better speed rush in order to garner attention from the numerous NFL teams in need of another pass-rushing threat. He must show the ability to complete his arsenal in one-on-one pass rushing drills.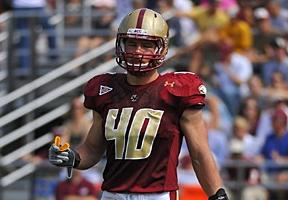 Kuechly's instincts cannot be doubted as he's been arguably the most productive linebacker in college football history, but it's his coverage skills that are drawing suspicion.
Kuechly isn't a player you'd like to be isolated in man coverage and lacks the quickness to keep up with faster backs and tight ends. He also lacks an array of pass-rushing moves, limiting his attractiveness as a three-down linebacker.
Christian Petersen/Getty Images

When he's playing to his best ability, Burfict is a supreme talent that looks like an elite player and draft prospect. However, it's been his inconsistency and attitude that have caused doubts to raise over his level of maturity.
Burfict is an emotional player and it's obvious on the field. He needs to rein in his competitive nature and put his physical talent on display at the combine, while also scoring high in the interviews.
He's one of the first-round prospects that can boost his stock dramatically with his off-the-field performance.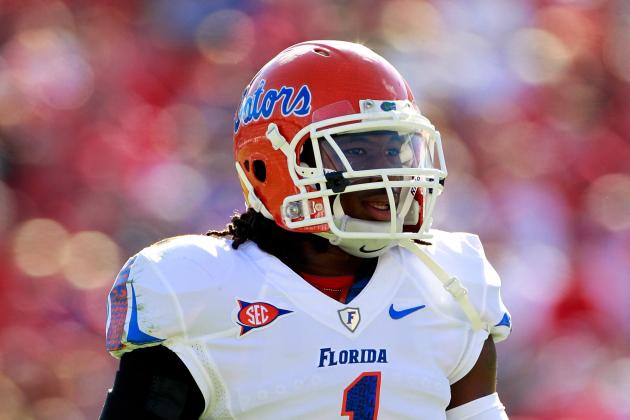 Sam Greenwood/Getty Images

Jenkins was kicked off of the Florida football team for multiple arrests last year and that raises an immediate red flag. He's a great talent despite his 5'10" size and one of the top man-to-man corners of this class.
Jenkins was also involved in a fight with a teammate in 2009, and his attitude has haunted him after it appeared that he was growing up.
Obviously, this increases the significance of the interviews, but because Jenkins was forced to play Division II football last season, this will be his only chance to show NFL scouts how he's improved in a year away from competitive football.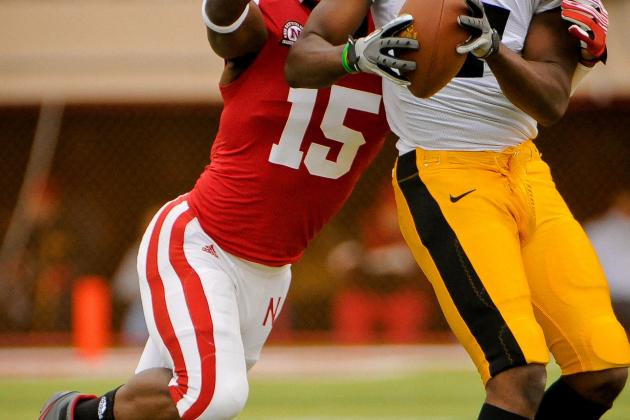 Eric Francis/Getty Images

Standing at under 5'10", Dennard is slightly undersized, which was seen when Alshon Jeffery exploit that in his final game. He's a competitor, but after being burned by Jeffery a few times, his temper resulted in his disqualification from the game.
Dennard's been susceptible to the double-move and will have to show more awareness in coverage at the combine. He'll also have to show the ability to get up and defend the jump ball because at this point, it would seem to be a mismatch to trust the Nebraska cornerback to cover a legitimate starting wideout.