2012 Senior Bowl: 8 NFL Draft Prospects the Chicago Bears Must Scout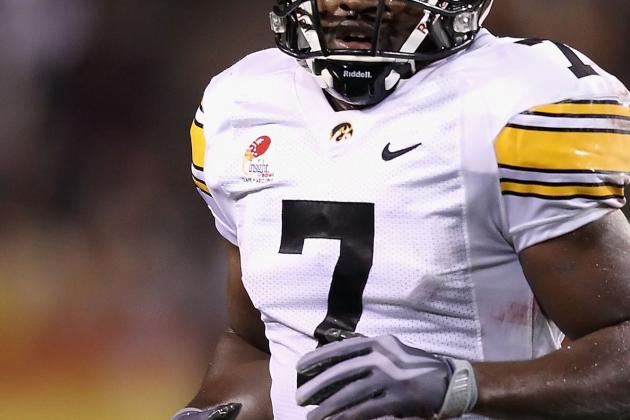 Christian Petersen/Getty Images

One of the best events of the year that scouts and writers use to evaluate players is the Senior Bowl, which pits top NCAA seniors from around the nation against each other in what is essentially a collegiate Pro Bowl of sorts.
The game will feature some fantastic talent that, in many cases, falls outside the first or even second day of the draft. And the Bears' new GM, whoever that may be, will have an eye on the game to add a bit more insight into the play of these men.
Eight of the players on the roster seem to be ideally suited to what the Bears do and should garner a bit of extra attention from Chicago, especially a few of the wide receivers.
While it's the top picks that gather the crowds, it's really the later-round picks that require the most attention. Finding talented kids who fit your scheme is far easier when the talent pool has hardly been touched. Finding that talent in the later rounds is far more difficult.
Who must the Bears scout when the Senior Bowl kicks off? Follow ahead to take a peak.
Begin Slideshow

»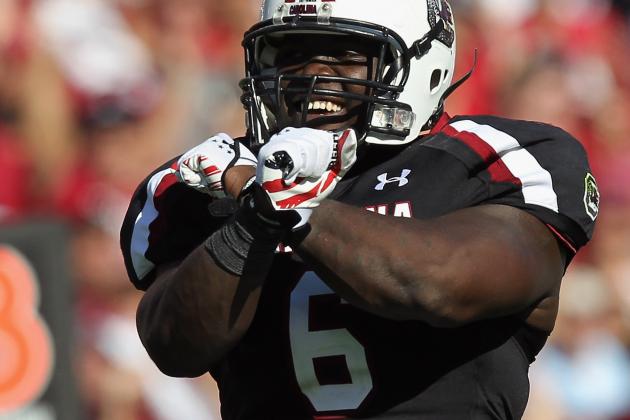 Streeter Lecka/Getty Images

Melvin Ingram is a fireplug-style defensive end that some have speculated could be converted into the next Lamarr Woodley in a 3-4 scheme. But most evaluators seem to still project him as a defensive end, and while he isn't the tall, lanky kind of end that fits more of a Peppers mold, Ingram has a lot to offer.
The 6'2", 275-pound Gamecock predator has led SC in sacks and tackles for loss in his last two seasons. He has an explosive first step and plays much faster than his 4.8 40 average would lead you to believe.
He does need to work on tackling fundamentals, and he could afford to add some weight, but Ingram reminds me a lot of the type of tweener defensive linemen the Bears like in the mold of Israel Idonije.
He seems like, with a little weight added, he could move anywhere they wanted him on the line.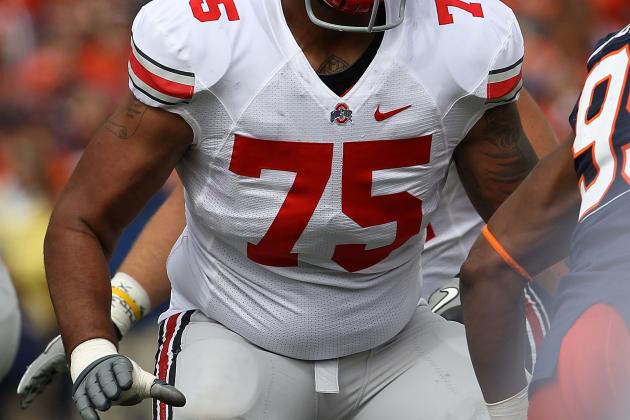 Jonathan Daniel/Getty Images

Mike Adams is a prototypical left tackle with fantastic footwork, size and athleticism, but he needs work on his fundamentals.
Adams is kind of the upper-round version of J'Marcus Webb. He's loaded with talent and shy on technique.
But what will also hurt his draft stock is the fact that he saw himself suspended for seven games over his collegiate career, including five games for the tattoo parlor scandal that rocked the Buckeyes.
Should bartering memorabilia drop this kid's overall stock?
We won't even take the time to debate whether it should have even been a problem in the first place. The fact is that it will be. Because of that, a kid who likely would have been a first-round prospect is now very likely to see the top of the third round or even later.
The Bears should be pointing their peepers in his direction. This sort of thing is just too good to pass up.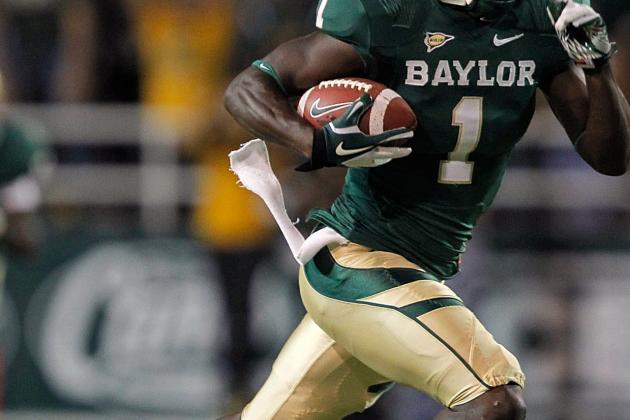 Sarah Glenn/Getty Images

I've included Kendall Wright not because I like him, but because I've seen him included in too many fans' wish lists.
And for good reasons.
That Robert Griffin III guy? He wouldn't be getting Top Five love without Wright. Period.
Wright has fantastic hands—maybe the best in the draft—and has an explosive burst and good speed. He creates separation and grabs everything thrown near him out of the air.
He's also 5'10" and 190 pounds. And that is why I think the Bears should be looking elsewhere. They already have two receivers of the same mold, though Wright has admittedly better hands than Johnny Knox and is a better overall receiver than Devin Hester.
The Bears should be looking at some bigger options. But if there isn't a big man available without reaching, there are far worse options out there than grabbing up Wright.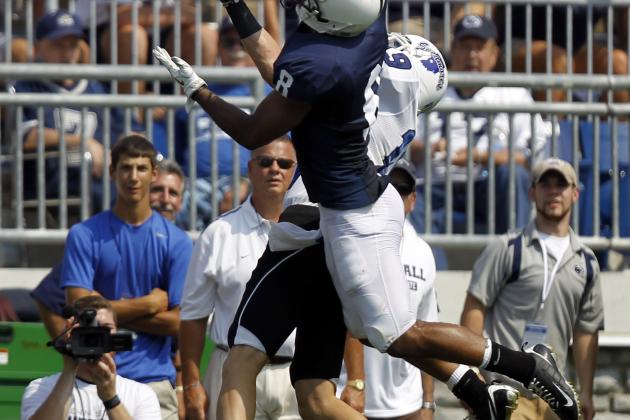 Justin K. Aller/Getty Images

D'Anton Lynn, whose father played in the NFL as a running back for the Jets, might be one of the jewels of the third day of the draft.
Some project him into the free safety position in the NFL, but Lynn also fits the ideal mold of a cover-2 corner. In fact, he's very reminiscent of Peanut Tillman.
Hes a good-sized kid, who's physical at the line of scrimmage and comfortable playing off the line. He does have issues with stiff hips, and his speed isn't anything more than average.
But Lynn could be a beast in the right system, and Chicago's system looks to be a great fit.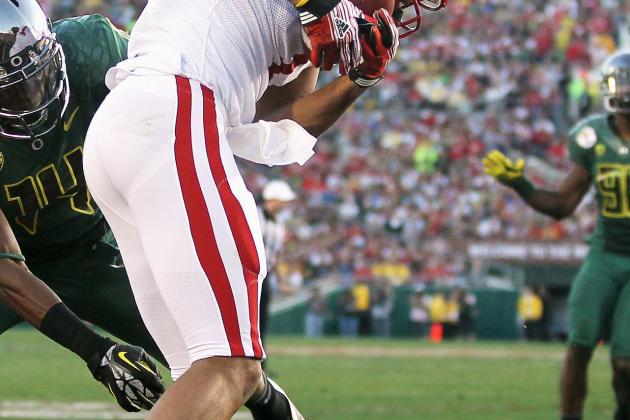 Jeff Gross/Getty Images

Nick Toon is a solid, possession-receiver type with good hands and solid body control. Oh, and the 6'3" and 220-pound receiver also runs a sub-4.5 40, something that few big men in the league can claim.
Lack of film due to Wisconsin being a seriously heavy run-first offense, along with athleticism questions will keep Toon back in the third or fourth rounds, though.
This makes him a fantastic candidate for the Bears, who have a glut of small, fast receivers and a need for a big possession receiver who can give Cutler a reliable target.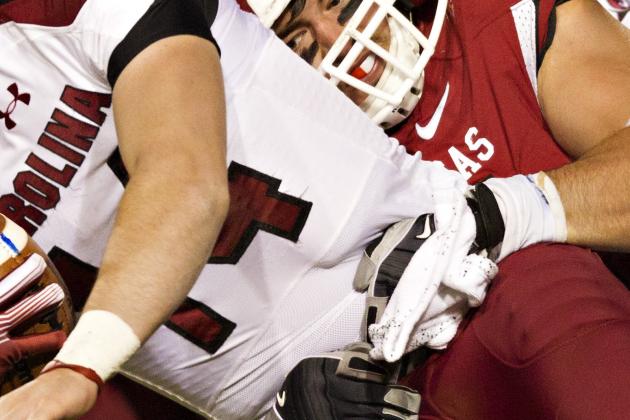 Wesley Hitt/Getty Images

Jake Bequette is going to be a hit-or-miss guy.
Hes been very steady since taking over as a starter in his freshman year. He has fantastic speed (has run 4.54 40s), ideal size at 6'5" and 271 pounds, and his production has been consistent and reliable.
He's an excellent pass rusher, and he has a flair for the forced fumble as well.
Unfortunately, he's not an elite athlete, and he may struggle in the NFL because of it. If the Bears miss out on early DE candidates, Bequette would be worth a fourth- or fifth-round look.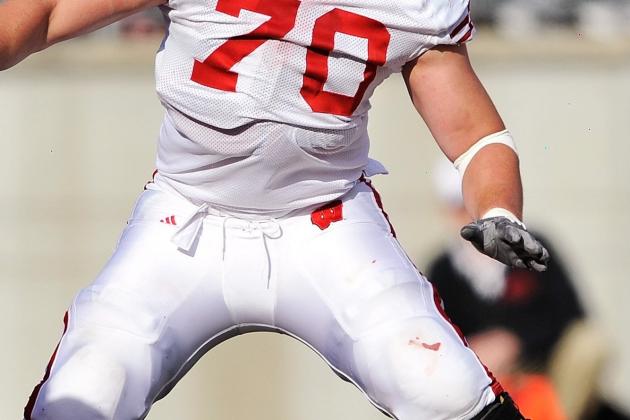 Jamie Sabau/Getty Images

The Bears look like they might be set on the interior of the line, but with Garza aging and the Bears unsure of what they actually have in Chris Spencer and Edwin Williams, it might be wise to look at a guard.
Zeitler makes a lot of sense for the Bears.
He has the ideal size the Bears like in their linemen and comes form a run-heavy Wisconsin team. Adding Zeitler to the line could greatly improve the interior push of the running game, something that has been lacking for years.
His fundamentals might be the most sound of any lineman coming out in this draft and go a long way toward covering up his athletic limitations.
Zeitler needs to get better at getting off the line at the next level, as just a moment's hesitation could mean a sack or a stuff in the NFL. But overall, Zeitler might be the best overall lineman in the draft and a steal in the late second or early third round.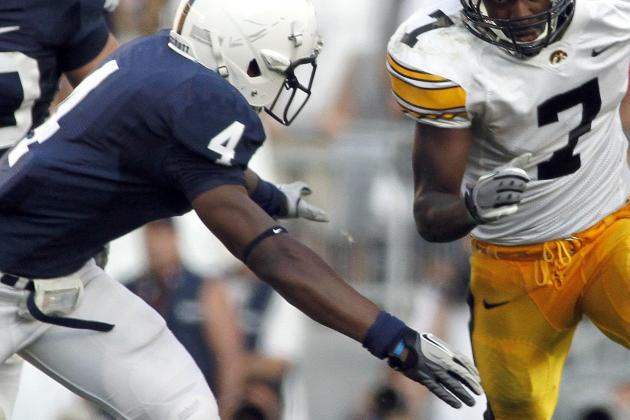 Justin K. Aller/Getty Images

Marvin McNutt is interesting in that it's hard to predict where he falls in the draft.
He's loaded with potential, has a high football IQ and is considered very coachable. He's a big, physical receiver who runs crisp routes that remind you of much smaller targets.
He has some of the best hands in the league, catching anything thrown near him, and he's been known to break out the circus catch on occasion.
But he's also not the best athlete on the field. His speed is so-so, and he's expected to drop a high four-to-five 40 at the combine. His agility is a liability at times, and his leaping ability isn't what you would expect from such a tall receiver.
Still, McNutt has a lot going his way, and the Bears would do well to pay attention to him.
There you have it, ladies and gentlemen. Now step up to the soapbox below, and let us know what you think.