2012 NFL Draft: Will Morris Claiborne Be a Better Pro Than Patrick Peterson?
January 12, 2012

Joe Murphy/Getty Images
When it comes to the NFL draft, nothing beats a good "Will so-and-so be a better player than so-and-so?" argument. Thankfully, there's plenty of these to go around every year.
This year, one of the best involves LSU cornerback Morris Claiborne, who is regarded as the best corner in the 2012 draft class and a possible top-five draft pick. He's going to be a stud.
And because he's entering the NFL just a year after former LSU corner Patrick Peterson was selected No. 5 overall by the Arizona Cardinals, you can't help but compare the two.
But which player will end up being better in the long run? Is the already-established Peterson a lock to be the better of the two LSU alums, or will Claiborne ultimately surpass him?
Good question. Let's break the two of them down and see if we can't come up with a reasonable conclusion.
Morris Claiborne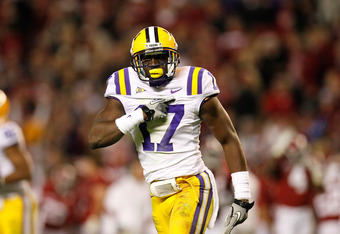 Kevin C. Cox/Getty Images
Take a look around the Internets, and you'll find no shortage of praise for Claiborne's abilities. Scouts are in love with his talents, and all of them think Claiborne has a bright future ahead of him.
To give you an idea, I'll pluck a few examples from the tree.
Here's what Bleacher Report's Matt Miller thinks of Claiborne:
With added weight this summer, Morris Claiborne has the size and speed to be a lockdown cornerback in the NFL. A former wide receiver, Claiborne has a mix of athleticism and intelligence on the edge, giving him an advantage over most wide receivers.

Claiborne has the size, quick feet and reach to make an impact early in his NFL career as a cover man. Playing in a pro-style defense, Claiborne is ready to step into a man-cover scheme in the NFL. Is very willing in run support and has been used on blitzes. Is a strong tackler.
I would be remiss if I didn't bring the man with the greatest hair in TV into this discussion, so here's what ESPN's Mel Kiper (ESPN Insider required) makes of Claiborne:
Perhaps the lesser-known of the LSU corners, but the better one. He's just very good, an exceptional pure cover corner with impeccable instincts at the position. Locates the ball and can catch it. Not a burner, but plenty quick.
And last but not least, here's what Wes Bunting of NationalFootballPost.com makes of Claiborne:
The top corner in this year's draft. He's tall and long which allows him to play big off the line. However, he showcases the footwork, balance and quick-twitch ability of a much smaller corner out of his breaks. With improved technique he should mature into one of the leagues best.
There is plenty more praise for Claiborne to be found if you go looking around, but you can get the gist of it from these three evaluations. The general consensus is that he's an elite cover corner with a skill set that his contemporaries just can't match.
But just because Claiborne is better than his contemporaries doesn't mean he's better than Patrick Peterson. He came into the NFL with plenty of acclaim as well.
For that, we have to take a trip down memory lane.
Patrick Peterson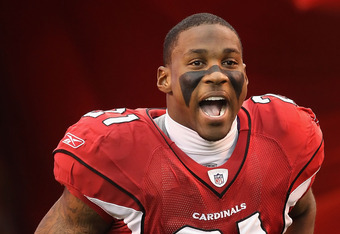 Christian Petersen/Getty Images
When the 2010 college football season ended, it was no secret that Patrick Peterson was going to be a high first-round draft pick. But as we got closer and closer to the draft itself, the buzz around Peterson proceeded to get stronger and stronger.
At one point, Vinnie Iyer of the Sporting News penned an article that made a case for Peterson to be the No. 1 overall pick of the Carolina Panthers. To my own recollection, he wasn't the only one on that bandwagon, which is a testament to how highly regarded Peterson was at the time.
Even after the draft was over and done with and Peterson had been picked No. 5 by the Cardinals, Kiper still had him at No. 1 overall on his big board.
"An extraordinary athlete, Peterson has 4.3-second 40 speed, safety size, good cover skills and a willingness to hit. Big threat in return game. Ends at No. 1," he wrote of Peterson.
Despite the hype, Cardinals head coach Ken Whisenhunt didn't decide to pencil Peterson into his starting lineup until a couple days before the start of the regular season. He wasn't going to, but an injury to Greg Toler made starting Peterson a necessity.
If I may be sold bold as to utter an understatement, Peterson ended up having a fine rookie season. He ended up holding his own just fine on defense, and he was deadly on special teams, returning four punts for touchdowns.
For his efforts, Peterson was named to the Pro Bowl and was selected to the All-Pro First-Team.
And that's in year one of Peterson's career. The scary part is that he can only get better.
Conclusion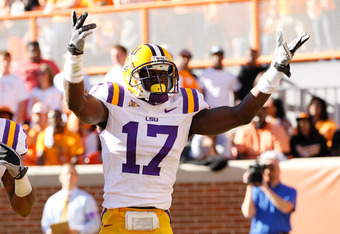 Kevin C. Cox/Getty Images
If you put Claiborne and Peterson side by side, it's clear that Claiborne has a lot to live up to. It's actually something of a shame that he is going to be continually compared to Peterson, as Claiborne should be judged on his own merits.
In all honestly, though, we really shouldn't be comparing Claiborne to Peterson. They have some similarities, but it's not like they are carbon copies of one another.
When you look at a guy like Claiborne and consider the tools that he brings to the table, you realize that we're looking at a pure cover corner. His job will be to come in and shut down his half of the field, and it's hard for players who do that job to become stars. Indeed, it's hard to make a name for one's self when one's name is rarely mentioned during television broadcasts. The best corners go unmentioned.
Peterson is a little different. He's undoubtedly a solid cover man, but he's also an explosive playmaker. He's more like a modern-day version of Deion Sanders than he is a clone of, say, Nnamdi Asomugha. 
So the question of which player is going to be "better" is tricky. Better at what?
If Claiborne is going to be better than Peterson at anything, it will be at being a shutdown corner. He has the tools and athleticism to handle the job, and he certainly has the instincts. It may take some time for people to notice how good he is, but he has multiple Pro Bowl potential.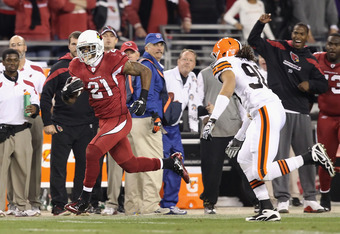 Christian Petersen/Getty Images
But in terms of making an impact and truly putting a stamp on a given game, Claiborne is not going to be able to match Peterson. He's already explosive, and additional seasoning could very well turn Peterson into the best all-around cornerback in the NFL.
Time will tell, but I'm of the mind that Peterson is going to loom a little larger on the NFL landscape than his LSU comrade.