Trent Richardson, Dre Kirkpatrick Officially Heading to 2012 NFL Draft
January 12, 2012

Andy Lyons/Getty Images
Alabama star running back Trent Richardson and star cornerback Dre Kirkpatrick announced today in a press conference that they are declaring for the 2012 NFL draft.
The press conference was aired live by ESPN. Both Richardson and Kirkpatrick are expected to be chosen in the first round of the draft, which will take place on Thursday, April 26.
What Does It Mean?
In Richardson, the NFL is getting a potential franchise running back. He is rated as a Top-Five prospect by virtually every NFL draft scout, and is universally regarded as the best running back in the 2012 draft class.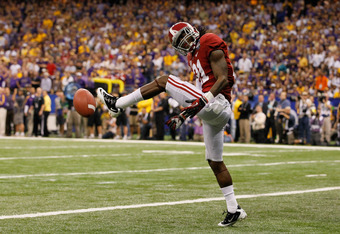 Kevin C. Cox/Getty Images
In Kirkpatrick, the NFL is getting a big, physical corner who played a major role within Alabama's No. 1 defense. He's not as highly regarded as LSU's Morris Claiborne, but it's within the realm of possibility that Kirkpatrick will be a Top-10 pick.
Alabama is losing two great players with Richardson and Kirkpatrick going pro, but Crimson Tide head coach Nick Saban never has a shortage of talent at his disposal. Besides which, it was all but a foregone conclusion that both Richardson and Kirkpatrick were going to turn pro after the 2011 season finally came to a close.
What Happens Next?
Neither Richardson nor Kirkpatrick really needs to prove anything to scouts, but we can look forward to seeing them at the combine shortly before the draft. Richardson is likely to be a star attraction, as his strength and athleticism are unparalleled.
What will be interesting to see is whether or not Kirkpatrick can do anything to boost his draft stock. He could go from being a possible Top-10 pick to a surefire Top-10 pick.
He has several months to build a case for himself.