MLB Trade Rumors: 11 Prospects Anthopoulos Should Not Trade This Offseason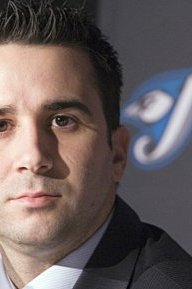 With the exceptions of Roy Oswalt and Edwin Jackson, the starting pitching free agent crop of 2012 has been harvested. After last season, it's clear that the Toronto Blue Jays need help in their starting rotation and they need it now.
Toronto fans rode a roller coaster of emotion through December, as nearly all sources had Yu Darvish pitching north of the border in 2012. After losing out on Darvish and seeing Gio Gonzalez dealt to Washington, impatient fans are turning their obsession towards veteran right-handed workhorse Matt Garza.
Garza is an incredible pitcher and is coming off a career year that saw him post a 3.32 ERA over 198.0 innings pitched. Alex Anthopoulos has done an incredible job stocking Toronto's farm system with talent, and he would be wise to hold onto it heading into the 2012 campaign.
Here are 11 prospects the Jays would be wise to keep in their organization for the time being:
Begin Slideshow

»
Nick Laham/Getty Images

At the age of 22, the young Cuban shortstop has shown he's the real deal. Hechavarria started off last season in AA with the Fisher Cats but cracked the AAA Las Vegas lineup during the last month of the season.
Once arriving in Las Vegas, Hechavarria did nothing short of impressing his teammates and the entire Jays organization. In 25 games for Las Vegas, Hechavarria hit .389 with two home runs—he also had a stellar .431 OBP.
Hechavarria looks like he has the making to be the leadoff hitter of the future for the Jays. It will be loads of fun to watch him and Yunel Escobar turn double plays, if either of them can convert to a second baseman once Kelly Johnson departs.
Nick Laham/Getty Images

Drafted in the first round by the Jays back in 2010, Deck McGuire is a big-bodied 6' 6" RHP that is nearly MLB-ready. He will most likely begin the season for AAA Las Vegas and might even see action at the big-league level by the end of the 2012 season.
Deck still has a lot of work to do on the mound—he racks up a ton of strikeouts, posting a SO/9 ratio 8.9 over 22 starts splitting time between A Dunedin and AA New Hampshire, but his mechanics and control need work.
However, Deck is not far from being a solid starting pitcher at the MLB level.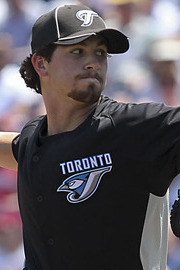 At 21 years of age, Hutchison had a great 2011 campaign. The season began with him pitching for A Lansing, where he went 6-2 with a 2.62 ERA.
He was quickly promoted to A+ Dunedin, where he went 5-3 with a 2.74 ERA. Hutchison looked nearly un-hittable for AA New Hampshire, where he went 3-0 with a 1.20 ERA.
He should start the year in either AA or AAA this season, and also has potential to be a late season call up for the Jays. Like Deck McGuire, Hutchison strikes out a lot of batters; his SO/9 ratio of 10.3 makes the Jays optimistic about this young right-hander.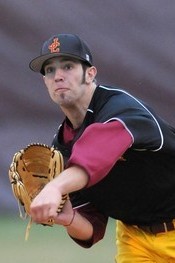 With Toronto's first pick of the second round in 2011, they selected southpaw Daniel Norris from Science Hill High School in Tennessee. Norris throws both a four-seam and two-seam fastball. The four-seam registers at 92-96 MPH and the two-seam at 89-93 MPH.
His repertoire also includes a 12-6 curveball at 72-76 MPH, a slider at 82-86 MPH and a change-up at 80-85 MPH. He's still a few years away from the big leagues, but he has a the potential to be a solid No. 2 or No. 3 pitcher for the Blue Jays in the future.
Nick Laham/Getty Images

Anthony Gose could very well be the best five-tool player in the Jays organization. In AA New Hampshire, Gose stole 70 bases in 137 games played.
At 21, he's still young and his batting needs some polishing if he's going to be an everyday player at the MLB level.
He hit .253 with 16 home runs last season, but you can expect those numbers to go up as he matures as a player.
Nick Laham/Getty Images

Last year, d'Arnaud showed that he could very well be the top catching prospect in baseball—he hit .311 with 21 homeruns and 88 RBI in 114 games.
D'Arnaud won the Eastern League MVP and led AA New Hampshire to a championship. D'Arnaud should begin 2012 in AAA and has a good shot at being a late-season call up for the Jays. He could challenge J.P. Arencibia for the starting catching job in 2013.
With Arencibia showing his power stroke at the MLB level, an argument could be made that d'Arnaud is expendable. In my opinion, you can never have a surplus of offensively-gifted catchers in your organization. Travis d'Arnaud should not be going anywhere anytime soon.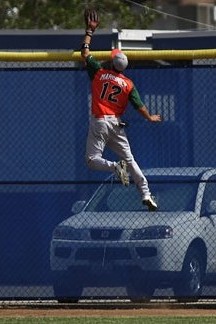 20-year-old Marisnick spent the 2012 season with A Lansing, where he put up impressive numbers, hitting .320 with a .392 OBP. He showed that he has some power, hitting 14 home runs and solid speed, swiping 37 bases.
He's an incredible athlete and is quickly becoming another valuable five-tool player in the Jays organization. I see him starting the year with AA New Hampshire and finishing the year with AAA Las Vegas.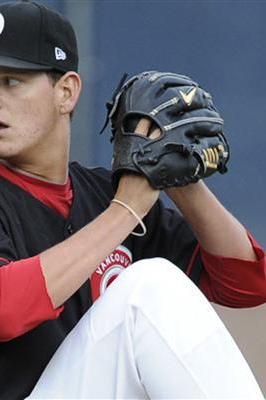 At 20 years of age, Justin Nicolino is another solid left-handed pitching prospect for the Jays. Through 12 starts with A Vancouver and A Lansing, Nicolino posted a 1.33 ERA and an incredible 10.8 SO/9.
His repertoire consists of a good fastball, change-up and curveball. He has good control over all of his pitches and walks very few batters. He's years away from being MLB-ready so he's still a work in progress; his velocity is a few MPH lower than Daniel Norris, so his ceiling is a bit lower.
Brad White/Getty Images

The prize in the Roy Halladay deal, right-handed Kyle Drabek was once considered a top-pitching prospect in all of baseball but recent struggles have dropped him on that list.
Drabek was lit up at both the MLB and AAA levels last season, but he should still be an untouchable prospect. He should begin the 2012 season as the No. 4 or No. 5 starter for the Blue Jays. He needs to find the strike zone and regain control of all of his pitches.
Drabek has a good five-pitch arsenal that includes a slider, a mid-90′s fastball with good tailing action, a 12-6 spike curve with nasty bite and a solid change-up. His struggles might just be mental as a result of trying to fill the shoes of Roy Halladay.
Drabek needs relax and try not to force his game. In time, I think Drabek will be a top-of-the-rotation caliber pitcher for the Jays for years to come.
Eric Thames might not be considered a prospect at 25 years of age, but he showed he's a solid everyday player at the MLB level. Through 95 games last season for the Jays, Thames hit .262 with 12 home runs.
Although he may never be a household name, he's a solid lefty bat and an integral part of Toronto's offensive attack. He's an easygoing personality in the clubhouse and Jays fans across Canada love seeing his facial hair in the outfield.
His numbers should improve as he adapts to being in the big leagues, and I think he has the potential to be a perennial .270 hitter and a 20-home run threat.
Brett Lawrie is an obvious lock on this list—he has the potential to be a superstar in the MLB. I'm more than certain that Doug Melvin and the Brewers want a redo on the Shaun Marcum trade.
Being from Langley, British Columbia, Lawrie gives the Jays a Canadian face to put on Canada's team. In his short 43 game stint with the Jays last season, Lawrie was nothing short of impressive as he hit nine home runs while hitting .293 and recording 25 RBI.
His defense at the hot corner looked a lot better than expected and he has shown he has the making of a five-tool player, stealing seven bases. He's incredibly strong, plays the game with tremendous passion and will only improve with more experience. He has really embraced being an athlete in Toronto and is already loved by fans across the country.
The sky is the limit for young Brett. Anthopoulos has a gem in Lawrie, and I'm sure he's well aware of it.