Ugliest MLB Umpire-Player/Manager Incidents Ever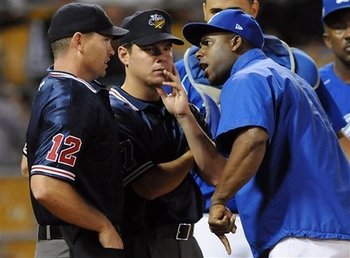 The game of baseball is not intended to be a contact sport. However, at times, in the heat of battle, incidental contact is sometimes necessary, as seen in crashing plays at home plate, or when outfielders at times suffer from a lack of communication and a nice little bumpy gathering ensues.
What isn't supposed to be incidental contact, however, is when players allow their emotions to rule and their actions then involve an umpire. At times, managers even get into the act.
Over the years, several players and managers have been involved in very ugly incidents that have gained them the ire of both umpires and MLB officials.
While not all of the attached videos occurred in Major League Baseball, they are nonetheless epic.
Bleacher Report will take a look at some of the more egregious incidents involving MLB players, managers and umpires.
Delmon Young Flips Bat at Home Plate Umpire
When current Detroit Tigers outfielder Delmon Young was first developing his skills with the Tampa Bay Rays' Triple-A team, he was both young and, as it turn out, just a bit immature.
On April 26, 2006, while the 20-year-old Young was playing for the Triple-A Durham Bulls, he was called out on strikes in the first inning of a game against the Pawtucket Red Sox.
Young took his time before finally leaving the batter's box, and then while walking back to the Bulls' dugout, Young flipped his bat end over end in the direction of home plate.
The bat ended up striking the umpire. Fortunately, the umpire wasn't injured, but it was the first time in baseball history that any player had struck an umpire with a bat.
Young was suspended for 50 games for the horrifying incident, the longest suspension ever handed out in the International League's 123-year history at the time.
Jose Offerman Assaults an Umpire
Former major-league player Jose Offerman had already been permanently suspended from one league for attacking a pitcher and catcher with a baseball bat—this time, while arguing a call as a manager in the Dominican Republic, Offerman decided to take out his aggression on an umpire.
Needless to say, the horrifying incident landed Offerman in jail and banned from another league as well.
Minor League Pitching Coach Throws Fit and Everything but Kitchen Sink
In 2006, Joe Slusarski, pitching coach for the Corpus Christi Hooks, a Double-A affiliate of the Houston Astros, took exception to a pitch called a ball by the home plate umpire.
In frenzied fashion, Slusarski slammed the official with a slathering of slanderous and sleazy soliloquies before slaking off to enjoy an early slumber.
Earl Weaver Giving an Umpire a Lesson in Manners
Thankfully, this particular video was only ugly in words, so put the kiddies in another room before you turn the volume on for this particular video.
Former Baltimore Orioles manager Earl Weaver may have been small in stature, but there was nothing small about his mouth.
Do you kiss your mother with that mouth, Earl?
China Football...Or...China Baseball?
In the Chinese Professional Baseball League (CPBL), players have learned to take their baseball very seriously. However, somewhere along the way, the spirit of the sport somehow got lost in translation.
In true linebacker form, this particular CPBL player apparently thought he was a two-sport star, leveling a perfect block on the guy directly in his path—who just happened to be a first base umpire.
Jon Rauch and the Case of the Towering Temper
On July 2, 2011, the Toronto Blue Jays were hosting the Philadelphia Phillies in an interleague game at Rogers Centre. With Jon Rauch pitching in the top of the ninth inning and the Phillies looking to pad their slim 4-3 lead, Shane Victorino singles to left field, scoring Chase Utley with the all-important insurance run.
However, Rauch disagreed with the call. Vehemently disagreed, in fact.
I can't even imagine being an umpire when a guy who is 6'10" tall, weighing a bit north of 290 pounds, is throwing a hissy fit my way.
Yorvit Torrealba Vents Frustration with Open Hand
On December 23, 2011, less than two months after his Texas Rangers lost to the St. Louis Cardinals in the World Series, catcher Yorvit Torrealba must still have been feeling the sting of the loss.
His open slap upside the face mask of a home plate umpire during a game in the Venezuelan League earned Torrealba a 66-game ban, covering the rest of this season and next season combined.
Milton Bradley Meltdown That Melts Down His Knee
In the height of a pennant chase, emotions are certainly high. However, in the case of Milton Bradley, emotions are always high.
On Sept. 23, 2007, with the San Diego Padres in the heat of a pennant race in the NL West, and leading in the Wild Card standings at the time, Bradley decided to go ballistic after a close play at first base, causing Padres manager Bud Black to throw Bradley down to the ground to avoid an ugly confrontation with the first base umpire.
Bradley tore his ACL, and was done for the season. Unfortunately, so were the Padres.
Jerry Meals Blown Call Has Pirates Manager Clint Hurdle Apoplectic
On July 26, 2011, the Pittsburgh Pirates were sent home after home plate umpire Jerry Meals apparently decided he had enough.
With the game between the Pirates and Atlanta Braves tied at 3-3 in the bottom of the 19th inning, Braves pitcher Scott Proctor was at the plate, with Julio Lugo standing on third.
Proctor hit a slow roller to Pirates third baseman Pedro Alvarez, who fired home to catcher Michael McHenry, who then applied the tag on Lugo attempting to score on the play.
Amazingly, even though the video clearly showed that McHenry tagged Lugo twice, Meals called Lugo safe, sending the Braves home with a 4-3 win, and sending Pirates manager Clint Hurdle into a frenzy.
This could have been much uglier. In retrospect, it was ugly for the Pirates, who would go on to win just 19 more games after spending time at or near the top of the NL Central.
Home Plate Umpire Stays out of the Way of a Menacing Ryan Howard
On August 24, 2010, Philadelphia Phillies was called out on a check swing in the 14th inning of a game against the Houston Astros.
Home plate umpire Greg Gibson deferred to the third base umpire, Scott Barry, who then promptly rung Howard up. After Howard threw his bat in disgust, Barry then gave Howard the hook. Howard, who is 6'5" and 250 pounds soaking wet, immediately started walking in Barry's direction.
Gibson, giving up about three inches and 30 or so pounds, wasn't about to get in the way.
Wally Backman Goes Bonkers over Peanuts
In 2007, while managing the South Georgia Peanuts of the independent South Coast League, Wally Backman gave exception to a call made by the home plate umpire on a called third strike.
The five-minute meltdown was all caught on tape, as the Peanuts were the focus of a TV documentary, Playing for Peanuts. No doubt the producer caught some unscripted action.
Felix Pie Nearly Takes Down Dominican Umpire
In a Dominican Winter League game in November 2010, Baltimore Orioles outfielder Felix Pie got caught off the first base bag just a wee bit too far, and the catcher then caught Pie in a pickoff.
Pie then got caught on video going ballistic on the first base umpire, who would have been flattened had the first base coach not intervened.
Even Hall of Fame Players Lose It Once in a While
In 1991, during a game with the Cincinnati Reds, Chicago Cubs right fielder Andre Dawson took great exception to a called third strike by home plate umpire Joe West.
Dawson let West know exactly what he thought about West: West ran Dawson, and the paper cups rained down on the field from the Wrigley Field bleachers.
Just another night at Wrigley.
Lou Piniella Gets Down and Dirty in Chicago
In June 2007, in a game against the Atlanta Braves, Chicago Cubs manager Lou Piniella vehemently disagrees with a call made by the third base umpire.
In typical Piniella fashion, Piniella voices and shows his displeasure, getting himself run in the process, and once again, the paper cups rain down on the field from the bleachers of the Wrigley Field faithful.
Just another afternoon at Wrigley Field.
The Coup De Gras: The Greatest Manager Meltdown in History
In an epic, Oscar-winning performance, Mississippi Braves manager Phillip Wellman went on a five-minute rampage against the home plate umpire in early June 2007.
Unfortunately for Wellman, the parent club didn't quite think the performance was worth an award—he got a three-game suspension instead.
Doug Mead is a featured columnist with Bleacher Report. His work has been featured on the Seattle Post-Intelligencer, SF Gate, CBS Sports, the Los Angeles Times and the Houston Chronicle. Follow Doug on Twitter, @Sports_A_Holic.
Keep Reading