2011 NFL Draft
2012 NFL Mock Draft: The Ripple Effect of the St. Louis Rams' No. 2 Overall Pick
Jay Drowns/Getty Images
January 11, 2012
The St. Louis Rams don't have the first overall selection in the 2012 NFL draft, but what they decide to do with the No. 2 overall choice will have a lasting effect on rest of the top 10.
With the Indianapolis Colts seemingly locked into Stanford's Andrew Luck, the rest of the league's front offices will be fixated on the Rams' pick that immediately follows.   
Although I knew St. Louis had many options with their selection, after spending about 20 minutes trying to sort out my latest, post-national championship mock draft, I realized how much it will impact the top of the first round.
Let's outline all the possibilities and the what could subsequently occur:
Scenario 1
I wanted to get this out of the way, because at this point, it seems to be the most unlikely scenario (as per the report by CBS Sports Charley Casserly).The Rams would receive a king's ransom for Bradford, probably a bundle of draft picks, which would be enticing to the new head coach and general manager.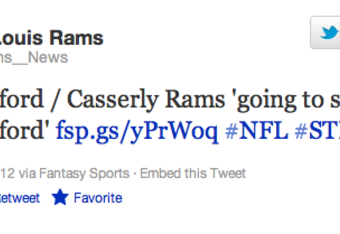 Because of the rookie wage scale built into the most recent collective bargaining agreement, Griffin's deal wouldn't be massive, but they'd still be on the books for a good chunk of Bradford's six-year, $78 million contract that included $50 million guaranteed that he signed in 2010.
If this does happen, Justin Blackmon would be available for receiver-needy clubs like the Minnesota Vikings and Cleveland Browns, who hold the No. 3 and No. 4 picks respectively.
After two insanely productive seasons at Oklahoma State and a dominating performance in the Fiesta Bowl, I'd be shocked if the star pass-catcher made it to the No. 5 overall pick.
It's impossible to know which team would make the trade with the Rams and precisely what compensation they'd receive, thus clouding any predictions before the draft. 
However, it would leave running back Trent Richardson and possibly Justin Blackmon on the board for the Cleveland Browns, players they'd almost have to pick. 
Scenario 2 
Rams pick Justin Blackmon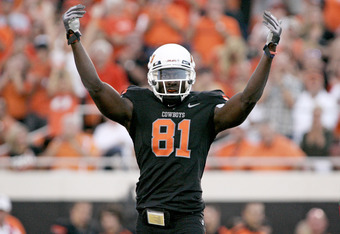 Brett Deering/Getty Images
Signs are pointing to the St. Louis moving forward with Bradford as their franchise quarterback and are looking to add weapons to the offense.
Blackmon certainly would be a great start to that rebuilding process.
This would leave offensive tackle Matt Kalil as a perfect choice for a Vikings team attempting to develop an atmosphere conducive to sustained productivity for 2010 first-round pick Christian Ponder.
Acquiring a franchise left tackle is never a bad idea.
Griffin and Richardson would the best available prospects for the Browns. If they decide to go the quarterback route, where would Richardson land? How far would he fall? Find a team that makes sense in the top half of the opening round, beyond Cleveland, that would use its first pick on the Alabama runner.
Baylor's Heisman Trophy winner could drop to the Redskins if the Browns want to add Richardson to their backfield. 
Scenario 3
Although the fans in St. Louis are desperately calling for a dynamic playmaker for their young signal-caller, don't ignore the importance of a blind-side protector. 
Minnesota would then most likely draft Justin Blackmon, but Stanford's Jonathan Martin creeps into the conversation, especially if they feel an addition to the offensive line is their No. 1 priority. 
The Browns would be extremely tempted to snag RG3, but could "settle" for Richardson. Alshon Jeffery is also an option for Cleveland if it really wants a wideout.
If Mike Holmgren wants to construct his team and draft Richardson, Blackmon or Jeffery (whoever is available), Griffin would fall to the Washington Redskins at No. 6.
In Scenarios 2 and 3, Mike Shanahan would sprint the pick to Roger Goodell at the podium.
Scenario 4 
Rams trade the No. 2 overall pick 
As if I haven't confused you enough, this scenario could really rack your brain (and mine) if I tried to illustrate all the potential scenarios. The most possible suitors for the Rams' pick are the Browns and Redskins. More unlikely teams include the Miami Dolphins and Seattle Seahawks.
This would be ideal for the Rams because they'd still be able to get a top prospect while gathering a multitude of picks to benefit their rebuilding efforts.
Right now, I think "Scenario 2" will happen, with Justin Blackmon bringing instant offense to a team in dire need. But, as we all know with the NFL draft, things will almost assuredly change, including my opinion of how the Rams will handle the No. 2 pick.  
2012 NFL Mock Draft (Jan. 10 Update)
1. Indianapolis Colts: Andrew Luck, QB, Stanford
2. St. Louis Rams: Justin Blackmon, WR, Oklahoma State
3.  Minnesota Vikings: Matt Kalil, OT, USC
4.  Cleveland Browns: Trent Richardson, RB, Alabama
5.  Tampa Bay Buccaneers: Morris Claiborne, CB, LSU
6.  Washington Redskins: Robert Griffin III, QB, Baylor
7.  Jacksonville Jaguars: Jonathan Martin, OT, Stanford
8.  Carolina Panthers: Alshon Jeffery, WR, South Carolina
9.  Miami Dolphins: Whitney Mercilus, DE, Illinois
10.  Buffalo Bills: Courtney Upshaw, OLB, Alabama
11.  Seattle Seahawks: Nick Perry, OLB, USC
12.  Kansas City Chiefs: Dont'a Hightower, LB, Alabama
13.  Arizona Cardinals: Riley Reiff, OT, Iowa
14.  Dallas Cowboys: Dre Kirkpatrick, CB, Alabama
15.  Philadelphia Eagles: Vontaze Burfict, LB Arizona State
16.  New York Jets: Melvin Ingram, DE/OLB, South Carolina
17.  Cincinnati Bengals (from Oakland Raiders): Lamar Miller, RB, Miami  
18.  San Diego Chargers: David DeCastro, OG, Stanford  
19.  Chicago Bears: Alfonzo Dennard, CB, Nebraska
20.  Tennessee Titans: Zach Brown, LB, North Carolina
21.  Cincinnati Bengals: Kendall Wright, WR, Baylor
22.  Cleveland Browns (from Atlanta Falcons): Ronnell Lewis, LB, Oklahoma
23.  Detroit Lions: Stephon Gilmore, CB, South Carolina
24.  Pittsburgh Steelers: Cordy Glenn, OL, Georgia
25.  Denver Broncos: Devon Still, DT, Penn State
26.  Houston Texans: Michael Floyd, WR, Notre Dame
27.  New York Giants: Mike Adams, OT, Ohio State
28.  Baltimore Ravens: Luke Kuechly, LB, Boston College
29.  New England Patriots (from New Orleans Saints): Brandon Thompson, DT, Clemson
30.  San Francisco 49ers: Peter Konz, C, Wisconsin
31.  New England Patriots: Mark Barron, S, Alabama
32.  Green Bay Packers: Chris Polk, RB, Washington
Like the new article format? Send us feedback!