Pittsburgh Pirates: Updated Free Agency News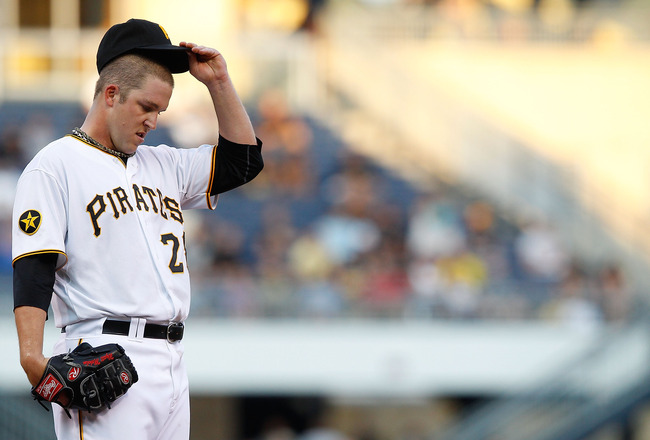 Jared Wickerham/Getty Images
Since the Winter Meetings, free agency news on the Pittsburgh Pirates front has been rather quiet.
The Pirates have several holes still to be filled in order to be prepared for the grind of the 2012 season. With players both on the way in, and on their way out, this slideshow will bring you up to date on the latest free agency news out of Pittsburgh.
Paul Maholm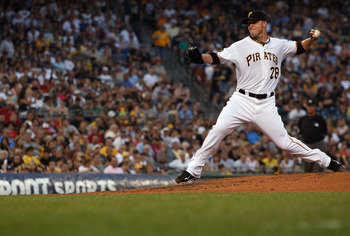 Jared Wickerham/Getty Images
It's looking more and more like Paul Maholm is going to be wearing Chicago blue in 2012. Maholm has recently been connected with the Red Sox, but it seems the Cubs are in the lead for Maholm.
Earlier today, news broke that the Chicago Cubs and Maholm were closing in on a deal. Interest in Maholm was very quiet for the first couple months of the offseason, leading insiders to believe that if the Pirates were going to bring back one of their free agents, it would be Maholm.
With those assumptions seemingly down the drain at this time, it is hard to say if the Pirates have any chance whatsoever to bring back and of their free agents.
Derrek Lee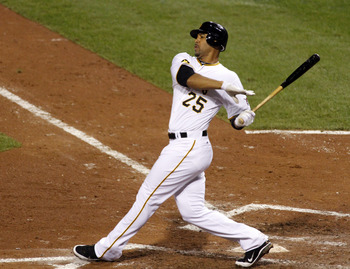 Justin K. Aller/Getty Images
With Paul Maholm being the most likely free agent to sign with the Pirates on his way to Chicago, Derrek Lee's future with the Pirates isn't very likely.
The Pirates have interest in Lee, but that interest doesn't appear to be mutual. Pirates officials haven't been optimistic about signing Lee all offseason, and no news has surfaced that would change that notion.
Utility Infielder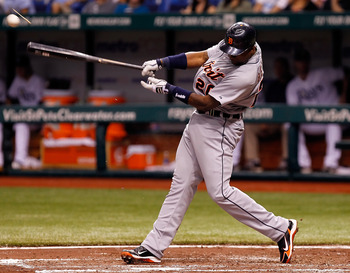 J. Meric/Getty Images
The Pirates have voiced interest in bringing in a utility infielder. The Pirates were connected to Wilson Betemit earlier in the offseason around the same time that the club signed Nate McLouth.
Although talks eventually ended with Betemit, the club still feels the need to add some extra depth to a middle infield that is led by Clint Barmes and Neil Walker.
Possible targets may include former Pirate Jack Wilson, or a guy like Ryan Theriot.
Ronny Cedeno
Justin K. Aller/Getty Images
The Mets agreed to a one-year deal with shortstop Ronny Cedeno earlier in the offseason.
This wasn't particularly shocking, as the Pirates were looking to move on from Cedeno when they signed Clint Barmes to a two-year deal.
Cedeno had become notorious among Pirates fans for taking plays off in the field. Cedeno is a great fielder when he is focused, but he had to be benched in the 2011 season due to questionable effort in the field.
Cedeno was nominated for a Gold Glove Award in 2011, but Pirates fans who watched Cedeno in the field realized that he was not Gold Glove material and was largely expendable. Barmes will bring solid defense to the table, as well as a bit of power at the plate.
Third Base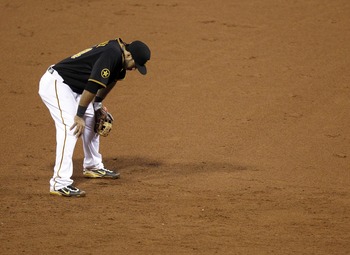 Justin K. Aller/Getty Images
Pedro Alvarez is going to get every opportunity to win the starting third base job in Pittsburgh.
His leash will most likely not be as long as it was in 2011 with Casey McGehee waiting in the wings. McGehee might also be asked to play first base if the club cannot find an acceptable starter this offseason.
The club desperately needs Alvarez to deliver on the talent that he showed when the team was willing to take him as the second overall pick in 2008. Alvarez has superb raw power and a magnificent arm on defense, but it seems that his mental game has dragged him down a bit.
Alvarez has struggled to hit breaking balls at the plate, and his defense hasn't been anything to write home about. If Alvarez can just get back to playing baseball like he knows how to play it in 2012, the Pirates will get a tremendous boost from the third base position.
Yoenis Cespedes
While this is more speculation than news, the bidding for the superstar Cuban outfield Yoenis Cespedes is expected to begin soon.
Cespedes has been on the Pirates' radar for a long time, and they are expected to make some sort of bid when Cespedes comes on the market.
The Pirates don't have the resources to match up with the big guns of the large markets, but if you believe in miracles, maybe Cespedes could be on his way to Pittsburgh.
One of the issues with Cespedes might be the Pirates outfield depth. With Tabata, Presley and McCutchen set to start the season in the outfield, it might be difficult to pick an odd man out.
If Cespedes delivers on the promise that we have seen from his promotional video though, removing Tabata or Presley from the lineup would be a pretty easy decision.
Keep Reading

Pittsburgh Pirates: Like this team?