BCS Championship 2012: Jordan Jefferson Can Improve Draft Stock with Big Game
January 9, 2012
Chris Graythen/Getty Images
At this point, LSU quarterback Jordan Jefferson is not really a big-time NFL prospect, but a lot can change with a big game in the BCS National Championship game.
He has the chance to play on college football's biggest stage and lead his team to victory against the nation's best defense.
Alabama is absolutely rock-solid on the defensive side of the ball, only giving up 8.8 points per game, which is best in the nation.
They feature several defensive players that many consider to be top NFL prospects, in corner Dre Kirkpatrick and linebackers Courtney Upshaw and Dont'a Hightower.
These are all players that many expect to play big roles on NFL teams right away, so if Jefferson can come out and have a good game against them, perhaps he'll be able to improve his draft stock.
It's not like Jefferson is a bad player, because he isn't. It's just more so the fact that he doesn't really fit the prototypical mold of NFL quarterbacks, albeit that is starting to change.
He's more of a runner and athlete than a quarterback, which is becoming more of a trend in the NFL, but is still something most teams will shy away from.
Bleacher Report's NFL Draft Lead Writer Matt Miller has this to say about Jefferson: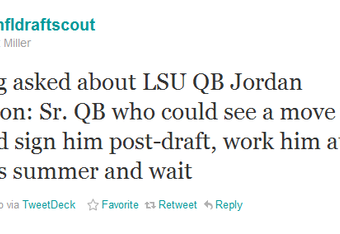 At first this season, Jefferson wasn't even on the field. He was suspended for the first four games of the season facing felony charges, but those were reduced to a misdemeanor and he was allowed back with the team.
Jefferson saw limited playing time, sharing the quarterback role with Jarrett Lee, until the first matchup between Alabama and LSU, where Lee was pulled and Jefferson was asked to save the day.
Jefferson ended up leading the Tigers to an overtime victory and has been the starter ever since.
He comes into the national championship game with 684 yards, six touchdowns and one interception under his belt this season, as well as 248 yards and three rushing touchdowns.
Jefferson may not be a big-time prospect, and in fact he may not even get drafted.
That being said, he does have great athleticism and should be able to find a role in the NFL when all is said and done.
If he can play big and prove his worth as a throwing quarterback with a solid running threat against Alabama's defense, though, his stock just may go up.