NFL Playoff Overtime Rules: Modified Sudden Death Changes for Postseason
January 9, 2012
Justin Edmonds/Getty Images
With the playoffs upon us, the NFL's new playoff overtime rules are once again in play. Gone are the sudden death disappointments where the team who wins the coin toss kicks a field goal. 
For those who may have forgotten, here are the updated rules: 
In order to win the game, the team who wins the coin toss must score a touchdown on their first possession.
In the event of a field goal, the opposing team gets a chance to score. If they kick a field goal, the game continues; if they score a touchdown, the game ends. 
If the game is tied after both teams have had a possession, then the next score wins. In other words, the team who wins the coin toss can no longer just kick a field goal and advance a step closer to the Super Bowl. 
The rules were put in place before the start of last season, in an effort to put a rest to the complaints regarding the ease with which teams who win the opening coin toss in overtime can put the game away, by simply marching into field goal range and scoring the requisite three points. 
Now, a team content to settle for a field goal after winning the overtime coin toss must also score a defensive stop in order to move on in the postseason. 
Last year, the overtime rule was never invoked, as no games went into overtime. The first time the rule was invoked came courtesy of Tim Tebow and his cardiac kid Denver Broncos team against the Pittsburgh Steelers in the Wild Card round of the 2012 postseason. 
Granted, Tebow promptly ended the game with an 80-yard touchdown strike to Demaryius Thomas, but it remains the first postseason overtime game under the new rules.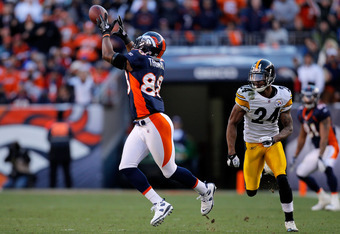 Justin Edmonds/Getty Images
The system still isn't perfect; after all, the game is still sudden death if the team who wins the coin toss scores a touchdown, thereby depriving their counterparts of the opportunity to match their score with one of their own. But the new rules are certainly an improvement over the golden goal-type format of previous seasons. 
As we've already seen, the push to score six on that opening drive makes for some compelling television, and should at the very least force teams to plan a bit differently once the game reaches it's extra period.