Peyton Manning Rumors: Why Manning's Fate Will Be Known by March 8
January 8, 2012
Andy Lyons/Getty Images
The Indianapolis Colts and Peyton Manning will better understand their future come March 8, more than a month before the 2012 NFL draft. 
According to a report by NBC Sports Pro Football Talk's Mike Florio, Manning is owed $28 million that is due to be paid to him on or around March 8.
For now though, many if's remain. For one, will Manning be healthy enough by late winter for the Colts to commit to him for a few more seasons? Also, would Manning still want to be a Colt if Indianapolis drafted Stanford's Andrew Luck No. 1 overall this April?
By mid-March, the answers to those questions will be known, and the future of the eventual Hall of Fame quarterback and the Super Bowl-winning franchise will be a whole lot clearer.
The former No. 1 overall pick in the 1998 draft had never missed a snap before the start of this past season, and he has never taken a snap for any team other than the Colts. It would have been unfathomable for the Colts to part ways with the 14-year veteran after the tandem's near decade of dominance this time last season, but now that Indy must live with the bitter taste of 2-14 and the draft's No. 1 pick, it makes perfect sense.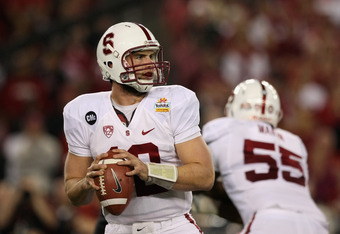 Donald Miralle/Getty Images
Manning's father Archie made waves just weeks ago when he made public that neither No. 18 nor Luck would be crazy about playing on the same team, which surprised many, even though it shouldn't have. They are both starting-caliber quarterbacks, and that being the case, it's extremely difficult to imagine Manning in a blue and white jersey next fall.
Taking the highly-touted Peyton Manning with the top pick 14 years ago brought the Colts a Super Bowl and years of relevance. It would make absolutely no sense to sacrifice 15 seasons from a franchise quarterbacking talent like Luck for two to three more seasons of a sure-thing in Manning.
Even if Manning stays 100 percent for the next three seasons, the shortcomings on Indy's roster will have the Colts going one-and-done in the playoffs, best-case scenario.
By March 8, Manning's fate will be known. Every passing day, it looks more and more as if he will be suiting up elsewhere in 2012.