NFL Rumors: Jeff Fisher Should Take St. Louis Rams Job
January 8, 2012
Jamie Squire/Getty Images
Jeff Fisher went to St. Louis today for a second meeting with the St. Louis Rams front office and is meeting with Sam Bradford, according to the St. Louis Post-Dispatch.
That's good news for Rams fans. And it would be a wise move for Jeff Fisher.
Sure, the other team said to have serious interest in Fisher—the Miami Dolphins—had a better season this year and probably have a stronger roster.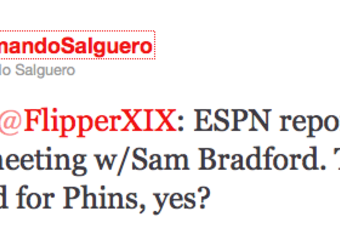 But the Rams have something the Dolphins lack—a young franchise quarterback.
Franchise quarterbacks don't exactly grow on trees and they generally make the jobs of head coaches a lot easier. While Bradford hasn't looked like a stud just yet, the potential is certainly there.
Thus, Fisher's main job would be putting a team around Bradford that would allow the young quarterback to thrive. That's a better place to start than trying to decide who your franchise quarterback is, or whether you even have one.
And Fisher has the tools in place to begin surrounding Bradford with talent. The Rams have the second overall pick in this year's draft, a slot that could net them a bounty in a trade if a team like the Washington Redskins decides they need Robert Griffin III and aren't willing to chance him falling to them when they pick with the sixth overall selection.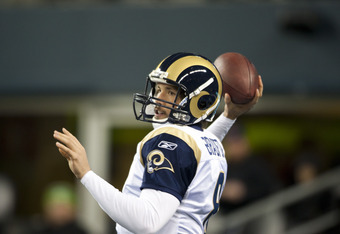 Jay Drowns/Getty Images
But even if the Rams keep the pick, they'll have options that should instantly improve their team.
They could choose to protect Bradford by selecting offensive tackle Matt Kalil of USC. They could give Bradford a much-needed stud wide receiver in Oklahoma State's Justin Blackmon or South Carolina's Alshon Jeffery.
Heck, they could even decide to improve the defense and select stud cornerback Morris Claiborne out of LSU.
The point is, Fisher will have a young team, salary cap flexibility and some valuable assets to slowly build back toward playoff contention. The expectations for an immediate turn-around will be lower than in Miami, which showed promise finishing 6-10 despite starting 0-7.
Jeff Fisher will have an opportunity to mold a young group based on his philosophy. After departing Tennessee in the wake of a highly publicized dispute with Vince Young, the opportunity to reestablish his coaching structure on a young team less likely to resist his methods might be the most appealing thing of all.
Hit me up on the Twitter—it's the best way to spend the last year of existence.