N.Y. Jets: Enough Is Enough, Head Coach Rex Ryan Has Got to Go
January 7, 2012
Rob Carr/Getty Images
Guarantee—an unconditional commitment that something will happen or that something is true.
Rex Ryan, Aug. 6, 2010: "I just know what's going to happen … my crystal ball, I'm seeing a Super Bowl trophy in there … every time I go to work, that's what I look at … I'm not embarrassed to say that I believe that will happen." Ryan then signs the words "Soon to be Champs" on an ESPN tour bus.
RESULT: NO SUPER BOWL APPEARANCE.
Rex Ryan, Feb. 24, 2011: "I believe this is the year we're going to do it … I thought we were going to win it the first two years. I guarantee we'll win it this year.
"I can comfortably say that we're making no excuses. We're just going to find a way to get it done."
RESULT: NO SUPER BOWL APPEARANCE, NO PLAYOFFS APPEARANCE.
"No excuses," right coach? Yeah, and what now?
Let me set the record straight: I have no problem with a player or coach making a guarantee. As long as they back it up and follow through.
Rex Ryan has not followed through. At some point, he has to be held accountable for his words.
The time has come.
Rex Ryan should be fired.
I'm sorry, but if you guarantee something without delivering, there has to be some sort of consequence. A guarantee is a promise. You don't just say "Too bad, it didn't happen, oh well" and then make another guarantee the following season and start all over again. That's not how a guarantee works.
Even if you avoid discussing the semantics of the word, it still doesn't change the fact that the fault for this team's shortcomings lies with the head coach. For Ryan to have predicted a championship two years in a row meant that he clearly thought he had the talent in place and the tools he needed to guide his team to the promised land.
So now, after his team couldn't even post a winning record, it's considered a massive underachievement. Who's fault is it at that point? The head coach's fault.
Not only has Ryan failed to deliver on his promises—now it seems like he's lost control of his team.
Let's move on to what happened during the fourth quarter of last week's season finale at Miami. WR Santonio Holmes threw a hissy fit in the huddle, was removed from the field and benched for the rest of the game. During the last few minutes of his team's season, Holmes was seen sulking on the sidelines by himself, totally removed from the game, both physically and mentally.
Rex Ryan, Aug. 13, 2011, on naming WR Santonio Holmes one of the team's five captains: ""We tried it out and now he's one of us," Ryan said. "I expect the last jersey he will ever wear will be a New York Jet jersey. We're extremely happy that he chose to come back."
Great idea, coach. Let's name Santonio Holmes a team captain after being on the roster for just 16 months. This is a guy who has a history, both in college and in the NFL, of drug possession, assault and domestic violence (once against the mother of one of his three children, although that charge was later dropped). Yep, this is exactly the type of person I want representing the New York Jets as captain—someone the rest of my team is supposed to look up to and follow by example.
All I know is that if I were LaDanian Tomlinson, I would have been pretty upset to be passed over for team captain in favor of that guy.
And how about what rookie quarterback Greg McElroy said on Wednesday to Alabama radio station 97.3 The Zone? Further evidence that the locker room isn't what it has to be in order for this team to be a contender.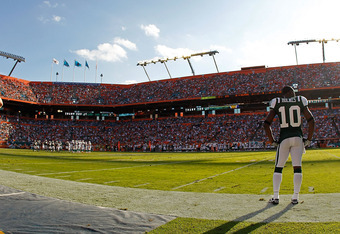 Mike Ehrmann/Getty Images
"It's definitely not a fun place to be, I can assure you," said McElroy. "It's the first time I've ever been around extremely selfish individuals … there were people within our locker room that didn't care whether we won or lost, as long as they got their … I think the fact that we struggled at times this year really led to a really just corrupt mindset within the locker room."
Several analysts and former players have blasted McElroy for talking bad about his teammates. Former Jets quarterback Erik Ainge tweeted: "Someone tell McElroy to keep his mouth shut about the NYJ 'Locker Room' speaking in the media about your teammates, entitled brat!"
Personally, I think it's a breath of fresh air for a player to give an honest evaluation about what's going on behind closed doors. It might not make him the most popular player on the team right now, but it could help the Jets face the reality of the situation and tackle the issues (pun intended) instead of continuing to sweep them under the rug.
In any case, I'm sick and tired of hearing about how Rex Ryan is a great motivator and how his players would run through a brick wall for him—because from what one of his own players is saying, it seems like just the opposite could be true.
Oh, and when will Rex Ryan realize that Mark Sanchez is not an NFL starting quarterback? Jets fans have got to be tired of seeing box scores like: 11-for-35, 119 yards, 0 TD, 1 INT (yes, that was an actual box score from this season). Mark's completion percentage in 2011 was a dismal 56.7. That's lower than guys like Colt McCoy, Tarvaris Jackson and Dan Orlovsky. Sanchez's QB rating of 78.2 this year was 24th in the NFL among quarterbacks who started at least eight games. 24th!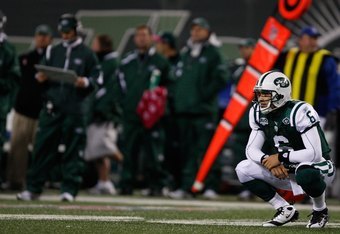 Jared Wickerham/Getty Images
And to top it all off, Sanchez threw seven interceptions in the last three games of the year with his team in playoff contention.
Maybe that's what Santonio was so unhappy about.
But this is nothing new for Sanchez. His obvious deficiencies (you know, maybe like throwing a football accurately) have been largely ignored his entire career because the Jets have been able to win some games with their rushing game and defense.
If Sanchez were to be a legitimate starting NFL quarterback, we would have seen some improvement from him by now. It's been three years. He's still terrible. But Rex continues to throw him out there, hoping for some sort of change that isn't going to come. 
All in all, Rex Ryan's shtick in New York is wearing thin. I say his time with the Jets has come and gone, and despite what he says every offseason, the New York Jets will never win a Super Bowl with Rex Ryan as coach and Mark Sanchez at quarterback.
I guarantee it.