Alabama vs. LSU: Crimson Tide and Tigers Prospects NFL GMs Are Lusting After
January 5, 2012
Streeter Lecka/Getty Images
An All-Star team compiled of just LSU and Alabama players could compete with the Indianapolis Colts. The Tigers and Crimson Tide are the two most talented teams in the country by far and are stacked from top to bottom with NFL prospects. 
When compiling lists of top pro prospects from other bowls, usually the rankings consist of three to five players from both teams combined. Those players are also projected to go somewhere within the first three to four rounds. 
With the BCS National Championship Game, though, including players bound to be selected after the first round would practically include each team's entire roster. Here are the most sought after LSU and Alabama players projected to hear their names called in the first round of the 2012 or 2013 NFL draft.
14. Mark Barron (SS, Alabama) – 2012
Mark Barron is the only starting-caliber safety in the entire 2012 draft class. He is a true difference maker as he brings incredible instincts and hard-hitting ability to a defense.
13. Dont'a Hightower (ILB, Alabama) – 2012
At 6'4", 260 pounds, Dont'a Hightower is the prototypical 3-4 inside linebacker. He also has plenty of experience in the system playing for the Crimson Tide.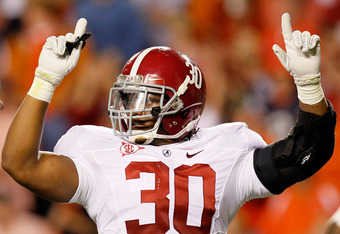 Kevin C. Cox/Getty Images
12. Michael Brockers (DT, LSU) – 2013
Michael Brockers definitely has the physical gifts to succeed at the next level. At 6'6", 306 pounds, Brockers will be a run-stopping fiend at the next level.
11. DeMarcus Milliner (CB, Alabama) – 2013
You won't see four better cornerbacks in a college football game…maybe ever.  The scary part is that Milliner doesn't even start; he's the Crimson Tide's nickel back behind DeQuan Menzie.
10. C.J. Mosely (ILB, Alabama) – 2013
C.J. Mosely's 2011 campaign has been plagued with injuries, but he'll be good to go against LSU. He doesn't have Hightower's size at 6'2", 234 pounds, but he's a superior athlete.
9. Courtney Upshaw (OLB, Alabama) – 2012
And speaking of superior athletes; Courtney Upshaw is arguably the top pure pass rusher in the 2012 draft class. Upshaw has recorded 15.5 sacks his past two seasons at Alabama.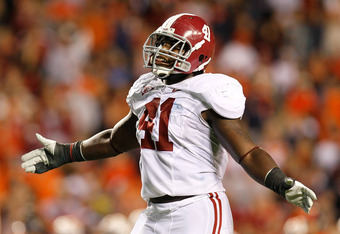 Kevin C. Cox/Getty Images
8. Chris Faulk (OT, LSU) – 2013
At 6'6", 325 pounds, Chris Faulk is a monster. The sophomore protects Jordan Jefferson's blind side well.
7. Barrett Jones (OT, Alabama) – 2013
Barrett Jones is talented enough to be a first-round pick this season, but he chose to return to the Crimson Tide for his senior season. Like everyone else on this list, Jones possesses more than enough size to exceed at the next level standing at 6'5", 311 pounds.
6. Tyrann Mathieu (CB, LSU) – 2013
Okay, scratch that thing I just said about size. Tyrann Mathieu may just be the most talented player on this list, but he'll most likely end up being a mid-first-round pick because he's only 5'9", 175 pounds.
5. Dre Kirkpatrick (CB/S, Alabama) – 2012
Dre Kirkpatrick is versatile enough to play cornerback and safety in the NFL and because of that, he'll likely hear is name called in the top 10 of this April's draft. Kirkpatrick is a great tackler, but he has only recorded 25 tackles this season because opposing quarterback throw away from him.
4. Sam Montgomery (DE/OLB, LSU) – 2013
Sam Montgomery is a pass-rushing fiend. As just a sophomore, he recorded nine sacks this season.
3. Trent Richardson (HB, Alabama) – 2012
Many are labeling Trent Richardson a better pro prospect than his former teammate Mark Ingram and Ingram drew comparisons to Emmitt Smith. The only thing that will keep Richardson from being a top-five pick is team need.
2. Morris Claiborne (CB, LSU) – 2012
Morris Claiborne is the top cover corner in the entire draft by far. It would be shocking if he fell past the Tampa Bay Buccaneers at No. 5.
1. DJ Fluker (OT, Alabama) – 2013
Like Barrett Jones, DJ Fluker is talented enough to be selected in the first round this season, but the red-shirt sophomore chose to stick around another year. He will be the first offensive tackle taken off the board in 2013.
The first round of the 2012 and 2013 NFL drafts will be approximately 22 percent LSU and Alabama players. Yeah, they could definitely beat the Colts.
David Daniels is a Featured Columnist at Bleacher Report and a syndicated writer.