2012 NFL Draft Underclassmen Tracker
January 3, 2012
Doug Pensinger/Getty Images
The NFL draft won't take place until late April, but players with more than three years removed from their high school graduation have until January 15 to decide if they want to enter the 2012 draft class.
This article will be updated as new players enter, and as more sources can be confirmed on those rumored to be leaning one way or another.
UPDATE: A record 65 players with NCAA eligibility remaining have declared for the 2012 NFL draft.
ENTERING 2012 NFL DRAFT
Andrew Luck – Quarterback- Stanford (SOURCE)
Early Projection: First Overall Pick
Robert Griffin III – Quarterback – Baylor (SOURCE)
Early Projection: Second Overall Pick
Trent Richardson - Running Back - Alabama (SOURCE)
Early Projection: Top 10 Pick 
Matt Kalil- Offensive Tackle- USC (SOURCE)
Early Projection: Top 10 Pick
Morris Claiborne - Cornerback - LSU (SOURCE)
Early Projection: Top 10 Pick 
Riley Reiff- Offensive Tackle- Iowa (SOURCE)
Early Projection: Top 10 Pick 
Jonathan Martin- Offensive Tackle- Stanford (SOURCE)
Early Projection: Top 10 Pick 
Justin Blackmon – Wide Receiver- Oklahoma State (SOURCE)
Early Projection: Top 10 Pick
Michael Brockers - Defensive Tackle - LSU (SOURCE)
Early Projection: Top 15 Pick 
Alshon Jeffery - Wide Receiver - South Carolina (SOURCE)
Early Projection: Top 15 Pick 
David DeCastro- Offensive Guard- Stanford (SOURCE)
Early Projection: Top 15 Pick 
Whitney Mercilus – Defensive End – Illinois (SOURCE)
Early Projection: Top 15 Pick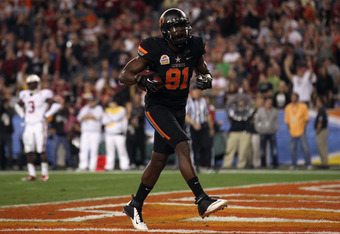 Donald Miralle/Getty Images
Lamar Miller – Running Back- Miami (SOURCE)
Early Projection: Early 1st Round
Stephon Gilmore- Cornerback - South Carolina (SOURCE)
Early Projection: 1st Round 
Nick Perry – Defensive End- USC (SOURCE)
Early Projection: 1st Round
Vontaze Burfict – Inside Linebacker- Arizona State (SOURCE)
Early Projection: 1st Round
Dre Kirkpatrick - Cornerback - Alabama (SOURCE)
Early Projection: Mid 1st Round 
Jerel Worthy- Defensive Tackle- Michigan State (SOURCE)
Early Projection: Late 1st Round 
Chris Polk – Running Back – Washington (SOURCE)
Early Projection: Late 1st Round
Orson Charles - Tight End - Georgia (SOURCE)
Early Projection: Late 1st Round 
Peter Konz - Center - Wisconsin (SOURCE)
Early Projection: Late 1st Round 
Dontari Poe – Nose Tackle – Memphis (SOURCE)
Early Projection: Late 1st Round/Early 2nd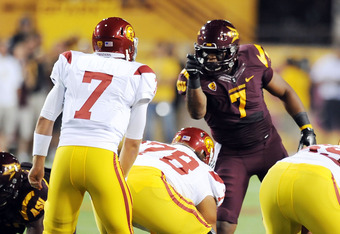 Norm Hall/Getty Images
Luke Kuechly - Inside Linebacker - Boston College (SOURCE)
Early Projection: Early 2nd Round 
Mohamed Sanu - Wide Receiver - Rutgers (SOURCE)
Early Projection: Early 2nd Round 
Fletcher Cox- Defensive Tackle - Mississippi State (SOURCE)
Early Projection: Early 2nd Round
Dwayne Allen - Tight End - Clemson (SOURCE)
Early Projection: 2nd Round 
Ronnell Lewis- Outside Linebacker - Oklahoma (SOURCE)
Early Projection: 2nd Round 
Brandon Washington- Offensive Guard- Miami (SOURCE)
Early Projection: 2nd Round
Chandler Jones – Defensive End- Syracuse (SOURCE)
Early Projection:  2nd Round
Dont'a Hightower - Inside Linebacker - Alabama (SOURCE)
Early Projection: Mid 2nd Round 
David Wilson - Running Back - Virginia Tech (SOURCE)
Early Projection: Late 2nd Round 
Jayron Hosley - Cornerback - Virginia Tech (SOURCE)
Early Projection: 3rd Round 
Bernard Pierce - Running Back - Temple (SOURCE)
Early Projection: 3rd Round
Brock Osweiler - Quarterback - Arizona State (SOURCE)
Early Projection: 3rd Round 
Chris Givens – Wide Receiver- Wake Forest (SOURCE)
Early Projection: 3rd Round
Josh Robinson - Cornerback - UCF (SOURCE)
Early Projection: Late 3rd Round 
LaMichael James- Running Back- Oregon (SOURCE)
Early Projection: Late 3rd Round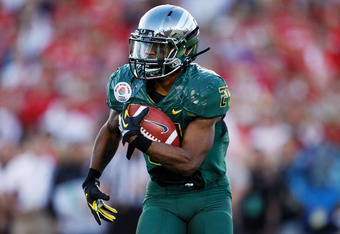 Jeff Gross/Getty Images
Tommy Streeter – Wide Receiver – Miami (SOURCE)
Early Projection: Late 3rd Round
Eric Page - Wide Receiver - Toledo (SOURCE)
Early Projection: 4th Round 
Robert Turbin - Running Back - Utah State (SOURCE)
Early Projection: Late 4th Round 
Ronnie Hillman - Running Back - San Diego State (SOURCE)
Early Projection: 5th Round 
Marcus Forston – Defensive Tackle – Miami (SOURCE)
Early Projection: 5th Round
Terrell Manning - Outside Linebacker - NC State (SOURCE)
Early Projection: 5th Round 
Cliff Harris - Cornerback - Oregon (dismissed) (SOURCE)
Early Projection: 5th Round
Darrell Scott - Running Back - USF (SOURCE)
Early Projection: 6th Round 
Stephen Hill - Wide Receiver- Georgia Tech (SOURCE)
Early Projection: 6th Round 
Olivier Vernon – Defensive End- Miami (SOURCE)
Early Projection: 7th Round
Edwin Baker - Running Back - Michigan State (SOURCE)
Early Projection: UDFA 
Mike Ball - Running Back - Nevada (SOURCE)
Early Projection: UDFA 
Donte Paige-Moss – Defensive End – North Carolina (SOURCE)
Early Projection: UDFA
Bobby Massie - Offensive Tackle - Ole Miss (SOURCE)
Early Projection: UDFA 
Jewell Hampton - Running Back - Southern Illinois (SOURCE)
Early Projection: UDFA 
RETURNING TO COLLEGE:
Manti Te'o – Linebacker – Notre Dame (SOURCE)
Matt Barkley – Quarterback – USC (SOURCE)
Landry Jones- Quarterback - Oklahoma (SOURCE)
Montee Ball- Running Back- Wisconsin (SOURCE)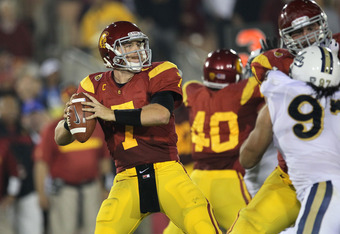 Stephen Dunn/Getty Images
Kenny Vaccaro – Safety – Texas (SOURCE)
Alex Okafor – Defensive End – Texas (SOURCE)
Barrett Jones – Offensive Tackle- Alabama (SOURCE)
Arthur Brown – Inside Linebacker- Kansas State (SOURCE)
T.J. McDonald - Safety - USC (SOURCE)
Johnathan Banks - Cornerback - Mississippi State (SOURCE)
Brandon Jenkins - Outside Linebacker - Florida State (SOURCE)
Devin Taylor - Defensive End - South Carolina (SOURCE)