NFL Playoff Picture: 5 Key Questions for the Pittsburgh Steelers Wild-Card Game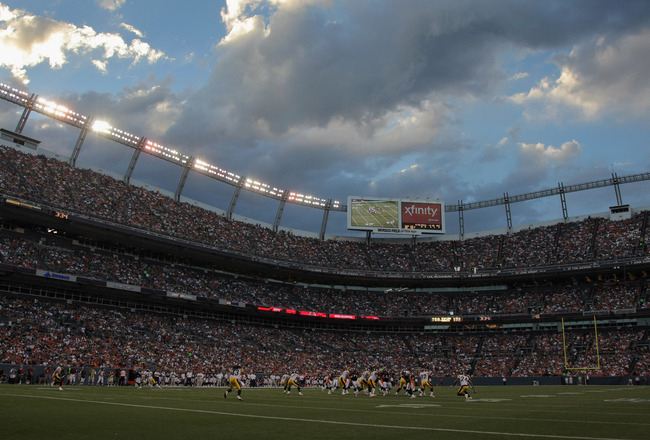 Doug Pensinger/Getty Images
There was no Super Bowl hangover for the Pittsburgh Steelers this time around.
After missing the playoffs following their previous two Super Bowl appearances, the 2011 edition of the Steelers find themselves with a 12-4 record for the second straight season, but this time as the AFC's fifth seed.
Pittsburgh got to this point in a large part behind their top-rated defense, though this wasn't your typical Steelers defense.
The defense was the best in the league in yards and points, but it was achieved in large part due to their top rated pass defense. What made their success more amazing was that they only forced 15 turnovers (they were minus-13 as a team) and had only 35 sacks.
The Steelers will need to ride their defense as they enter the Wild-Card round next Sunday against the Denver Broncos, as their offense ranked 21st in the league in scoring.
Pittsburgh's offense was already banged up with injuries to Ben Roethlisberger and Maurkice Pouncey, and they have now lost Rashard Mendenhall.
Following the game on Sunday, Mike Tomlin stated that Mendenhall "won't be participating" in the playoffs, as he tore his ACL, according to Ed Bouchette.
This is just one of the question marks heading into the first-round match against the Broncos.
Are the Steelers Healthy Enough to Win at Denver?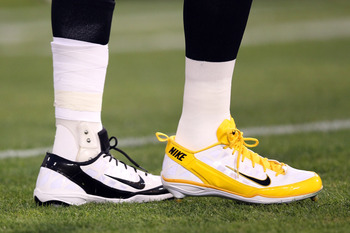 Ezra Shaw/Getty Images
It is hard to question Tomlin playing his starters last Sunday. The Steelers needed a week off, and they went for it.
The end result may have done more harm than good, as even with the win, Pittsburgh failed to secure a bye week, and they came out of Cleveland even more battered and bruised.
Of top concern is the health of Roethlisberger's ankle. While he moved around much better on Sunday, Roethlisberger left the game with a heavy limp.
"Of course he's not 100 percent but there are many guys out there that are in uniform that aren't," Tomlin told the Pittsburgh Post-Gazette.
Besides Roethlisberger, Pouncey is still recovering from a high ankle sprain, LaMarr Woodley is still hampered by a hamstring injury, Doug Legurksy with a shoulder and now, the Steelers have several new injuries to deal with.
Cortez Allen left the game following a collision which injured his upper arm, and Keenan Lewis also was injured.
But these pale in comparison to Mendenhall's knee injury.
Pittsburgh was already short at running back with Jonathan Dwyer being placed on the injured reserve and Mewedle Moore out.
Then, there is the question as to whether or not Ryan Clark can (or should) play against the Broncos given his medical condition that puts him at risk if he plays at a high altitude.
At what point are the injuries too much to overcome?
Can the Steelers Contain Tim Tebow and the Denver Running Game?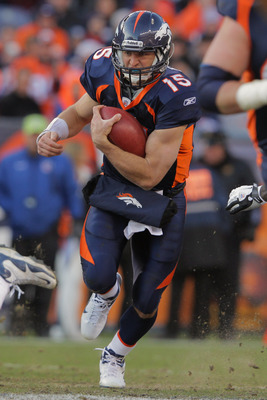 Doug Pensinger/Getty Images
Pittsburgh's run defense has not been up to standard, but it is still pretty good. They will have to be as they face off against the NFL's top rushing attack on Sunday.
Do not expect Denver's 31st-ranked pass offense and Tim Tebow's 46.5 percent completion percentage to do much against the NFL's stingiest pass defense, even with injuries in Pittsburgh's secondary.
Instead, the Broncos will have to do what they do best, and that is run the ball.
Denver has the league's best rushing attack, averaging 164.5 yards per game behind a multi-faceted rushing attack centered around Tebow and Willis McGahee.
The Broncos will use Tebow's power and athleticism as they will look to pound the ball against a physical Pittsburgh defense.
Pittsburgh's aggressive defense could have problems against the option attack if they over-pursue and do not maintain their gaps.
More so than Tebow, who has 660 rushing yards, the Steelers will have to defense McGahee, who knows Pittsburgh very well.
"They've got a great defense, and I know (defensive coordinator Dick) LeBeau is going to do a great job coaching them up. We've just got to move the ball," McGahee told the Denver Post.
Denver will try to methodically move the ball on the Steelers, and to prevent that, Pittsburgh will need a big effort from their defensive front.
Casey Hampton will need to maintain the middle of the field, something he has not done consistently this year, and they will need their linebackers to fill the gaps to make the stops.
Look for Denver to attack the left side of the Steelers defense if Woodley cannot play, as Jason Worilds is the weak link in Pittsburgh's run defense.
Can Isaac Redman and John Clay Carry the Load?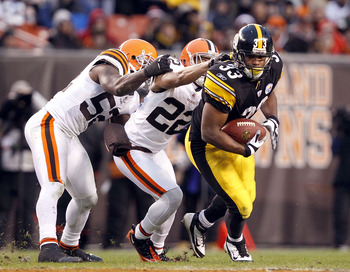 Matt Sullivan/Getty Images
Denver's defense is not particularly good, ranking 18th against the pass and 22nd against the run, so the Steelers will most certainly have options when it comes to making plays on the offensive side of the ball.
However, on the road in a hostile environment, and with a hobbled quarterback, Pittsburgh will most certainly want to control the ball with a solid running game.
With Mendenhall out, the Steelers will have to rely on Isaac Redman and John Clay.
Redman has a hard, physical running style that fits the mold of the Steelers old third yards and a cloud of dust offensive style.
While not the ideal fit for the current, umm, system...Redman can get the tough yards and will always fight for extra yardage.
That may not serve him well as we saw last week. Redman had two fumbles late in the game, which could have cost the Steelers the victory. It marred an otherwise solid performance in which Redman had 19 carries for 92 yards and a score.
In his backup role, Redman carried the ball at least 10 times in only three games during the season, but did finish the year with 110 carries for 479 yards and three touchdowns.
Redman is also an underrated receiver with 18 receptions on the season, the same number that Mendenhall had.
Pittsburgh probably won't rely solely on Redman and will look to get at least carries from the rookie Clay.
Clay performed well late in the game against the Browns, as he ran for 31 yards on nine carries against a defensive front expecting the run.
While these two power backs can get the tough yards and virtually always get positive yardage, they are not much of a threat for a big play, and that is where Mendenhall's absence will hurt. Also, watch how they pass block, as that will be a key component to who sees time on passing downs.
Can the Steelers Contain the Broncos Pass Rush?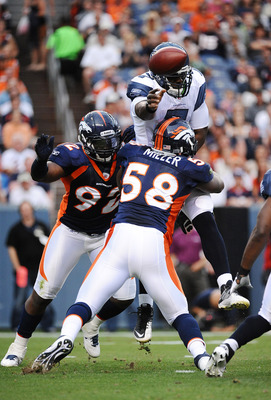 Elvis Dumervil and Von Miller will present a stiff test for the Steelers offense.
Garrett Ellwood/Getty Images
The Steelers offensive line has made great strides this year, but the fact is that Roethlisberger is under distress more than many quarterbacks, whether it is the play of the line or him looking to make the big play.
Denver had 41 sacks this year, with 21 of them coming from Von Miller and Elvis Dumervil.
The pressure will be on the Steelers tackles, Max Starks and Marcus Gilbert, to contain these two.
Miller had an outstanding rookie season with 11.5 sacks, including sacks in 10 of his first 12 games. However, since undergoing surgery on his thumb in Week 12, Miller has only had one sack and has been held to no sacks and only one tackle in his last three games.
Dumervil, who has 9.5 sacks on the season, is looking forward to getting after Roethlisberger.
"He's explosive, man. He's a big guy that can run around," Dumervil told the Denver Post.
"But I like playing against Big Ben. He likes to throw the ball around and I like to rush, so it'll be fun."
The Steelers will be tested with Dumervil, who has sacks in eight of his past nine games.
Of particular concern is the play of Gilbert, who has hit a bit of the rookie wall.
Gilbert was abused by Jabaal Sheard last Sunday for a sack, and his play has not been as solid as it was earlier in the season.
Neither has Starks, who may have trouble against the speed of the Broncos pass rushers.
Meanwhile, Roethlisberger needs to play it safe and not hold onto the ball too long. The last thing the Steelers can afford is to lose the turnover battle, especially because Roethlisberger looks for the big play rather than the safe play.
Will Playoff Experience Help the Steelers?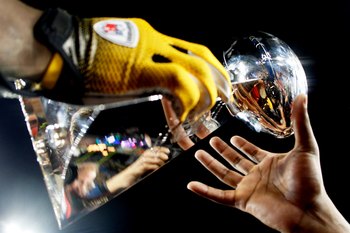 Jamie Squire/Getty Images
Pittsburgh enters the playoffs at 12-4 and have won six of seven games. They will go on the road against an eight-win Broncos team. That does not mean the Steelers have the victory locked up, as we saw last year when the Seattle Seahawks upset the New Orleans Saints.
But the Steelers are a veteran team with a lot of playoff experience. Many of the players have played in two Super Bowls, some even three, and this should bode well for the Steelers, as there will be no surprises come Sunday.
"We have a lot of veterans who know what January football is all about," said Ryan Clark.
"Now's the time to go play it. We kind of limped in, and it would have been huge to get a bye and get guys healthy. Now we have to go and play better on the road. I believe this team can win anywhere."
Clark is not the only player who is not worried about having to go on the road for the playoffs.
"I think we'll be up to any challenge. I think it's a good group of guys. I'd go anywhere and play anybody with this group of guys," Heath Miller told Steelers.com.
This group of guys nearly won the Super Bowl last year and will be poised to finish the job this season.
However, while they may be accustomed to playing under high-pressure circumstances, the Broncos will not lay down for the Steelers, and Troy Polamalu has kept that in perspective.
"This team hasn't been in (a postseason) yet. Each team has a different personality within itself. It'll be interesting how we do, the adversity that we face, how much we come together," Polamalu told Steelers.com.
"We're going to have to play some really good ball. We have a tough road ahead of us, especially going to Denver."
Soon enough, we will find out if this team has the championship personality.
Follow me on Twitter @ChrisG_FC


Keep Reading

Pittsburgh Steelers: Like this team?