Tim Tebow: Floyd Mayweather is Latest Entity To Cash in on Broncos QB
December 29, 2011
Ethan Miller/Getty Images
Tim Tebow is making everybody money.
He is a spokesperson for everything from FRS energy drinks to Jockey T-shirts. He created plenty of revenue for the publishing company that helped him put out his best-selling biography. A brewery in Colorado is selling a wildly popular beer called "TeBrew."
As everyone jumps on the Tebow Train, boxer Floyd Mayweather Jr. decided to use that to get the biggest payout of all.
Norm Clarke of the Las Vegas Review-Journal reports that Mayweather had more than just a causal interest in Tebow and the Denver Broncos matchup against the New England Patriots two weeks ago:
If the buzz around local sports books is true, boxing champ Floyd "Money" Mayweather Jr. bet $1 million that Tim Tebow didn't have a prayer against Tom Brady.
Wow.
Could you imagine putting that sort of money on a regular-season football game? I don't think I could even watch the game. Every Tom Brady incompletion would make me bite another nail off. I'd be without all of my fingernails by halftime.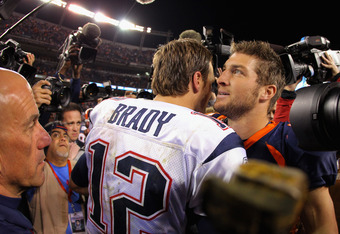 Doug Pensinger/Getty Images
When Cantor Gaming sports book director Mike Colbert was asked about the wager, he wouldn't' confirm or deny the report, but did offer this gem: "(Mayweather) is a valued customer who frequents the books quite often."
I wonder how "Money May" was feeling when the Broncos took a 16-7 lead over the Patriots in the second quarter. I would have been in full blown panic mode by then. But Tom Terrific came through and the 41-23 final easily covered the six-point spread as the rich get richer.
Mayweather is at the point in his boxing career where he earns around $20 million per fight, so I guess the wager wasn't going to sink him either way…but holy crap that is still a humongous risk.
Too bad Mayweather won't have much time to spend his earnings as he is scheduled to begin a 90-day jail sentence on January 6th for a domestic violence charge.
Sports drinks, T-shirt companies, Floyd Mayweather…who is going to be the next entity to cash in on this phenomena?