NFL TV Schedule Week 17: Coverage Maps for All CBS and Fox NFL Action
December 29, 2011
Chris Graythen/Getty Images
So which NFL games will you be watching on Sunday?
A lot of us don't have a choice, really. When we sit down to watch a little NFL football on Sundays, we watch whichever games the folks at CBS and Fox have decided to show us.
This is all well and good, but it can get confusing as to which games are going to be shown in which markets. That's why, courtesy of the506.com, we have some snazzy coverage maps that tell you everything you need to know about which games are going to be shown where, as well as which announcers are going to be calling the action.
Read on for a full breakdown of the action for Week 17.
We'll start with the early action on CBS. Most people will see the New York Jets at the Miami Dolphins, but CBS will also have the Tennessee Titans at the Houston Texans and the Buffalo Bills at the New England Patriots.
Here's the map: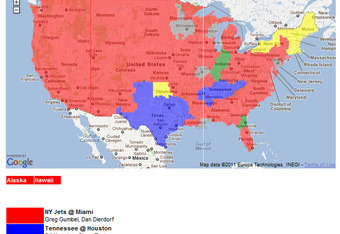 Later on in the day, CBS will be showcasing the Kansas City Chiefs at the Denver Broncos. If you're into the whole Tim Tebow craze, CBS has you covered. 
If you're not into the whole Tim Tebow craze, you might be lucky enough to see the San Diego Chargers and the Oakland Raiders or one of the other games CBS is carrying.
Here's the map: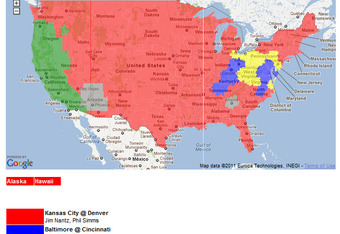 Early on Sunday, Fox is going to be showing a bunch of different games. Most will see the Carolina Panthers at the New Orleans Saints, but a good percentage of the country will see the San Francisco 49ers at the St. Louis Rams.
Here's the map: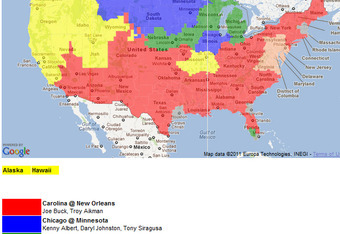 Later in the day, Fox will be showing the majority of the country the Tampa Bay Buccaneers at the Atlanta Falcons, though some will see the Seattle Seahawks at the Arizona Cardinals.
Here's the map: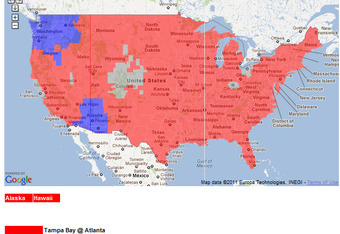 As far as nationally televised games go, the only one in Week 17 is the Sunday night showdown between the Dallas Cowboys and the New York Giants. It's a game that will decide the NFC East, and it will be shown on NBC at 8:20 p.m. ET.
It's the last regular season week of the year, folks. Don't miss a thing.